Vietnam News Today: F1 may take place in November without int'l spectators
Vietnam News Today May 30 features some headlines including the Formula 1 race schedule, the number of foreign visitors to Vietnam decline nearly a half since coronavirus outbreak and Vietnamese dairy giant Vinamilk enters South Korean market among others. 
F1 may take place in November, however, without int'l spectators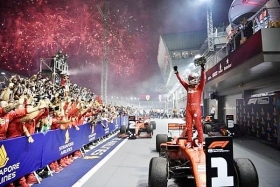 Illustrative photo.
After missing its long-awaited debut in April, the Vietnam Formula One Grand Prix may take place in Hanoi in mid-November this year, but without any international spectators, Hanoitimes reported.
If the race in Vietnam is held without spectators, the organizers may incur a loss of VND700-800 billion (US$29.8-34 million) in revenue.
In a second option, only local race fans are allowed to enter. The economic losses of the organizers will be less painful.
Hanoi is estimated to have invested some US$150 million and the final sum could be US$200 million, according to Thanh Nien.
Before the postponement announcement, as many as 100,000 international guests had registered to join the race in Vietnam and the number of local spectators was 40,000.
Foreign visitors to Vietnam decline nearly 50% in Jan-May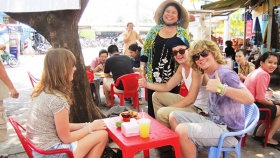 Foreign visitors to Vietnam
Vietnam welcomed an estimated 3.73 million foreign visitors in the first five months of the year, down 48.8% over the same period last year, Nhandan cited statistics from the General Statistic Office.
In May alone, the number of international tourists to the country saw its lowest rate in recent years, with a decline of 13.6% compared to the previous month and 98.3% over the same period last year.
Vietnam has implemented strict measures to prevent and control the Covid-19 epidemic and is currently not receiving international tourists; therefore, foreign arrivals were mainly experts and technical workers engaged in projects.
In early May, the Ministry of Culture, Sports and Tourism launched a programme "Vietnamese people travel Vietnam" to stimulate domestic tourism after the Covid-19 epidemic was brought under control.
Accordingly, many airlines and travel enterprises have offered dicounted products and services to attract tourists within the country.
Vinamilk enters the South Korean market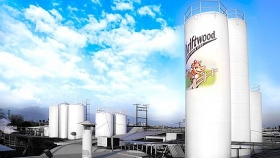 Dairy factory Driftwood of Vinamilk in the US.
Vietnamese dairy giant Vinamilk is now available in South Korea to meet the growing demand for premium milk products, Yonhap reported citing Vina Korea on May 29.
Vina Korea, a Korean company set up by five local distribution firms for the sale of Vinamilk products, began to sell milk tea, soybean milk, and condensed milk-based coffee products in the Korean market through online stores Thursday, Vina Korea Chief Financial Officer Yun Yo-wang in Seoul said by phone.
"Vinamilk decided to advance into Korea as it sees big growth potential in the local premium milk market. Vinamilk products meet high Eurozone hygiene and food safety standards," Yun said.
Vinamilk products are available on online shopping malls, such as 11Street Co. and eBay Korea LLC, Vina Korea said in a statement.
Vinamilk, established in 1976, owns 13 factories in Vietnam and the largest Global Animal Partnership (GAP) certified dairy farm network in Asia. It also runs farms and plants in the United States, New Zealand, Cambodia and Poland.
Bear cub rescued from illegal wildlife trade in Vietnam
Four Paws, an international animal welfare organization just rescued an Asiatic black cub from illegal wildlife trade immediately after receiving notice from Son La Provincial Forest Protection Department.
Weighing two kilograms, the female cub was only a few months old when she was illegally offered for sale by illegal wildlife traders on the Vietnam - Laos border. A Vietnamese family decided to purchase the bear and informed the authorities so she would be spared from life in a bear farm or from being killed for human consumption.
Four Paws team was then quickly called upon by the authorities to assist in providing health care and ultimately bring the cub, who was named Mochi (or Moc Chau) to BEAR SANCTUARY Ninh Binh. Luckily the Vietnamese authorities and Education for Nature Vietnam (ENV), whom the family reached out to first, reacted so quickly and ensured Mochi was taken to a species-appropriate home.