Vietnam News Today: All activities without Vietnam's permission in Paracel and Spratly archipelagos valueless
Vietnam News Today May 29: Vietnam top headlines today May 29 features some stories including Vietnam criticized China's use of "new technologies" to cultivate vegetables on its Hoang Sa (Paracel) Islands as an illegal act, Mekong Delta expressway construction to begin in 2024, among others.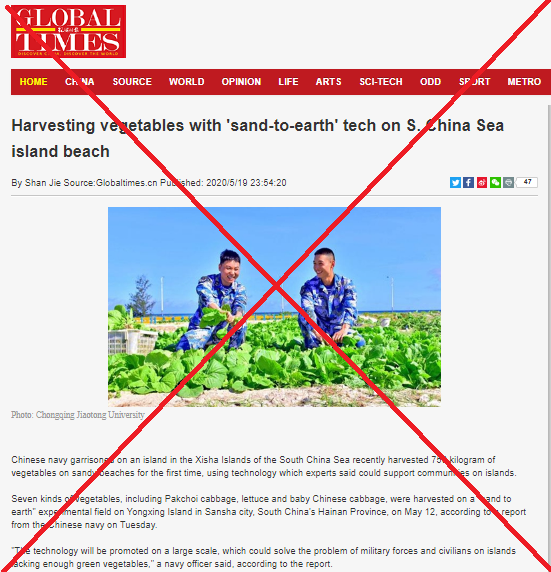 Global Times published an article with the title "Harvesting vegetables with 'sand-to-earth' tech on S. China Sea island beach" on May 19.
Vietnam objects to China's vegetable cultivation in Hoang Sa archipelago
Vietnam on Thursday criticized China's use of "new technologies" to cultivate vegetables on its Hoang Sa (Paracel) Islands as an illegal act.
Foreign Ministry deputy spokesman Doan Khac Viet said the horticultural activity was a violation of Vietnam's sovereignty and international law. All activities without Vietnam's permission in these archipelagos are valueless, Viet emphasized.
"All activities on the Hoang Sa and Truong Sa (Spratly) Islands without Vietnam's permission are violations of Vietnam's sovereignty and international law," Viet said at a press meet Thursday.
Regarding China's illegal sand mining in the East Sea, he once again affirmed that Vietnam owns sufficient historical evidence and legal basis testifying to its indisputable sovereignty over Hoang Sa and Truong Sa, as well as its exclusive economic zone and continental shelf in the East Sea.
Vietnam considers opening borders to visitors from COVID-19-free countries
Vietnam is considering to reopen its borders to foreign visitors coming from countries that have gone 30 days without any new cases of COVID-19.
The matter was discussed at a meeting held in Hanoi on Thursday by the National Steering Committee for COVID-19 Prevention and Control, VNS reported.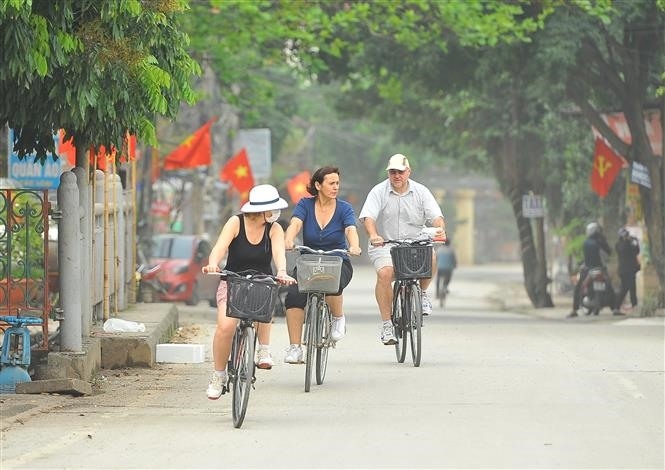 (Photo: VNS)
Committee members said that even when international tourism resumes, the destinations would be limited to a certain number of islands in the country, including Phú Quốc in Kiên Giang Province, while public health measures are enforced to ensure the safety of both tourists and local residents.
Deputy Minister of Culture, Sports and Tourism Trịnh Thị Thủy said that in the short term, travel firms in Việt Nam should focus on stimulating domestic tourism while the border remains tightly managed.
Mekong Delta expressway construction poised to start in 2024
The Ha Tien - Rach Gia - Bac Lieu Expressway in the Cuu Long (Mekong) Delta will begin its construction in 2024.
Tran Van Thi, general director of the Cuu Long Corporation for Investment Development and Project Management of Infrastructure (CIPM), said the Ministry of Transport has sought a pre-feasibility study for the VNĐ33 trillion (US$1.4 billion), 225km expressway by July.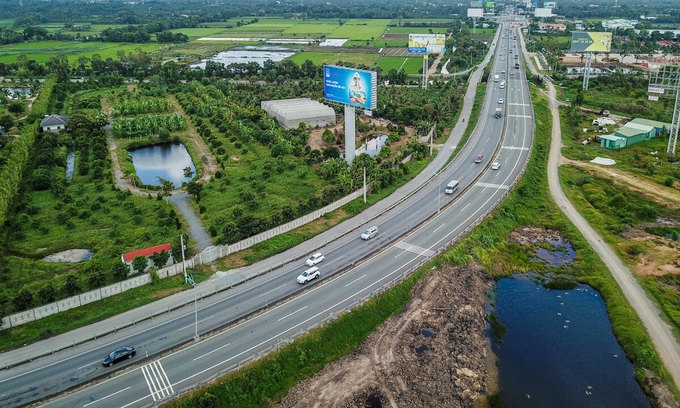 (Photo: VNE)
The money for the work will come from multilateral agencies and reciprocal capital from the Government.
The expressway, which will pass through four provinces, will have four lanes and a speed limit of 80km per hour.
The work is expected to take two years.
The expressway will improve transport infrastructure, contributing to the socio-economic development in the delta and enhancing inter-regional transportation network, and help link Vietnam with Cambodia.
New species of insects discovered in Vietnam
A new species of beetle and two new species of cicadas have recently been discovered by Vietnamese and international scientists.
Pham Hong Thai, a scientist from the Vietnam National Museum of Nature under the Vietnam Academy of Science and Technology (VAST), informed the official Vietnam News Agency of the findings on Wednesday.
They were the fruit of joint efforts by entomologists from the Hanoi-based museum and their colleagues from Japan and the Royal Belgian Institute of Natural Sciences, Thai said.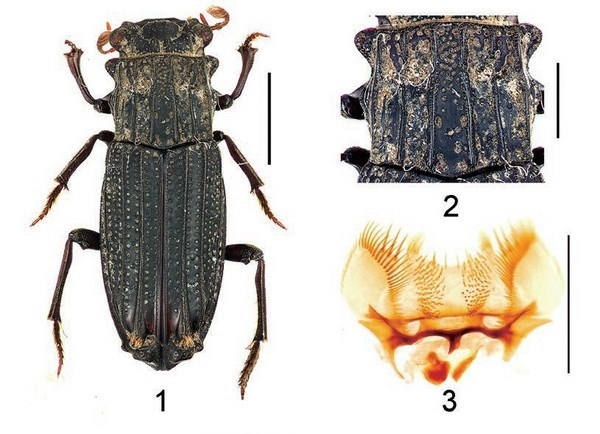 (Photo: Vietnam Plus)
A new species of beetle named Rhyparus vietnamicus Ochi, Kusui, Pham, 2018 was discovered by Japanese and Vietnamese scientists in the northern province of Lao Cai.
According to its scientific description, the beetle belongs to the genus Rhyparus, tribe Rhyparini, subfamily Aphodiinae, family Scarabaeidae, and order Coleoptera.
Specimens of the new beetle species were collected by the scientists in Lao Cai, measuring 7.7 to 7.9 millimeters in body length.
With the discovery, there are now two species of the genus Rhyparus confirmed to be distributed in Vietnam.
Kong Collapse's new exit discovered
A team of experts is on a mission to unravel a series of mysteries surrounding the Kong Collapse, the highest sinkhole in Vietnam. Kong Collapse is located in Phong Nha - Ke Bang National Park in the north-central Vietnamese province of Quang Binh.
Earlier in 1997, the British Caving Research Association (BCRA) had discovered the Tiger cave system with three large caves, known as Tiger cave, Over cave, and Pygmy cave.
BCRA's explorers also found out a large sinkhole, which is 450 meters deep (1,476 feet) after swimming for 20 minutes through the deep water from the front entrance to the existing of the Dai A Cave. However, the sinkhole still remained a mystery to the cave experts at that time, thus it was initially named Ngo Cut (Dead End). Kong Collapse was later determined the highest cave in Vietnam and one of the largest caves worldwide, Travel Mag reported.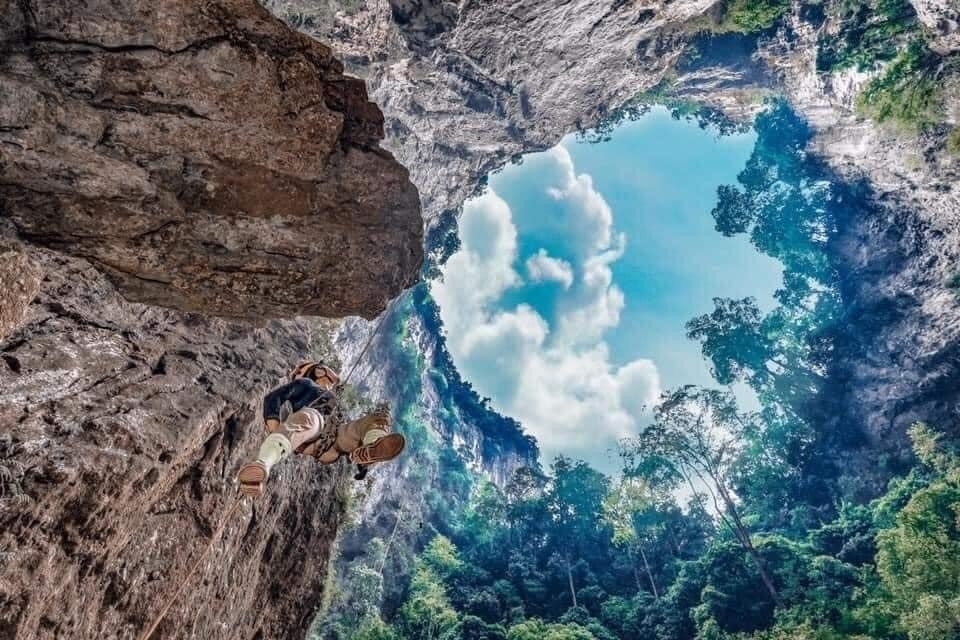 (Photo: Jungle Boss)
The Jungle Boss's exploration team has recently returned Kong Collapse to further explore the mysterious cave and discovered the entire entrance, exit route as well as the interconnection of Tiger cave, Over cave, and Pygmy cave. Thus, one can now enter Kong Collapse by swimming through Dai A cave or swinging down the cave from above.
Previously, locals assumed the collapse could only be entered by repelling through the top opening, thus giving way to its previous title — the Ngo Cut Collapse, literally translated as 'Dead-End Collapse.'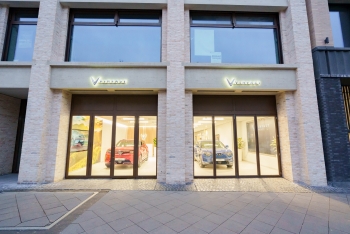 Economy
VinFast has officially opened its first two VinFast Stores in Cologne, Germany, and Paris, France.