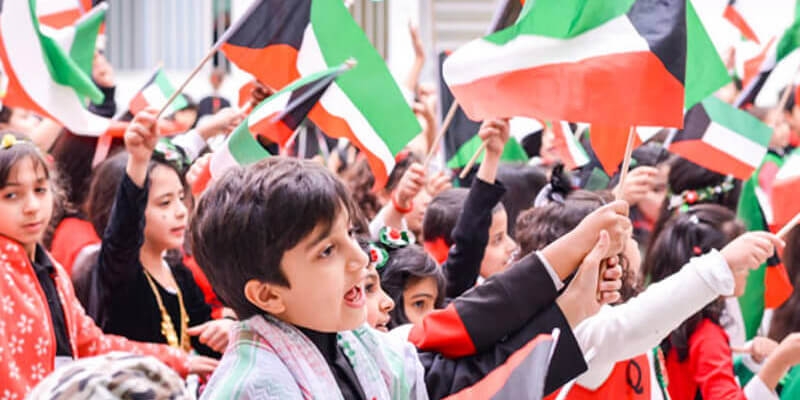 Kuwait on National Day (Photo: Edarabia)
Leaders extend congratulations to Kuwait on National Day
Top Vietnamese leaders on February 25 extended congratulations to Kuwaiti leaders on the country's 60th National Day (February 25).
Party General Secretary and State President Nguyen Phu Trong sent a message of congratulations to Emir of Kuwait Nawaf Al-Ahmad Al-Jaber Al-Sabah.
Prime Minister Nguyen Xuan Phuc cabled his congratulatory message to his Kuwaiti counterpart Sabah Khaled Al-Hamad Al-Sabah, according to NDO.
On the same day, Deputy PM and Minister of Foreign Affairs Pham Binh Minh congratulated Minister of Foreign Affairs Ahmad Nasser Al-Mohammad Al-Sabah.
MoH rolls out ever-largest inoculation campaign against COVID-19
Viet Nam has planned the ever-largest vaccination campaign against COVID-19 with over 100 million doses, said Minister of Health Nguyen Thanh Long.
Speaking at a meeting on February 25, Long said the ministry has mobilized the participation of all units both in and outside the medical sector to speed up the vaccination process in an effort to promptly mitigate pandemic impacts to enable people to quickly stabilise their life.
Accoring to VGP, all public medical establishments will get involved in the rollout. In addition, medical students will be mobilized to provide service at grass-roots medical stations and mobile vaccination points.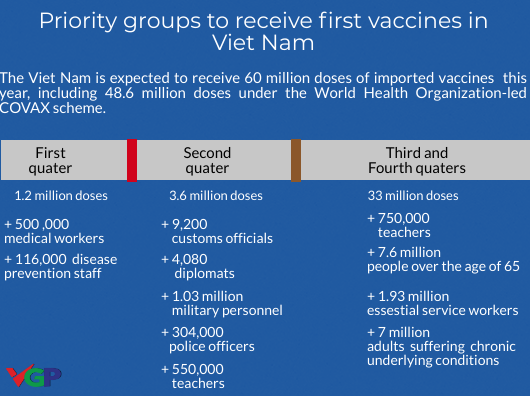 (Photo: VGP)
The same day, Long expressed thanks to the COVAX Facility program for helping Viet Nam soon access the vaccines during his meeting with WHO and UNICEF representatives.
Viet Nam's COVID-19 vaccination would be conducted in line with the Government's resolution, thus ensuring equal access to the vaccines, he added.
The first batch of 117,600 doses of AstraZeneca vaccine arrived at Tan Son Nhat International Airport on Wednesday morning and vaccination is scheduled to begin from March this year.
Viet Nam documented 2,412 coronavirus infections to date, including 1,513 locally transmitted cases, according to the National Steering Committee for COVID-19 Prevention and Control.
Eight new COVID-19 cases take national tally to 2,420
Viet Nam confirmed eight new COVID-19 cases on February 25, raising the national patient tally to 2,420.
As reported by VGP, the latest cases comprise seven local infections in Hai Duong and one imported case in Tay Ninh Province.
Of the national patient tally, 1,804 have recovered and exited hospitals while 35 others have been reported dead.
As of 6:30 pm on Thursday, the country has recorded 827 COVID-19 patients since January 27 when the 3rd wave of local transmissions broke out.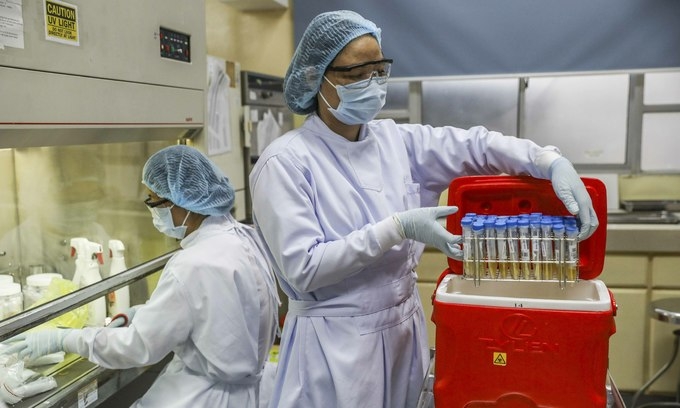 (Photo: VNE)
Up to 83% of these patients were asymptomatic while 14% experienced mild symptoms, according to Dr. Luong Ngoc Khue, Director-General of the Ministry of Health's Department of Medical Examination and Treatment.
The findings prompted the ministry to adjust instructions on quarantine and detection at medical facilities, Khue said.
National database systems on population, citizen identification make debut
The national database systems on population, and citizen identification card issuance and management made debut on Thursday under the presence of Prime Minister Nguyen Xuan Phuc.
These two systems, developed and implemented by the Ministry of Public Security, reflect the Government's determination to shift from paper-based to electronic document management.
The national database on population is the most important system among the six national databases to help form e-Government.
Meanwhile the project on citizen identification card production, issuance and management was approved by the Government last September. The Ministry of Public expected to issue chip-based ID cards to 50 million citizens by July 1 this year.
Prime Minister Nguyen Xuan Phuc (fourth from left) at the inaugural ceremony of the national database systems on population, and citizen identification card issuance and management, Ha Noi, February 25, 2021. Photo: VGP
Under the Law on Citizen Identification in 2014, people from 14 years of age can obtain an ID card, which is then renewed when they turn 25, 40, and 60 years of age.
More than 29,000 citizens have obtained new ID cards to date, including 1,369 delegates to the 13th National Party Congress, VFP reported.
Dung Quat Oil Refinery operates at 108% of design capacity
Binh Son Refining and Petrochemical JSC (BSR) has operated Dung Quat Oil Refinery at 108% of the refinery's design capacity in a safe and stable fashion in February to meet the domestic market's increasing demand during traditional Lunar New Year.
According to BSR Deputy General Director Bui Ngoc Duong, thanks to the sound operation, the company was able to take advantage of an increase in prices of global crude oil, and better crack margin.
Flexible adjustments have been made to the Dung Quat Oil Refinery's operation so as to optimise the output of RON 95, RON 92 and diesel, while reducing the amount of Jet-A1 fuel since demand for the fuel remained weak due to the COVID-19 pandemic.
Dung Quat Oil Refinery (Photo: VOV)
Duong added, with the regular maintenance of the plant, the refinery's Energy Intensity Index (EII) reached 103% in the first two months, helping cutting energy consumption and production costs.
With a view to diversifying input materials at competitive prices for the Dung Quat Oil Refinery, the BSR tested two new kinds of crude oil, Qua Iboe of Nigeria and Cabinda of Angola.
Duong said the company is going to export 250 tonnes of Homo PP Yarn T3045. Earlier, it shipped 150 tonnes of Homo PP Yarn T3050 abroad, helping improve efficiency of production and business activities, VOV reported.
Jasmine Le