Vietnamese carrier conducts direct flight to the US for first time in history
The Vietnam Airlines special flight to repatriate Vietnamese citizens in the US landed at San Francisco International Airport on May 7.   
San Francisco International Airport (SFO) on May 7 said on its Facebook:
"Today is a historic day at SFO as we welcomed the very first Vietnam Airlines passenger flight to the United States. This repatriation is being operated on one of Vietnam Airlines new Boeing 787-10 aircraft. SFO is proud to welcome this special flight!"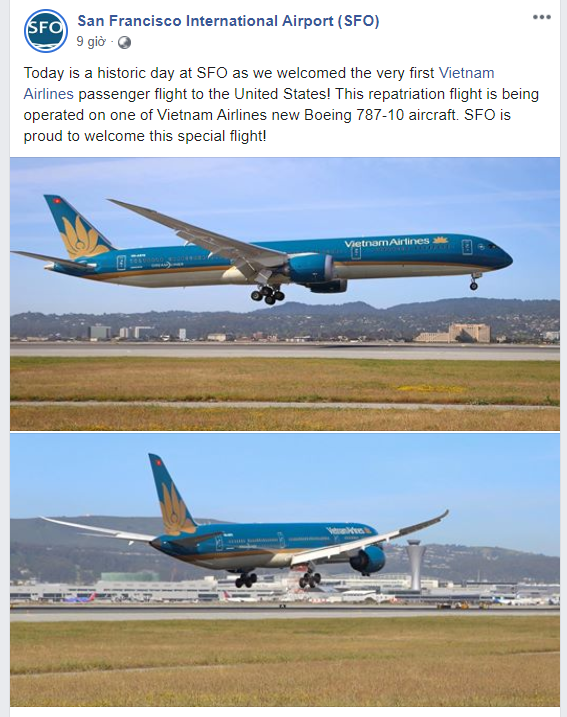 Screenshot photo
Vietnam Airlines on May 7 announced it had completed all necessary procedures at the request of the United State to conduct the flight to repatriate Vietnamese 'stranded' in the US.
Earlier, the flight was postponed due to some complicated procedures from the US.
As many of those citizens have moved to the San Francisco International Airport waiting to fly back to Vietnam, the Vietnamese General Consulate in San Francisco has sent many officials to the facility to help them. The ministry advised them to keep calm and observe seriously the host authorities' regulations and guidance by Vietnamese representative offices.
The US now has the highest coronavirus-related death toll in the world, with more than 1.2 million cases of infection and nearly 71,000 deaths.
During the suspension of commercial routines between Vietnam and foreign countries due to the COVID-19, the Government has allowed the licensing of a number of single fights to bring home stranded overseas Vietnamese.
Under the Prime Minister's directive, priority will be given to the elderly, the sick and people under 18.
Earlier, Vietnam had arranged various flights to repatriate overseas citizens from UK, Italy, Japan, Singapore, France and Canada.
Most of the passengers were children, students under 18, the elderly, the sick, holidaymakers, those with expired visas, and guestworkers who were forced to have a labour contract cut or take months off without pay.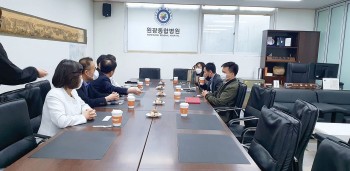 Overseas Vietnamese
A meeting was organized at the Wonkwang Hospital on the provision of medical support for the Vietnamese community in Korea in accordance with the signed cooperation agreement.