Vietnam PM agrees for resumption of commercial flights as from Sept 15
The Vietnamese Prime Minister has agreed to re-open international commercial flights to six destinations overseas after the novel coronavirus pandemic was brought under control in these venues. Only 2 more days, on September 15, is Vietnam officially "reopening" the sky after nearly 6 months, the biggest concern is how to "open the door" safely and minimize the source of infection.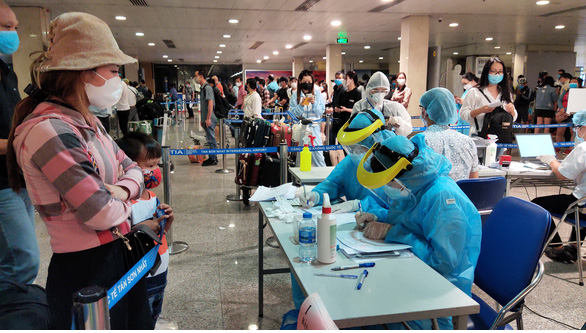 Taking samples to test passengers at Tan Son Nhat international airport (Ho Chi Minh City) between April 2020 - Photo: tuoitre
Accordingly, Vietnam resumes four routes to Guangzhou (China), Taiwan (China), Seoul (the Republic of Korea), and Tokyo (Japan) as from September 15, and to Laos and Cambodia as from September 22. The reopening of routes will be expected to welcome 20,000 foreign visitors in the first month.
Announcing the PM's decision, Minister and Chairman of the Government Office, Mai Tien Dung, said the resumption of these international flights has been negotiated by Vietnam and its partners on the basis of reciprocity, and all countries have expressed desires to re-open the routes.
Dung said the government has come to the decision after weighing the pros and cons of the situation, in which the COVID-19 pandemic was kept under control in the aforementioned markets. The plan aims to reinvigorate economic development, trade exchanges and human movements between Vietnam and other countries.
Priority passengers will be foreign experts, investors, highly skilled workers coming to Vietnam and Vietnamese people wishing to return home.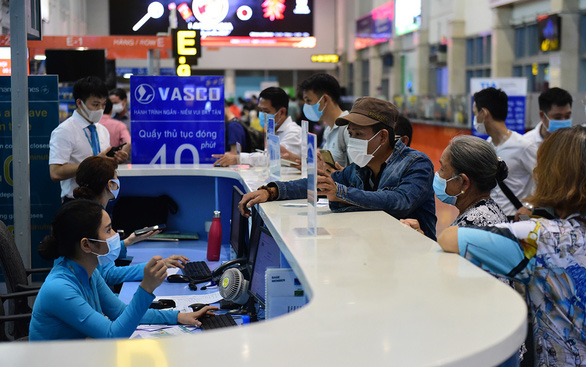 Passengers check in at Tan Son Nhat international airport - Photo: tuoitre
"Currently, the Government has yet to consider opening the door to welcome foreign tourists to Vietnam, but priority is only given to experts, investors and Vietnamese who want to return home", Minister Mai Tien Dung stated.
The Government plans to shorten the quarantine period for passengers coming to Vietnam to 5-7 days instead of 14 days as previously. However, passengers flying from a third country must be placed in quarantine for 14 days as required.
Vietnam Airlines (VNA) announced on September 11 to re-operate international routes after the time affected by COVID-19 spreading with one-way flights from Vietnam to Japan from September 18 . The flights are aimed at bringing passengers from Vietnam to Japan to work, study and live.
Accordingly, in September, flights from Hanoi to Narita Airport (Tokyo) depart at 11:45 pm on September 18, September 25, and September 30; From Ho Chi Minh City to Narita, depart at 0:00 on September 30.
One-way flights taken off by Boeing 787 (B787) aircraft, the return flights from Japan to Vietnam will be carried out after an official decision from the authorities.
From June 2020, VNA has operated a number of one-way flights from Hanoi, Ho Chi Minh City to Seoul (South Korea) and to Frankfurt (Germany).
According to the plan of the Vietnam Civil Aviation Administration, the Ho Chi Minh City - Guangzhou route will operate 1 flight / week / way for each party. VNA and Pacific Airlines are flexibly operating with B787 aircraft providing 343 seats.
180-minute test, no need 14-day quarantine
To perform testing at the airport and border gate, participating units will install a lab, including 2 grade biosafety cabinets there, and set up an isolation area at the airport to organize collecting samples and waiting for testing.

The passengers were taken fluid from their throat and nose for testing by by medical staff.
After being sampled, passengers will have to wait 180 minutes to receive the results with the Realtime PCR test, the quick test to have results returned within 1 hour. "The quick test takes advantage of time, but the sensitivity is not as equal as the Realtime PCR, so it is not possible to use the sample aggregation method. If using the Realtime PCR method, the cost will be cheaper than the quick test. Fee is only about 4 USD / sample.
With this test, instead of the 14-day quarantine policy for many participants, passengers tested at the airport only need to wait 180 minutes "- a representative of a unit registering to participate in the test said.
Vietnam has suspended receiving international flights in late March after the COVID-19 pandemic spread quickly globally. It has only welcomed foreign specialists, business executives and highly skilled workers to undertake unfinished projects. It is still unknown when Vietnam will re-open doors for foreign travelers.