Vietnam proposes to resume commercial flights to Japan, South Korea this September
The Civil Aviation Administration of Vietnam has proposed to resume commercial flights to Japan and South Korea on September 15.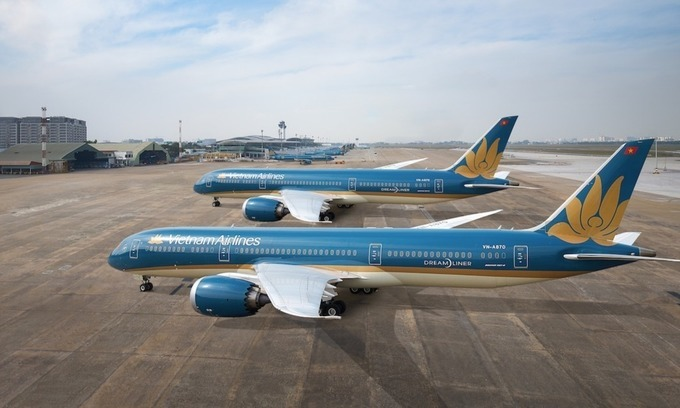 Aircraft of Vietnam Airlines at Noi Bai Airport, Hanoi, March 2020. Photo courtesy of Vietnam Airlines.
Dinh Viet Thang, head of the administration, said that following discussions with aviation authorities in the two countries, the proposal has been made to the Ministry of Transport for four round trips a week to each country.
The countries will have an equal share of bilateral flights, according to VNExpress.
Thang said the ministry would work with the health and defense ministries to discuss quarantine capacity and costs and pandemic control regulations for foreign arrivals.
In addition, quarantine costs are being collected from people arriving from abroad starting September 1. After relevant agencies come to a decision, the ministry would allow airlines to begin ticket sales.
Prime Minister Nguyen Xuan Phuc last Saturday ordered the Transport Ministry to speed up the resumption of commercial flights to South Korea, Japan, and other countries considered safe.
South Korea and Japan are Vietnam's biggest foreign investors and also send the largest number of tourists to Vietnam.
Previously, in July, the ministry suggested resuming flights to Guangzhou, Phnom Penh, Seoul, Tokyo, Taiwan, and Vientiane at a frequency of one round trip per week. The government then agreed to resume commercial flights to and from China. But the resurgence of community transmissions of the disease in late July put those plans on hold.
The Vietnam Aviation Business Association last month called on the government to resume flights to countries that have contained the COVID-19 pandemic, and allow foreign tourists entry if they meet pandemic prevention requirements since Vietnamese airlines were suffering heavy losses without international flights.
Vietnam has closed its borders and suspended all international flights from March 25, and stopped issuing visas for foreign nationals since March 18. Only Vietnamese citizens, foreigners with diplomatic passports, foreign experts, or highly skilled workers are allowed to enter the country. Everyone has to be quarantined for 14 days on arrival.
With border closures and suspension of flights, the number of foreign tourists arriving in Vietnam was only 3.8 million in the first eight months of this year, down by two thirds year-on-year.
Vietnam has reported 1,044 Covid-19 cases, 301 of them still active, and 34 deaths. There have been no new cases in the last two days.