Vietnam PM agrees to reopen services of karaoke parlors and discos
Vietnam PM Nguyen Xuan Phuc has allowed services of discos, bars, beer clubs, karaoke parlors to be resumed operation after months of temporarily shutdown to prevent the spread of coronavirus.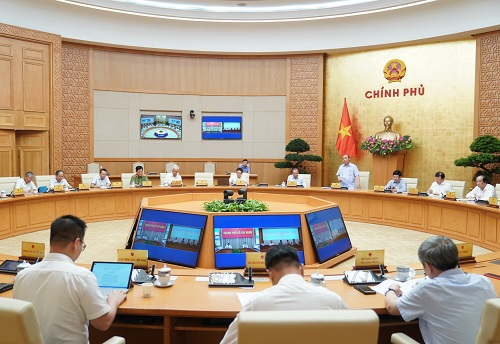 The Cabinet convenes a meeting on COVID-19 response on June 9, 2020. Photo: VGP
Concluding a meeting Tuesday morning, the Government chief also tasked the National Steering Committee for COVID-19 Prevention and Control to announce safety regions for resumption of international flights.
The government leader gave the nod as he concluded a meeting on COVID-19 response on Tuesday morning, around a month after the government had allowed reopening of most non-essential services with exceptions for karaoke parlors and discos.
Regarding development stance in the current context, Phuc reiterated the necessity to ensure safety for development in the 'new normal' through evaluation of international situation in association with the domestic situation.
He asked the Ministry of Foreign Afairs to issue concrete criteria and open channels for Vietnamese citizens and foreign experts to register for repatriation flights.
Vietnam ordered a series of non-essential businesses, including karaoke parlors and discos, to temporarily cease operations in late March when the country had entered a critical phase in fighting against the pandemic.
He allowed the majority of the businesses to come back on stream on May 9 as part of the gradual restart of the economy, but discos and karaoke lounges continued to be shuttered.
Phuc also tasked the Ministry of Transport to direct the aviation sector to arrange unlimited number of flights to bring experts, businessmen, and Vietnamese citizens to Viet Nam, informed the VGP.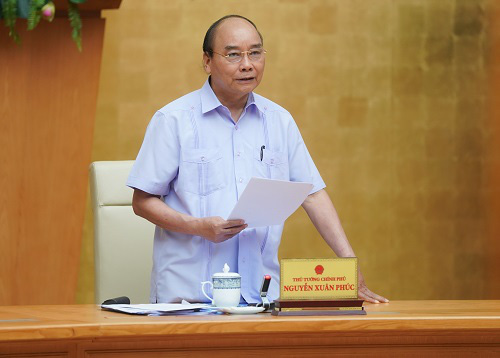 Vietnamese Prime Minister Nguyen Xuan Phuc addresses a meeting on novel coronavirus disease (COVID-19) response in Hanoi, Vietnam, June 9, 2020. Photo: VGP News
During the Tuesday meeting on COVID-19 prevention, the Vietnamese premier also asked the National Steering Committee for COVID-19 Prevention and Control to announce safe areas for resuming select international air routes.
The country is safe for boosting economic growth in the new normal situation, Phuc said, suggesting relevant agencies to continue watching the world situation for pandemic prevention.
He also asked ministries to be well-prepared to open door to foreign businesses and continue to build Vietnam as a safe destination of the world.
The prime minister agreed to allow experts and investors to enter Vietnam, including skilled workers to seek investment opportunities and work in the country. He assigned the local governments to continue coronavirus prevention measures.
PM Phuc assigned the steering committee to announce safe areas where COVID-19 cases have not been detected in the past 30 days to reopen routes.
Since April 24, Vietnamese authorities have conducted 20 special flights to repatriate 6,001 citizens stranded abroad due to the COVID-19 pandemic.
As of 6:10 am on June 9, the country's patient tally was 332, including 192 imported cases immediately quarantined upon arrivals, said the National Steering Committee for COVID-19 Prevention and Control.
Of the total 316 have been cleared of the virus, accounting for 95.2% and the current patients include 16 tested negative for the virus at least once.
As many as 8,182 people are under quarantine due to having been in close contact with COVID-19 patients or returned from foreign countries and territories, according to the committee.
World
Here are seven that stand out in a world tipping towards recession and higher inflation: Vietnam, Indonesia, India, Greece, Portugal, Saudi Arabia and Japan