Vietnam to ensure tourist safety amidst COVID-19 pandemic
The Vietnam National Administration of Tourism has recently issued recommendations on how to prevent the spread of the COVID-19 epidemic for travel agencies, resorts and hotels, restaurants and destinations, ensuring tourists safety while traveling.  
(Photo: Bao Binh Duong)
Accordingly, tourism agencies are requested to take steps to prevent the spread of the epidemic from tourists and employees working in hotels, tourism destinations, vehicles, restaurants, recreation centers, and offices.
The prevention measures include spraying antiseptic, distributing free masks, placing the antiseptic solutions in public places, and reception areas, reminding tourists and employees to wear masks and wash their hands.
All employees at tourist attractions should be equipped with the knowledge and skills to self-protect and support tourists against COVID-19, including sanitation, wearing masks, and reminding others to wear masks before entering tourist sites.
Travel agencies and enterprises should also proactively follow directions from local authorities, joining the efforts to prevent and control the spread of the novel coronavirus and to regularly update information about the disease, to promote awareness, Nhan Dan online reported.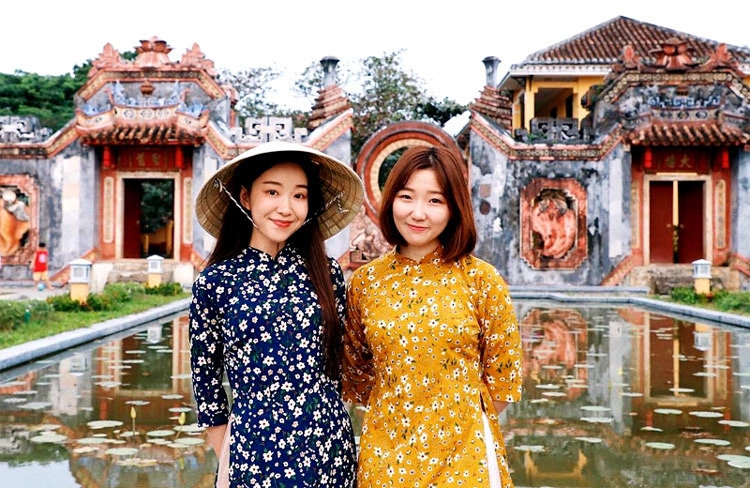 Two Korean tourists checked in in Vietnam (Photo: Vietnamnet)
Tourism activities across the country are gradually resuming business starting late April, early May thanks to the relaxed social distancing restrictions, with preventive measures to ensure the safety of tourists and locals, as mentioned above, are full-implemented and well-met.
Quang Ninh reopens non-essential businesses from May 8, excluding pubs, bars, karaoke parlors, according to Quang Ninh Provincial People's Committee issued Document No. 3029/UBND-DL1 on the adjustments regarding Covid-19 prevention and control in the new period.
Accordingly, the committee allows the resume of non-essential businesses, except for bars, pubs, and karaoke parlors. Businesses must strictly follow Covid-19 prevention and control rules, as reported by Quang Ninh portal.
Besides, Quang Ninh stops the operation of quarantine check-points at gateways to the province; maintaining the operation of self-management groups in residential areas. It is required to wear face masks at public places and public transport vehicles.
Children under 5 years old will be re-admitted to kindergartens from May 11.
Earlier on May 1, the UNESCO heritage site Ha Long bay was allowed to reopen its door to holidaymakers, with commercial centers, wholesale and retail services, hotels, restaurants, bars, golf courses, and tour operators in Ha Long Bay were green-lighted to resume normal business.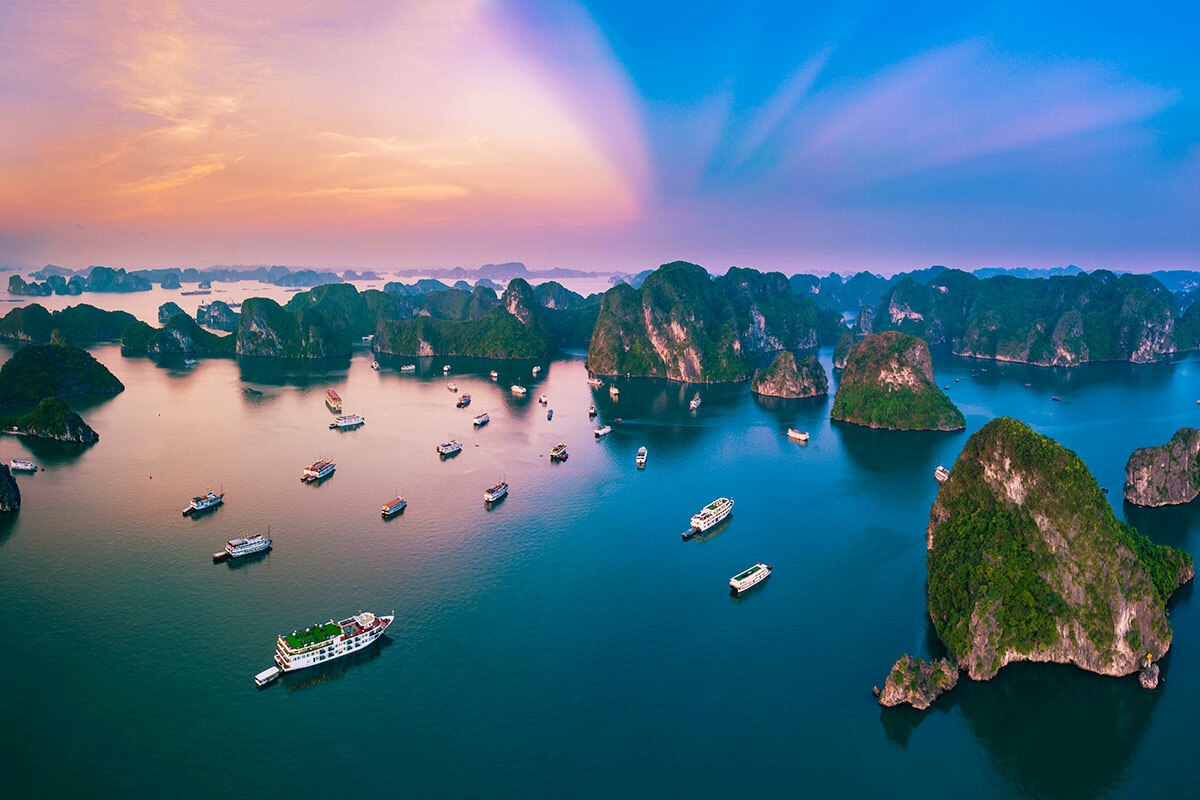 Ha Long Bay (Photo: VNE)
The capital of Hanoi's tourism activities were greenlighted to partly back to normality early May, with numerous tourist destinations start to reopen and welcome a considerable influx of tourists. Small sites, including Hanoi Old Quarter, Hanoi Book street, Duong Lam ancient village, Bao Son Paradise Park, Tan Da Tourism Complex, are included in the list.
Popular tourist sites in the inner-city such as Thang Long Imperial Citadel, Van Mieu Quoc Tu Giam, Hoa Lo prison, Ngoc Son Temple, however, are yet to open its doors again, Dau Tu Online reported.
To ensure the safety for tourists at this time, the Hanoi Department of Tourism requires all tourist sites and destinations to regularly clean and sanitize the areas; arrange clean water, soap or alcohol-based hand hygiene products within tourists' reaches at service points, attempting to ensure tourist safety.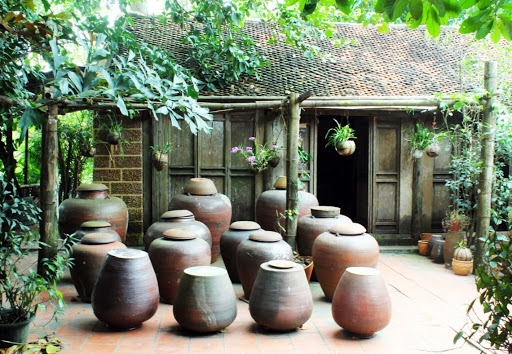 Duong Lam ancient village is one of the destinations in Hanoi to resume activities this month
(Photo: VOV world)
Numbers of provinces and cities across the country have given the greenlight to reopen its door to tourists since late April, early May, notably Lao Cai, Cao Bang, Son La, Vinh Phuc, Ninh Binh, Thanh Hoa, Quang Binh, Quang Nam, Phu Yen, Da Lat, Kien Giang. Thua Thien Hue and Hoi An are the two cities reopen right on April 30 morning, Tin Tuc reported.
Ho Chi Minh city has yet to announce when tourism activities would be resumed in key tourist destinations, however, smaller ones like Book Street were given the nod to resume business from April 24.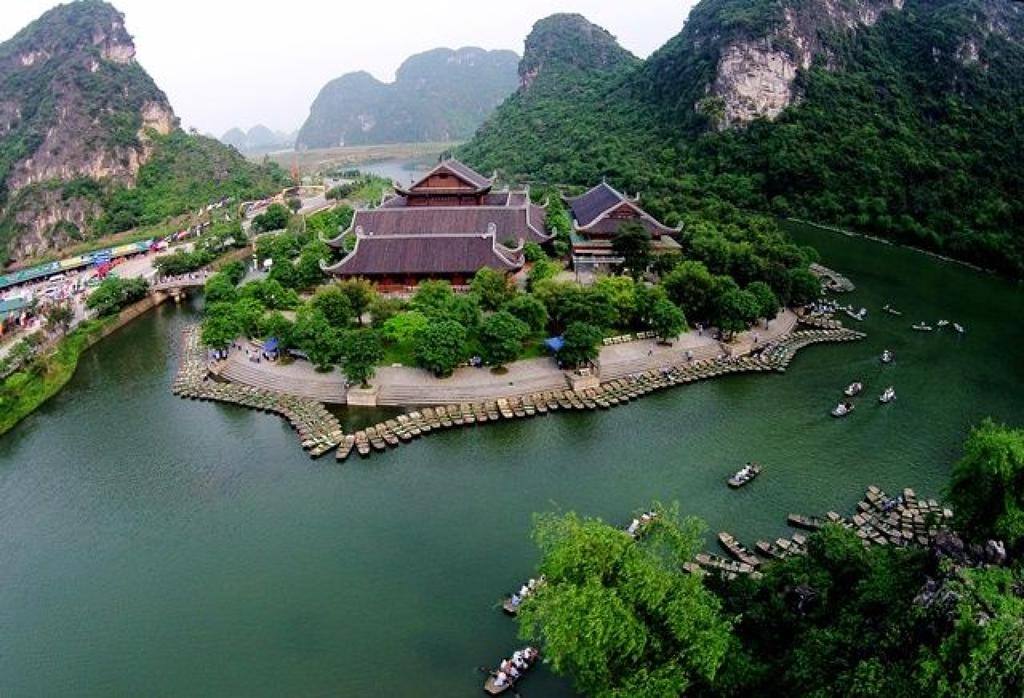 Ninh Binh (Photo: Booking.com)
On May 7, the Vietnamese government announced that non-essential businesses may re-open with appropriate health measures in place, but dance halls and karaoke lounges must remain closed. Sports activities and events with large gatherings may be allowed, and seat capacity restrictions for public transportation have been lifted, including for flights, trains, ships, and buses. The Vietnamese government still requests people to wear facemasks in public, with exceptions mentioned for students attending educational institutions.
However, local authorities have been given permission to be flexible in their implementation of these regulations. Some provinces or cities may impose stricter social distancing regulations than others. The further relaxing of social distancing guidelines has not changed Vietnam's immigration and entry restrictions. At this time, Vietnam is still not allowing the entry of foreigners, including people with a Vietnamese visa exemption certificate, with limited exceptions for categories of travelers considered essential by the Government of Vietnam. Exempted categories of travelers must undergo a two-week quarantine on entry and potential COVID-19 testing by Vietnamese government authorities, OSAC reported.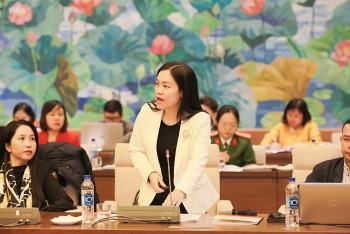 Friendship
Doan Thu Huyen, Vietnam Country Director for Campaign for Tobacco-Free Kids, made the statement at the "Child Downing Prevention" seminar.