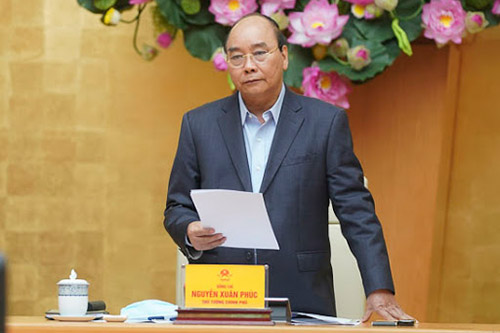 PM Nguyen Xuan Phuc gave speech in the end of the meeting on April 3.
In a meeting with permanent government members on Friday afternoon April 3, PM Nguyen Xuan Phuc emphasized the "supreme" goal to contain and prevent Covid-19 disease of public health and life protection.
He hailed the drastic attitude and serious efforts of the subordinate levels in tracing, tracking and dealing with the two biggest COVID-19 clusters at Ha Noi's Bach Mai Hospital and Ho Chi Minh City's Buddha Bar.
This is the stage that requires aggregate strength as well as smooth and serious coordination to stem importation of cases while tracking all domestic infections as fast as possible, the Government chief stressed.
He also said that Vietnam' growth in Q1/2020 at the low rate 3,82% compared to previous years but still considered the highest growth in the area this time, albeit that, Vietnam targets protect absolutely people's health and lives in case making shorterm rise sacrifice.
This is the key period to mobilize general forces, and ally organiztions in harmony seriously to " lock down outside, stop spread inside, especially trace hotspots to find out all infections". In tandem with the COVID-19 fight, Phuc also asked for taking care of the poor in a faster and more timely manner to leave no one hungry or behind. Provision of minimum living standards includes : electricity, food, rice, vegestables, medicine...must be obligatotry task done by departments at all levels. And, strictly handling violations of illegal speculation, imitations and disqualifies contains handling criminally violated individuals as a warning to others during this difficult struggling time.
He asked to seriously implement No 16 Direction of social distancing requiring people only travel in essential, wear face masks often and keep at least 2m distance ....
The Ministry of Health was urged to complete preparations for possible complicated situations, accelerate manufacturing of preventive gear, and develop a plan for production of respirators.
The Government chief praised impressive generosity of the countrymen from the North to the South for having offered financial support for the fight against the pandemic.
As of 7:56 pm on Friday, Viet Nam confirmed 237 COVID-19 infection cases, of whom 221 have been reported since March 6.
Of the patient tally, 85 have recovered and exited hospitals while the rest are being treated at 21 medical facilities across the nation, according to the Ministry of Health./.
Tarah Nguyen