Vietnam police cavalry squad first rehearses against protesters
After being trained for a year, the Vietnam's police cavalry squad was mobilized to take part in exercising against protests.
In January, the Ministry of Public Security coordinated with the Ministry of National Defense to approve the plan of protecting the 13th National Party Congress of the Communist Party of Vietnam (CPV), scheduled to take place at the square of My Dinh National Stadium.
Among the rehearsal plans, there were anti-protest and violent content. The scenario is that hundreds of villagers bring wooden sticks and bricks to come to the People's Committee office of H city to ask to meet the chairman and request to return the land. After failing to achieve the goal, the group of leaders pushed hundreds of people to gather, burn and crash into the headquarters. Facing this situation, the city police reported and asked for the direction of the Ministry of Public Security, mobilized forces to support. In which the main force is the High Command of Mobile Police (HCMP) with thousands of officers, soldiers and equipment.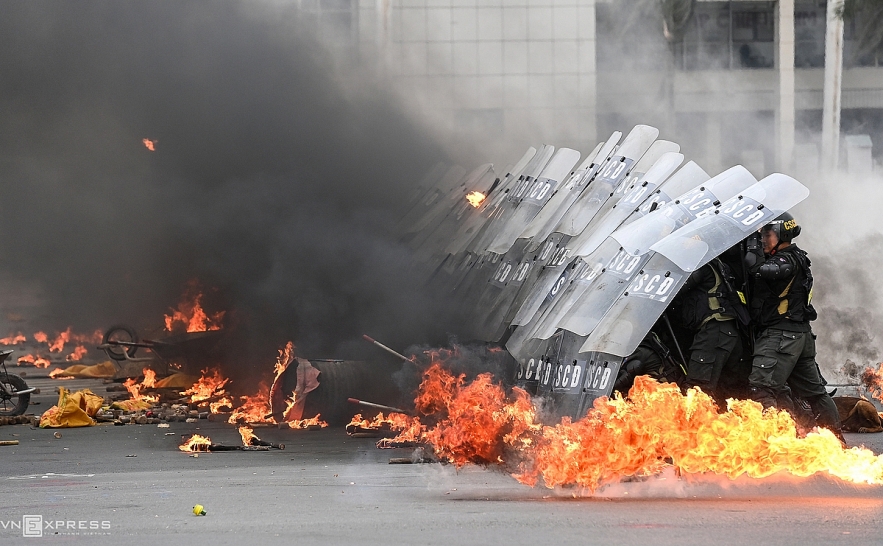 Photo: Vn Express
The police mobilized vehicles carrying barbed wire to make fences to protect them in front of the H-City People's Committee headquarters. However, the crowd became more and more aggressive. They even attacked functional forces.
In the plan to suppress the riot and demonstration, the Mobile Police used the cavalry force for the first time with 54 horses.
The cavalry has been established for over a year and trained with many tasks such as hurdle crossing, parade, salute, gallop, falling, jumping, lying down, dodging bullets, trenches, etc.
They are also equipped with guns, hats, armors and thighs when being on duty.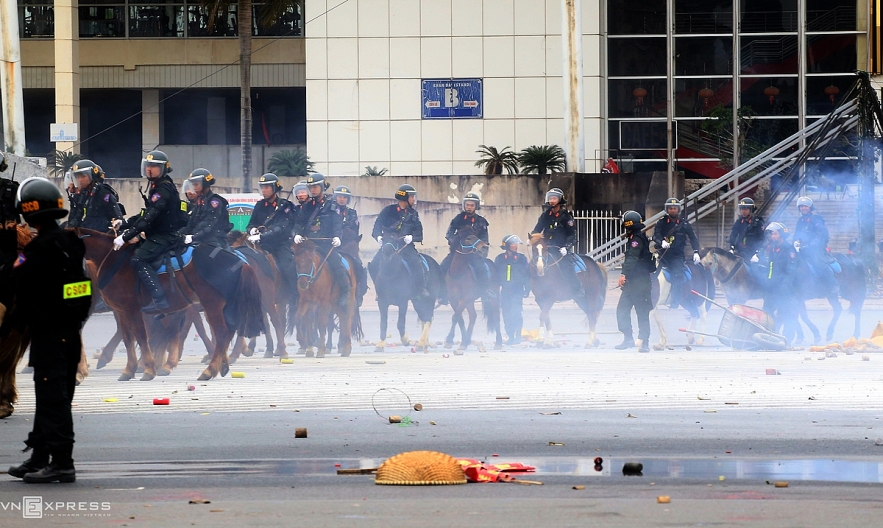 Photo: Vn Express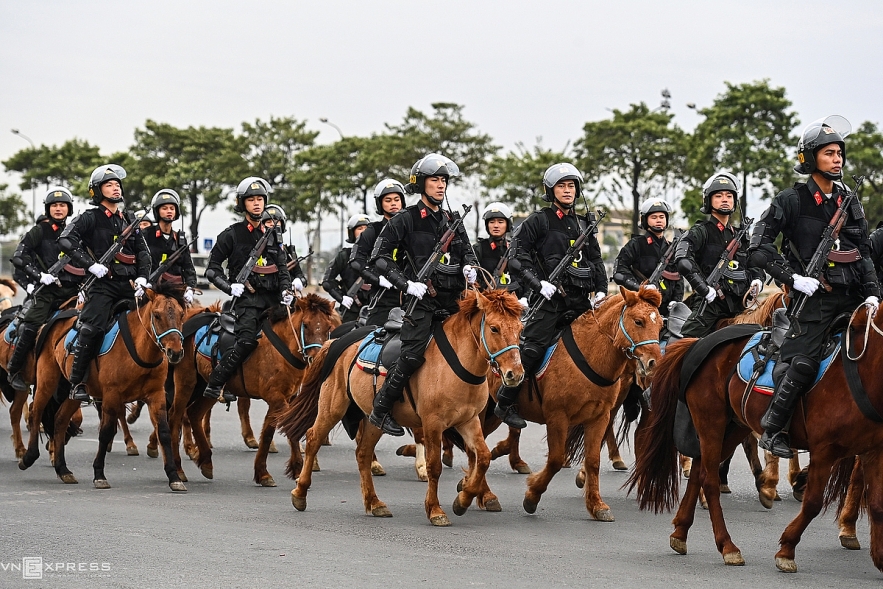 Photo: Vn Express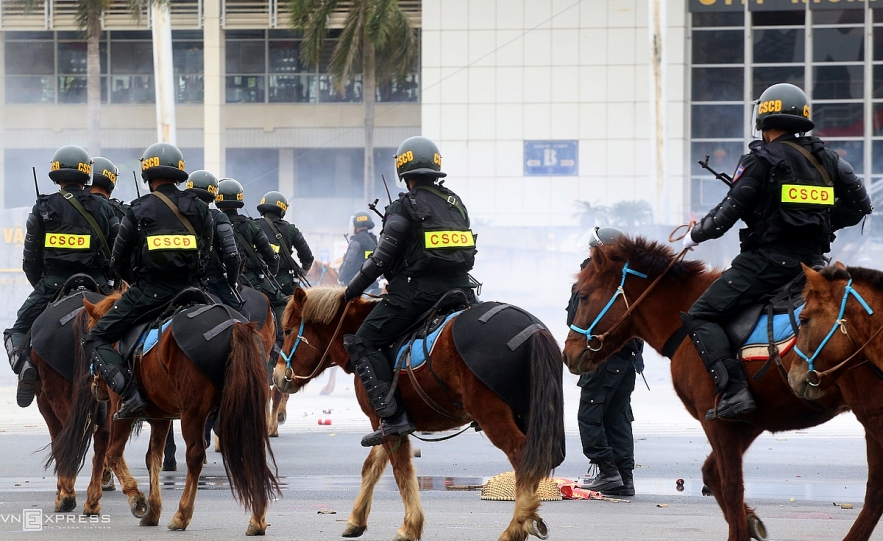 Photo: Vn Express
Thousands of people with materials and weapons participated in the morning on January 8. Bombs exploded next to them many times and made loud noise but 54 horses of the cavalry still obeyed police orders, followed in line.
According to the plan, horses are trained to support, coordinate with the police and disperse the crowd. After that, the police team moved the cavalry together in a circle to protect the scene and to form a shield in order to protect the police being on duty here. Besides, horses also gallop, chase people who deliberately oppose.
After dispersing the crowd, the cavalry group stood in a sprawling area of artifacts left by protesters to support and escort other functional forces.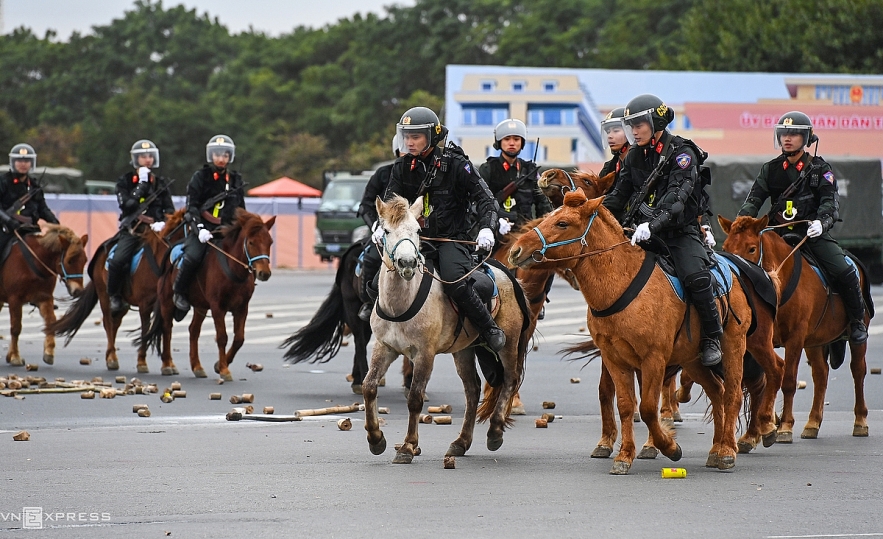 Photo: Vn Express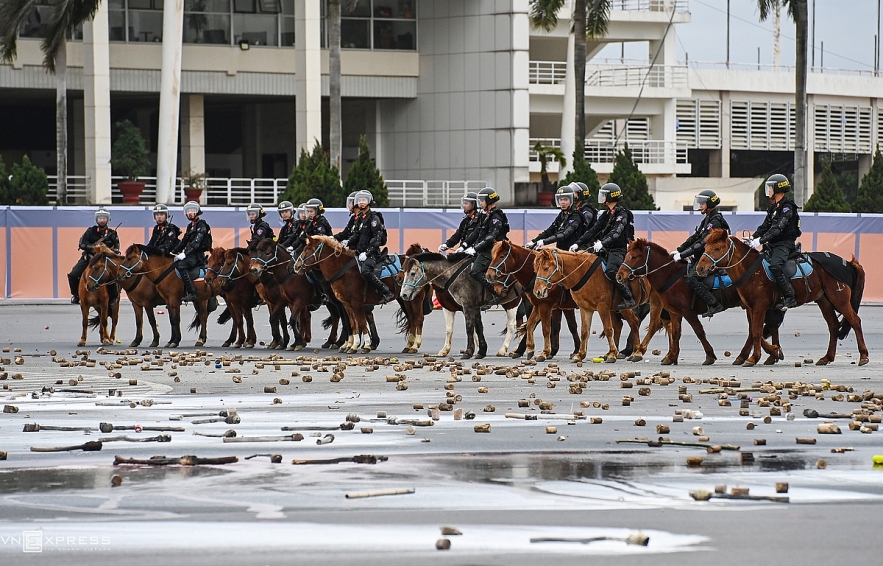 Photo: Vn Express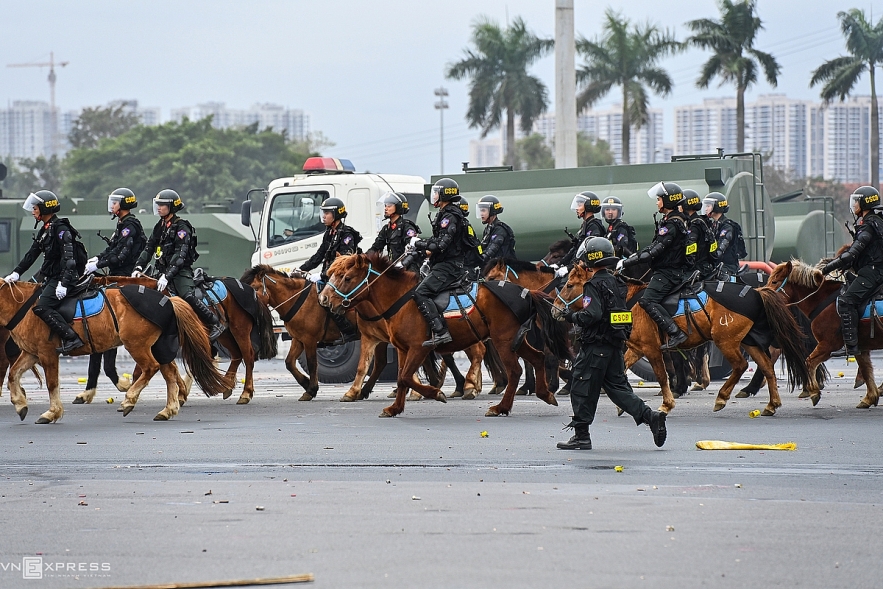 Photo: Vn Express
After finishing the exercise, horses were cared for by policemen and taken to the barracks.
Horses usually eat 3 main meals a day with three types of raw food, starch and fresh grass. On average, the horse eats about 30-40 kg of food each day. Each policeman is in charge of his own horse.
The Police Cavalry Squad is a staffed force for the Mobile Police Department under Ministry of Public Security from January 15, 2020.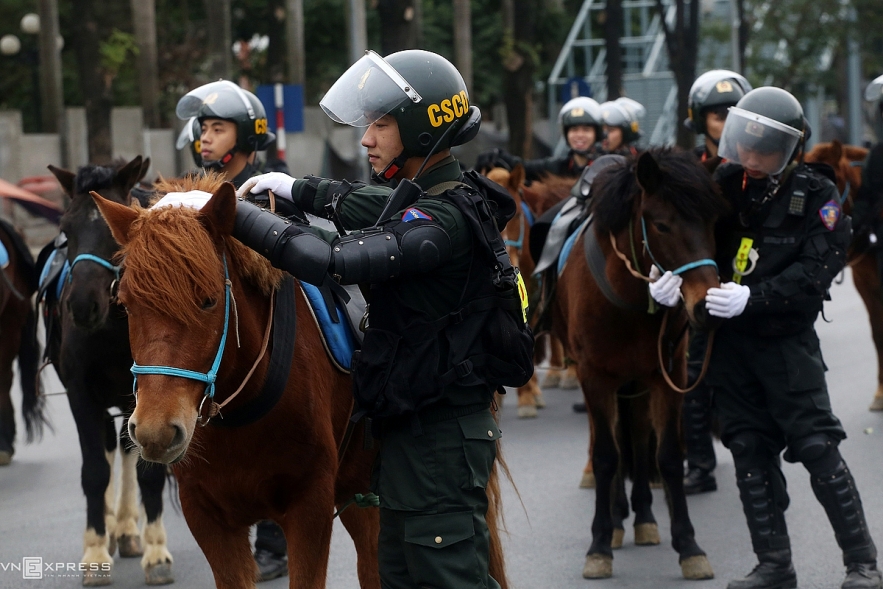 Photo: Vn Express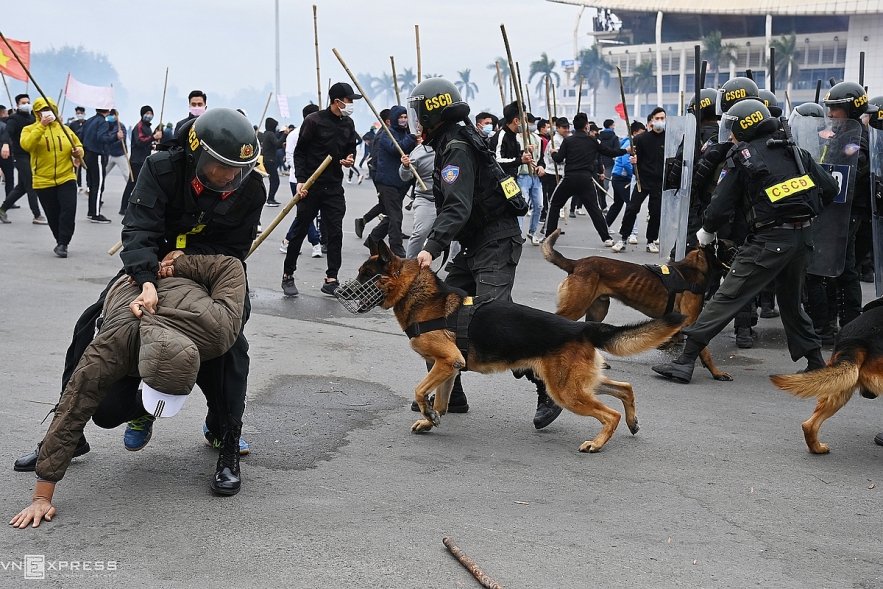 Photo: Vn Express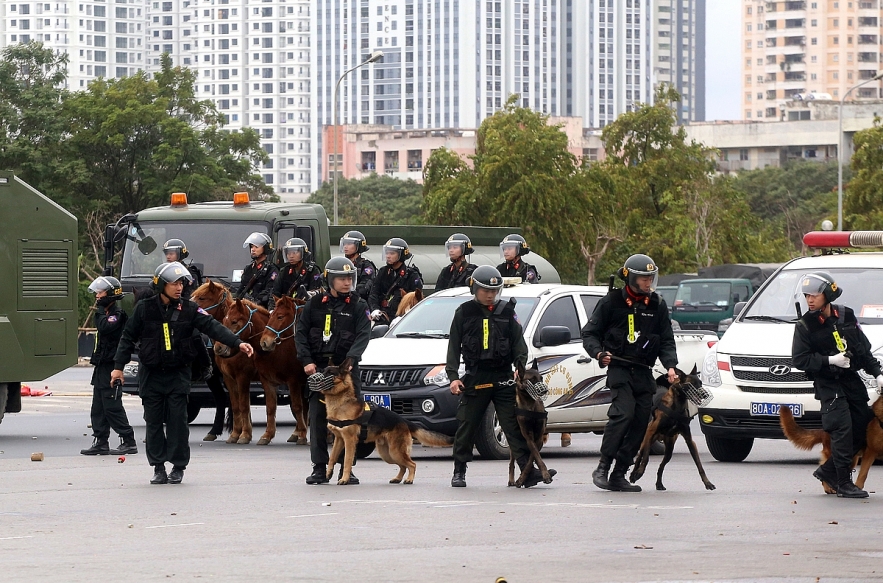 Photo: Vn Express
Colonel Nguyen Huy Hanh, head of the police cavalry squad, said that after a year of training, horses have mastered the exercises and can be applied in real combat. The 54 selected horses are in good health. They are intelligent and always obey commands to participate in missions in all extreme climatic conditions.
"Exercising for preparation of the 13th National Party Congress of the Communist Party of Vietnam (CPV) is our first major mission after a year of establishment," said he.
'Happy Village' built for Muong ethnic people

LG Electronics (LG) is partnering with Habitat for Humanity Vietnam (Habitat Vietnam), the housing nonprofit organisation that helps 1,200 Muong-ethnic individuals in Hoa Binh province ...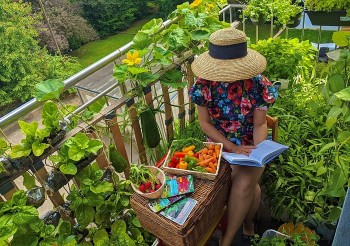 Overseas Vietnamese
An amaetur farmer, Chang Nguyen taught herself to build a small green space on her balcony.
Multimedia
In September, some isolated resorts in Sa Pa, Lao Cai Province and Hoa Binh Province have welcomed tourists with negative test results for Covid-19 within 72 hours.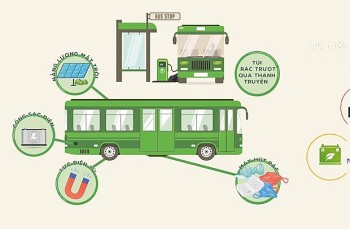 Viet's Home
Up to 800 initiatives on environmental protection have been submitted by Vietnamese youth to the British Council after only two months of launching.