Vietnam Preparing for Opening Ceremony of Army Games 2021
Vietnam is preparing for the opening ceremony of International Army Games 2021, which will start in 9 days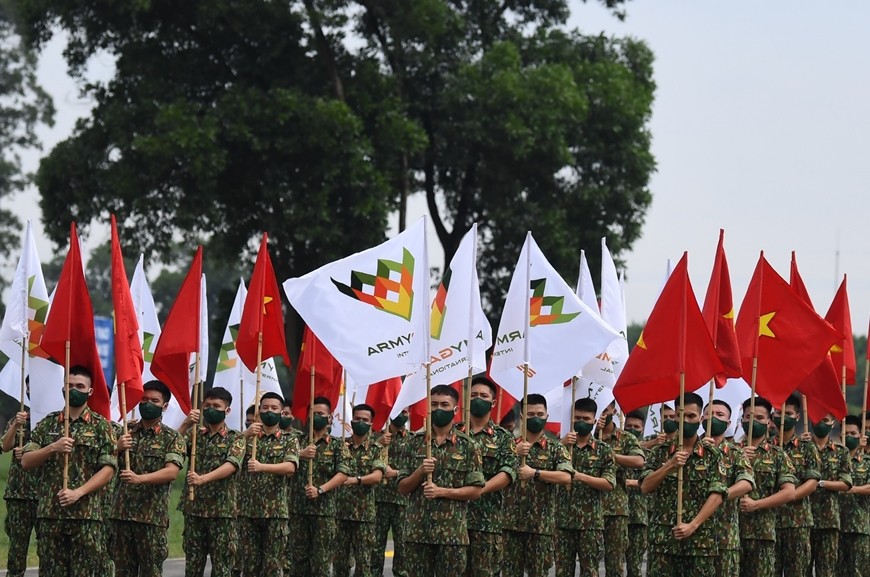 Opening ceremony rehearsal of International Army Games 2021 takes place at the National Military Training Center 4 (Mieu Mon, Hanoi). Photo: ANO
Senior Lieutenant General Nguyen Tan Cuong, chief of the general staff of the Vietnam People's Army, Deputy Defense Minister, on Aug. 13 chaired the opening ceremony rehearsal of the International Military Games 2021 in Vietnam, reported PANO - the online newspaper of the Vietnam People's Army. Also attending were Lieutenant General Nguyen Van Nghia, deputy chief of the general staff.
Cuong said the Vietnamese Ministry of National Defense's hosting of two events 'Sniper Frontier' and 'Emergency Area' was an important activity, contributing to good relations between Vietnam and Russia; as well as strengthening exchanges and friendly cooperation between the Vietnam People's Army and the armies of other countries.
He also said it was an opportunity to promote the image of the country, people and the Vietnam People's Army, and at the same time learn from the experience of organizing training and competitions from other countries.
In order for the opening ceremony of the festival to take place as planned and ensuring safety, Cuong asked the forces to take advantage of practice, and to quickly perfect decoration and celebration.
He said the opening would be brief but solemn, showing the cultural identity of the country and people of Vietnam, adding that it necessary to guide domestic and foreign athletes to organize testing and strictly implement measures to prevent and control the Covid-19 pandemic.
In addition, the chief of the general staff emphasized the need to organize activities on the sidelines of the festival to ensure pandemic prevention and control. He said Vietnam should show dedication, thoughtfulness and sincerity in order to leave a deep impression on the delegations of foreign athletes who come to compete in the country.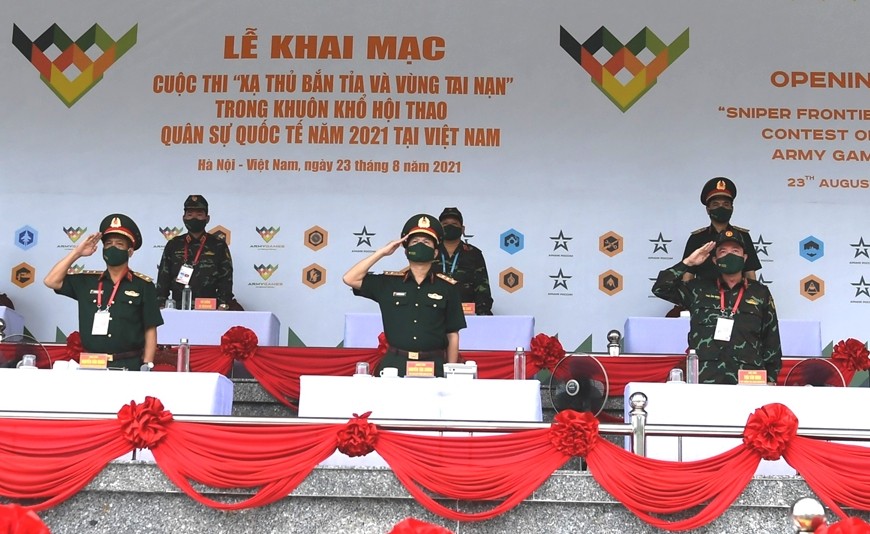 Senior Lieutenant General Nguyen Tan Cuong and delegates attend the rehearsal. Photo: PANO
It started with formation of teams and ceremonial parade. Photo: PANO
The 2021 International Army Games will kick off on Aug. 22 across 12 host countries and territories. A total of 277 teams from more than 40 countries and territories are expected to compete in 36 categories this year.
This is the fourth time Vietnam has participated in the competition. It also marks the first time the country has hosted sniper and rescue events of the games.
The Vietnam People's Navy has also sent a fleet comprising frigates 015-Tran Hung Dao and 016-Quang Trung to take part in the Sea Cup event for the first time.
A delegation of the Vietnam People's Army arrived in Moscow, Russia, on Aug. 3 to compete in the 2021 Army Games.
The Vietnamese team comprises nearly 200 officers and soldiers. It will join various events, including Tank Biathlon, Safe Route, Sea Cup, True Friend, Sniper Frontier, Gunsmith Master, Masters of Artillery Fire, Clear Sky, Safe Environment, Military Medical Relay Race, and Field Kitchen.
Participants of the True Friend category will travel to Algeria for the competition.
All the team members have been fully vaccinated against Covid-19 and test negatived for the virus.