Vietnam researches production of single-dose Covid-19 vaccine
The Health Ministry on Saturday stated a Vietnamese enterprise is in talks with a U.S. manufacturer regarding technology transfer to produce a one-dose Covid-19 vaccine with high protection.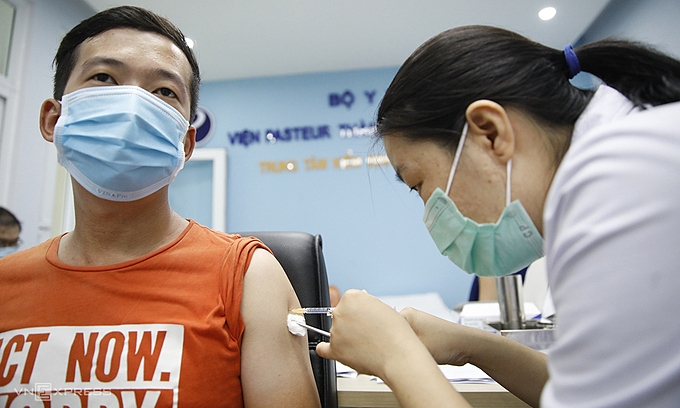 A man receives his Covid-19 vaccine shot at Pasteur Institute, HCMC, May 11, 2021. (Photo: VNE)
The names of the Vietnamese enterprise and the U.S. manufacturer have not yet been revealed.
The ministry said the Vietnamese company has been negotiating with the U.S. manufacturer about the conditions for the mRNA vaccine technology transfer. The mRNA vaccine has finished its first and second phase clinical trials and requires only a single injection of 5 milligrams with high protection, stored at temperatures of 2-8 degrees Celsius.
The factory invested by this Vietnamese company in line with the manufacturer's technology standards will have a capacity of 100-200 million doses per year and is expected to start production from the fourth quarter this year or early 2022.
Most current Covid-19 vaccines require two injections, except for American pharmaceutical firm Johnson & Johnson's vaccine, which needs only one.
According to the U.S. Center for Disease Control and Prevention (CDC), new mRNA vaccines can protect against infectious diseases. This kind of vaccine is proved to have an efficacy of 94.8 percent against Covid-19, according to VNE.
The ministry said Vietnamese pharmaceutical firm Vaccine and Biological Production Company No. 1 (Vabiotech) is also in talks with a Japanese partner to soon receive the transfer of vaccine production tech.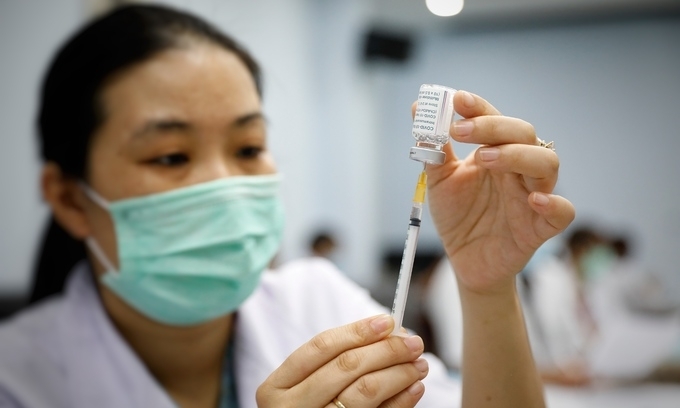 A medical worker prepares a Covid-19 vaccine shot in HCMC, May 11, 2021. (Photo: VNE)
Vabiotech said it has cooperated with Russia to begin creating vials for Sputnik V this July, with an expected capacity of around five million doses a month. Russia said it too may transfer its vaccine production technology to Vietnam in the future.
The health ministry has successfully negotiated to get more than 120 million doses of Covid-19 vaccines from multiple sources in 2021, including AstraZeneca, Pfizer, Moderna, and the Covax facility.
Vietnam currently aims to secure 150 million Covid-19 vaccine doses to cover 70 percent of its population by this year. The ministry said it would not only seek multiple sources for Covid-19 vaccines but also strive to be a part of the tech transfer process so Vietnam could produce vaccines itself.
Vietnam has been carrying out a mass vaccination campaign since March, under which more than 1.3 million people have received their shots of the AstraZeneca vaccine.
Pfizer vaccine approved for emergency use
The health ministry has approved the Pfizer/BioNTech Covid-19 vaccine for domestic emergency use.
Developed in partnership between Germany company BioNTech and US firm Pfizer, this is the fourth vaccine to receive such authorization, following Oxford/AstraZeneca, Sputnik V, and Sinopharm's Vero Cell.
According to the approval decision signed by deputy health minister Tran Van Thuan, the product – named Comirnaty – comes in doses of 0.3ml of mRNA molecules protected by lipid nanoparticles.
The packaging is described as trays of 195 vials, with each vial holding six doses of vaccine, Vietnam News reported.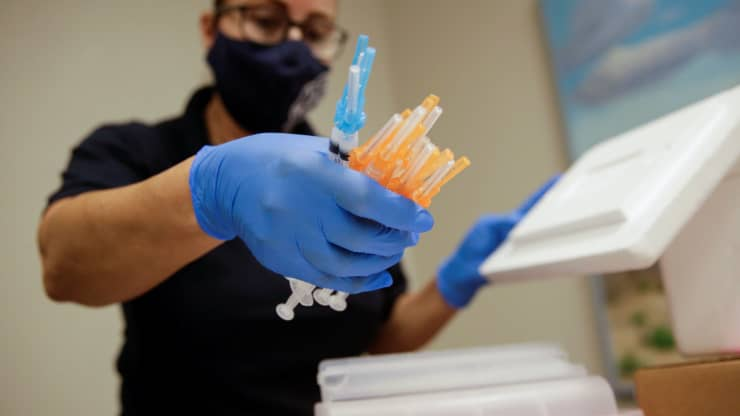 A healthcare worker holds syringes with the Moderna and Pfizer vaccines against the coronavirus disease (COVID-19) at a vaccination centre, in El Paso, Texas, May 6, 2021. (Photo: Reuters)
The decision is made based on safety and efficacy data provided by Pfizer Vietnam Co Ltd to the health ministry by May 28, and commitment by the company that the data has been reviewed and approved by the European Medicines Agency.
The company is expected to coordinate with the manufacturer in ensuring the standards of the Comirnaty vaccine, along with the quality of the products imported into Vietnam.
The company is also required to work with health authorities to issue guidance on the storage, distribution and use of the vaccine for vaccination sites, assess the quality of the vaccine batches imported into the country before use, and work with the health ministry to conduct risk management of the vaccine during its use in Vietnam.
Vietnam recorded 98 new Covid-19 cases, including 95 local infections, from 6 am to 12 pm on June 13. Among the locally transmitted cases, 64 were in Bac Giang, 26 in Ho Chi Minh City, four in Bac Ninh, and one in Hanoi. Of them, 85 were detected in quarantine or blocked areas.
The country documented 103 new locally transmitted Covid-19 cases from 12 pm to 6 pm on June 13. The new infections included 44 in Ho Chi Minh City, 33 in Bac Giang, 16 in Bac Ninh, nine in Ha Tinh, and one in Binh Duong. Of them, 96 were detected in quarantine or locked-down areas.
92 more Covid-19 infections, including 91 domestic cases, and one imported infection were recorded to 6 am on June 14. 73 out of 91 local infections were detected in isolation or lockdown areas.