Vietnam starts testing COVID-19 vaccine on monkeys
COVID-19 vaccine by the Hanoi-based Vaccine and Biological Production Company No. 1 (Vabiotech) has been tested on monkeys as of October 27, according to the Ministry of Health.
Vu Cong Long, the head of the animal farm at the Center for Research and Production of Vaccines and Biologicals (Polyvac) under the Ministry of Health said on October 30 that the vaccine has been tested on 12 rhesus macaques (Macaca mulatta) in the northern province of Quang Ninh. Trials are expected to last around a month, VNExpress reported.
The monkeys are 3-5 years old, weigh over 3 kg and do not contract infectious diseases such as tuberculosis or HIV. Before being injected with the vaccine, monkeys have their temperature checked, blood and swab samples taken and are separately kept in cages. After the injection, monkeys will be monitored within three months and then their blood samples will be sent to Hanoi for testing, Long added.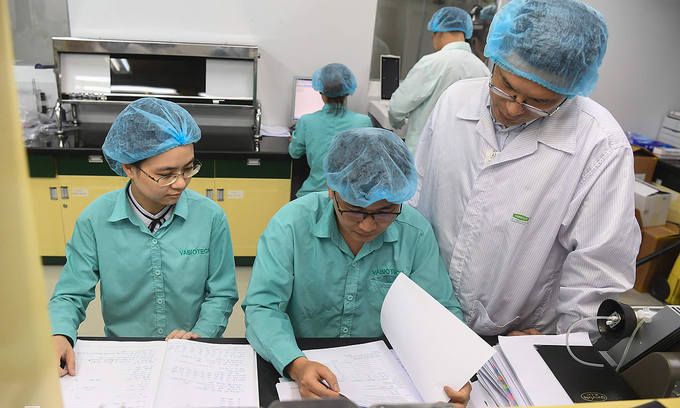 COVID-19 vaccine researchers at Vabiotech in Hanoi. Photo: Giang Huy/ VnExpress.
Do Tuan Dat, head of Vabiotech said that testing on monkeys is a pre-clinical step in Covid-19 vaccine trials. The monkeys are given vaccines twice, each dose about 18-21 days apart. Experts will assess the monkeys' immune response about a month after the second vaccination, he noted.
In addition to testing on macaques, Vabiotech also carries out other trials on different animals to gather more data on the vaccine.
Professor, Nguyen Thu Van, head of the executive board for the national program of vaccine product for human use said that experimenting COVID-19 vaccine on monkeys is just a step in the entire process of researching a COVID-19 vaccine. There are different kinds of animals used for trials, for example, mice and rabbits. Researchers will decide on the number and types of animals.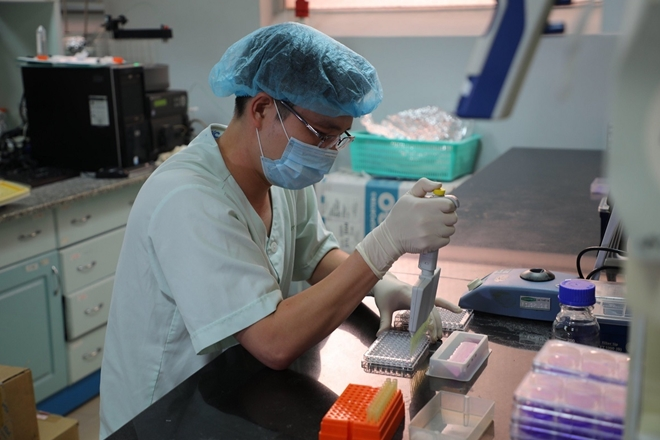 Photo: Public Security News
The test results on monkeys will be submitted to the Ethics Committee of the Health Ministry in the next four months if the trials show the vaccines generate good immunogenicity and effective protection against COVID-19.
Currently, as many as four units are developing and producing COVID-19 vaccine in Vietnam namely Vabiotech, Polyvac, the Institute of Vaccines and Medical Biologicals (Ivac), and Nanogen Pharmaceutical Biotechnology.
Among the four, vaccines by Ivac and Nanogen Pharmaceutical Biotechnology are more evaluated and expected to complete the clinical trial by the fourth quarter of 2021. These two vaccines are going through challenging tests and the results are expected to be announced by December.
Under the process, the Ministry of Health will approve clinical trials within the month and three phases of vaccine clinical research will be completed a year later.
Vietnam has reported 1,177 Covid-19 cases so far, of which 77 are still active. A total of 35 people have succumbed to the disease, many elderly patients with underlying conditions like diabetes or kidney failure.
The country has recorded no community transmission in nearly two months.