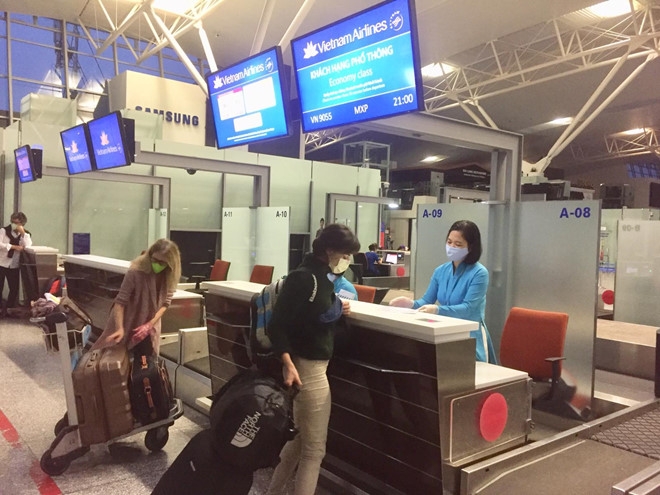 Italian passengers check in before boarding the flight to bring them home. Photo: VNA
The flight, which was arranged between Vietnamese authorities and the Italian Embassy in Vietnam, was part of effort to help diplomatic agencies in the country to carry out citizen protection duties.
It also transported 4 tons of medical equipment aid, including 143,000 medical face masks as a gift of the Vietnamese Government and people to help Italy fight against the COVID-19 pandemic.
On the return flight which landed in Da Nang International Airport Saturday, a number of Vietnamese citizens living in Italy including Vietnamese students, children, disadvantaged and elderly people were brought home.
After entering Vietnam, all passengers were immediately sent to quarantine and had health checks carried out.
The aircraft, the entire passenger cabin, cockpit and cargo storage area were disinfected after landing.
Readmore: British Ambassador thanks Vietnam for its support to repatriate UK citizens
Recently, Vietnam Airlines has been actively working with domestic authorities and foreign diplomatic agencies to carry out flights to repatriate foreign citizens, transporting medical aid goods. For example, the flights to repatriate citizens of Germany, EU and the UK , transporting medical equipment aid from Vietnam to Laos, Cambodia and 5 European countries. The efforts of Vietnamese state agencies as well as Vietnam Airlines have been well recognized and appreciated.
Jennifer Tran