Vietnam Takes Top-Ranking at World Graphic Design Competition
This was the third time in a row Vietnam had achieved good results at the world championships for young IT talents.
Two of Vietnamese representatives ranked at top 4 and top 10 in the final rounds of the Adobe Certified Associate World Championship 2020 (ACAWC). This year, the results announcement took place online on Nov. 22, marking three continuous years Vietnam team pocketed high rankings at this international Championship.
Vietnam team ranked high three years in a row
Duong Viet Anh, a graduate from Nguyen Tat Thanh School (Hanoi), is in the top 4.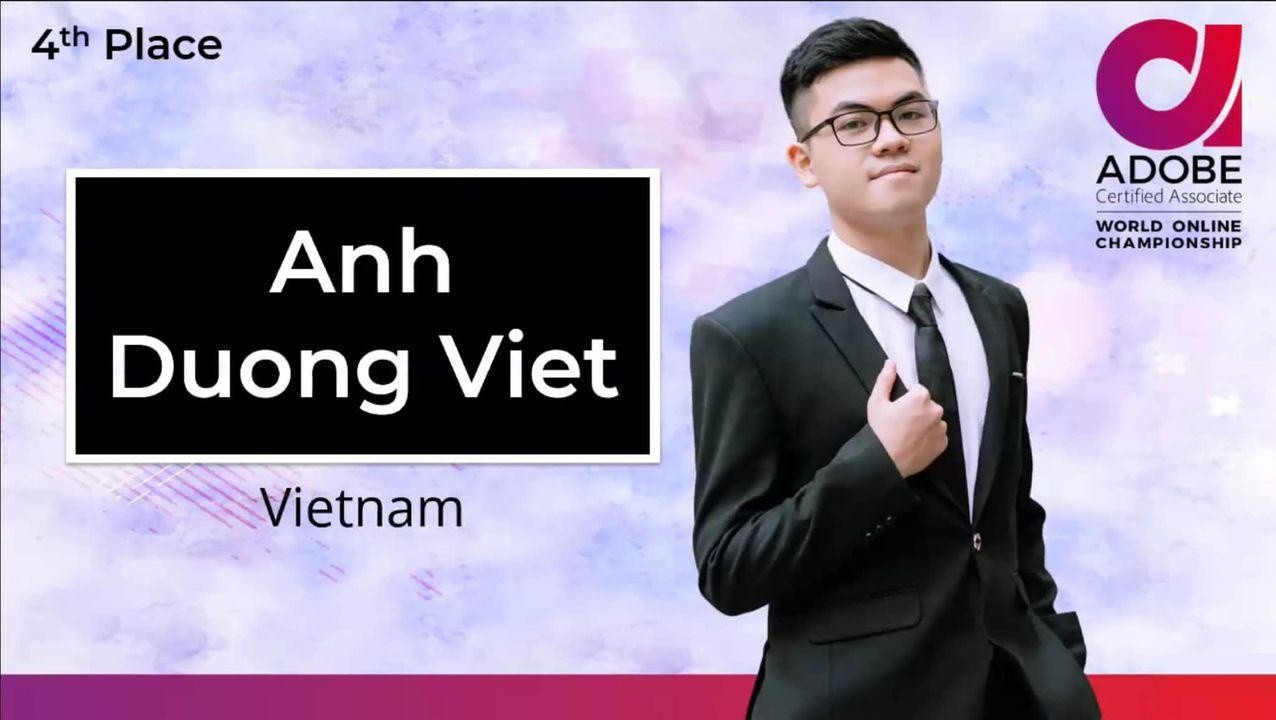 Duong Viet Anh is in the top 4, highest ranking for Vietnam contestants. Photo: Thanh Nien Online
"I was really surprised when my name was called. I found this year's exam topic much more difficult to execute than last year's so I did not expect to rank 4th place. While working on the topic, I wanted the resources, which was "paintings", and the style to go together without conflict," Viet Anh shared.
Bui Dinh Duy, an alumnus of Hanoi Industrial Vocational College, is in the top 10.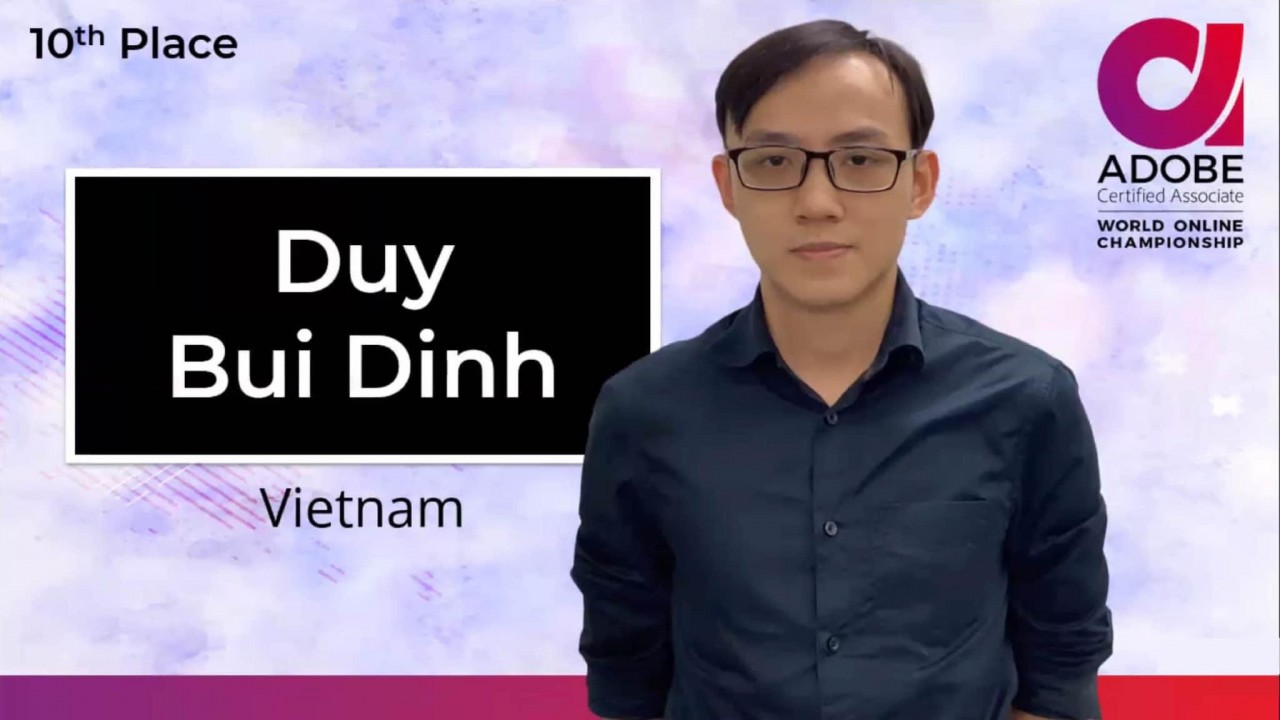 Bui Dinh Duy is in the top 10. Photo: Thanh Nien Online
"I am also very happy that my designs have been recognized by the international community. I hope my contribution can reaffirm the position of the graphic design industry in Vietnam on global scale. Being in the top 10 is definitely a great motivation for me to aim higher as a graphic designer", Duy said.
They are two of the six Vietnamese representatives joined the competitions, according to Thanh Nien Online.
Nguyen Thanh is the Vietnamese student who won fan-vote award at the 2019 competition. Vietnam also had great results at ACAWC 2018. Nguyen Tran Thao Nguyen, a third-year student from the Ho Chi Minh City Posts and Telecommunications Institute of Technology, won a bronze medal.
In the 2019 Microsoft Office Specialist World Championship Tran Hoang Anh, a student from Hanoi-based Foreign Trade University, among three Vietnamese participants, won the bronze medal for Microsoft Excel 2013 contest at MOSWC 2019. Vietnam has so far won 11 medals (one gold, one silver, and nine bronze) after 10 years joining the MOSWC.
Graphic design is popular among Vietnamese youth
The elimination round to select the national teams for the world championship attracted the participation of 157 contestants from nearly 30 universities and academies, colleges and high schools across Vietnam. The number increased 36% compared to the 2019 season. That suggests graphic design has become increasingly popular among students.
According to Mr. Do Nang Khanh, Deputy Director General of the General Department of Vocational Education, graphic design is a training field the the General Department prioritizes for development of education program in high schools and colleges. Joining ACAWC is a great chance for Vietnamese young people to not only compete fairly with the region and the world, but to also create against each other for skill improvement.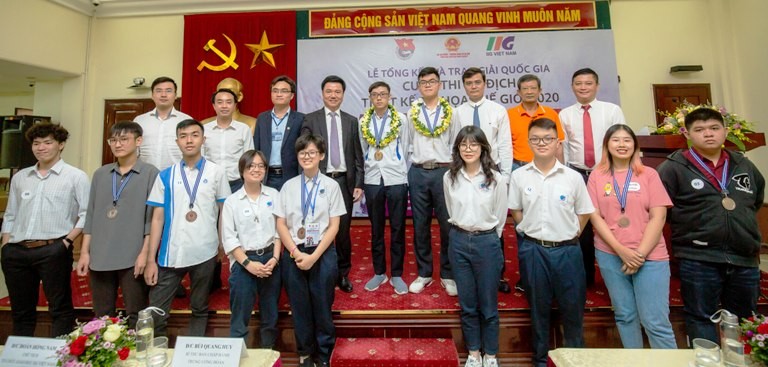 Students are praised for their achievements in graphic design competition. Photo: Doan Thanh Nien
ACAWC 2020 was considered highly competitive due to significant changes in the grouping system. Still, contestants find it more encouraging and fair in term of graphic background. All the team join the competition online with the highest spirit despite the travel restrictions.
Adobe Certified Associate World Championship
The World Graphic Design Championship is an annual contest organized by Certiport Corporation (USA) since 2013 to find the top young designers using Adobe Photoshop, Adobe Illustrator and Adobe Indesign software. This is a competition for students aged 13-22 with a global scale and attracts hundred thousands contestants from nearly 70 countries and territories to participate each year.
ACAWC 2020 estimated that about more than 1.3 million students from nearly 70 countries worldwide joined in total, with more than 200 of them competing in the final rounds.
This year, the ACAWC Organizing Committee has made adjustment the rules and prize structure: the contest is divided into 3 group ages: Group A is universities and academies; Group B is for colleges and intermediate schools and Group C is for high schools and junior high schools.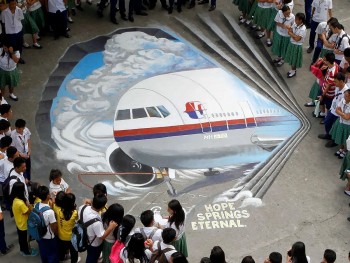 World
The world might never know what really happend when these planes went off the radar. Let's take a look at some of the unsolved mysteries of aircraft disappearances.