Vietnam to administer first doses of COVID-19 vaccine next Monday
The first jabs of AstraZeneca vaccines will be given to prioritized groups across Vietnam starting March 8, Health Minister Nguyen Thanh Long said Friday morning.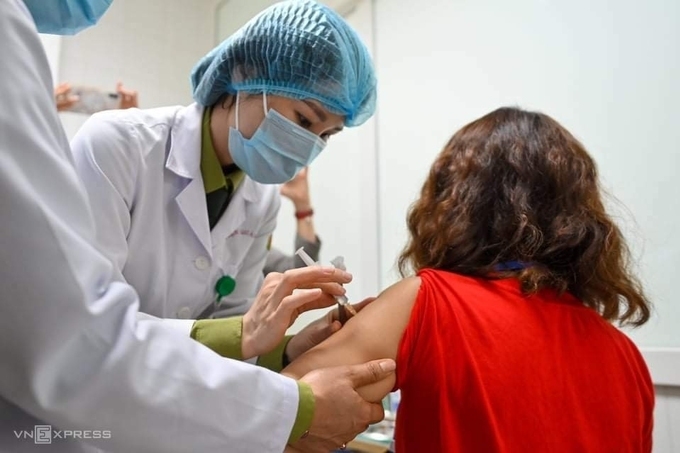 First volunteer receiving Nanocovax vaccine on its second trial in Hanoi on February 26 morning (Photo: VNE)
To date, 117,600 doses of the UK's AstraZeneca vaccines have arrived in Vietnam since February 24, with a quality inspection certificate fully granted by the Vietnam Ministry of Health and related agencies in Korea.
"So far, the batch is fully-met with criteria for inoculation in Vietnam", Long stated at the standing meeting of the National Steering Committee for COVID-19 prevention.
The Health Ministry is expecting to hold a conference on March 6 to discuss vaccination plans and implement nationwide training on receiving, using, storing vaccines, as well as handling post-vaccinated complications.
AstraZeneca vaccines will first be given to 18 medical establishments currently treating COVID-19 patients (with medical personnel are prioritized), 13 pandemic-hit-provinces, especially Hai Duong – the current biggest epicenter. People will be further monitored after they get the jabs.
Another 1.3 million vaccines are expected to land in Vietnam as part of the global COVAX vaccine distribution program. More vaccines will be purchased in May.
"However, it must be noted that vaccination does not generate 100 percent protection. Everyone must stay vigilant and keep abiding with preventive measures", Long emphasized, adding that Pfizer vaccine is over 90 percent effective after two jabs, while AstraZeneca is 81 percent.
The Minister was quoted by VNE as saying that ensuring enough COVID-19 vaccines in store was a difficult task. The Health Ministry, therefore, must focus on researching, producing local vaccines while purchasing from foreign manufacturers.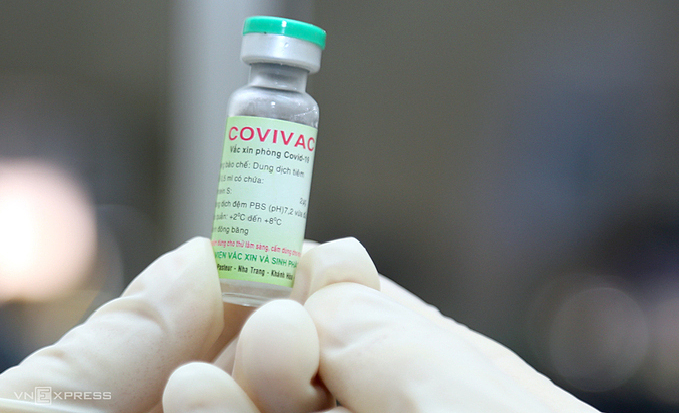 A vial of Covivac, Vietnam's second Covid-19 vaccine (Photo: VNE)
Vietnam Institute of Vaccines and Biological Medical (IVAC) starts admitting registration from volunteers for its self-produced vaccine's first phase of human trials (COVIVAC). Volunteers can directly sign up at Hanoi Medical University, or indirectly on its phone, email or websites.
COVIVAC is the second made-in-Vietnam COVID-19 vaccine to enter human trials. The first trial jab is scheduled to be administered in mid-March.
Duong Huu Thai, IVAC Director on March 4 said that the Institute had completed training stages on testing procedures, examination, and volunteer recruitment for the first phase of human trials of the Covivac vaccine.
From March 5, IVAC, in coordination with the National Institute of Hygiene And Epidemiology and Hanoi Medical University would begin to receive registration from volunteers. Volunteers can enroll directly at Hanoi Medical University, by phone, email, or website, Thai added.
The first phase of human trials of the Covivac vaccine will be conducted on 120 volunteers aged 18-59. Volunteers must have no underlying health conditions and have appropriate weight and height.
Volunteers will have their health checked 9 times within 13 months since taking part in the trial. They will be inoculated with two shots, each 28 days apart. After the injection, they will remain at the clinical trial area for 24 hours for health monitoring.
On March 1, medical authorities announced that the indigenous Covivac vaccine was expected to be less than US $2.6 (VND 60,000) per dose, a reasonable price for all Vietnamese residents.
Besides, Nanocovax – produced by Nanogen Biopharmateucial company has already entered the second trial phase. Along with injections, Vietnam's COVID-19 Nanocovax vaccine will also be developed in the form of eye-drop and nasal spray for special subjects. Nanocovax is priced at VND120,000 ($5.17) per dose.
Vabiotech, another Vietnamese vaccine manufacturer, is also preparing to submit its clinical trial application.
Vietnam has recorded 2,488 Covid-19 cases so far. The total number of recoveries to 1,920, while the death toll remains at 35.
Among patients still under treatment, 65 have tested negative for SARS-CoV-2 once, 57 twice and 137 thrice. More than 51,570 people who had close contact with COVID-19 patients or arrived from pandemic-affected areas are being quarantined across the country.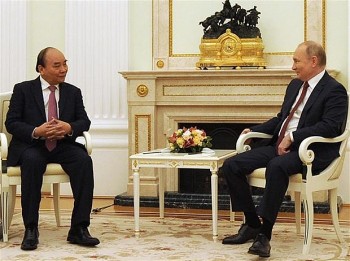 National
An article in Russia's independent newspaper focused on the Vietnam-Russia relationship and the significance of President Nguyen Xuan Phuc's visit to Russia from Nov. 29 to Dec. 2.