Vietnam War-themed bar in Australia accused of 'capitalizing on pain'
The venue has been criticized for its use of empty bullet shells and burnt orange hues.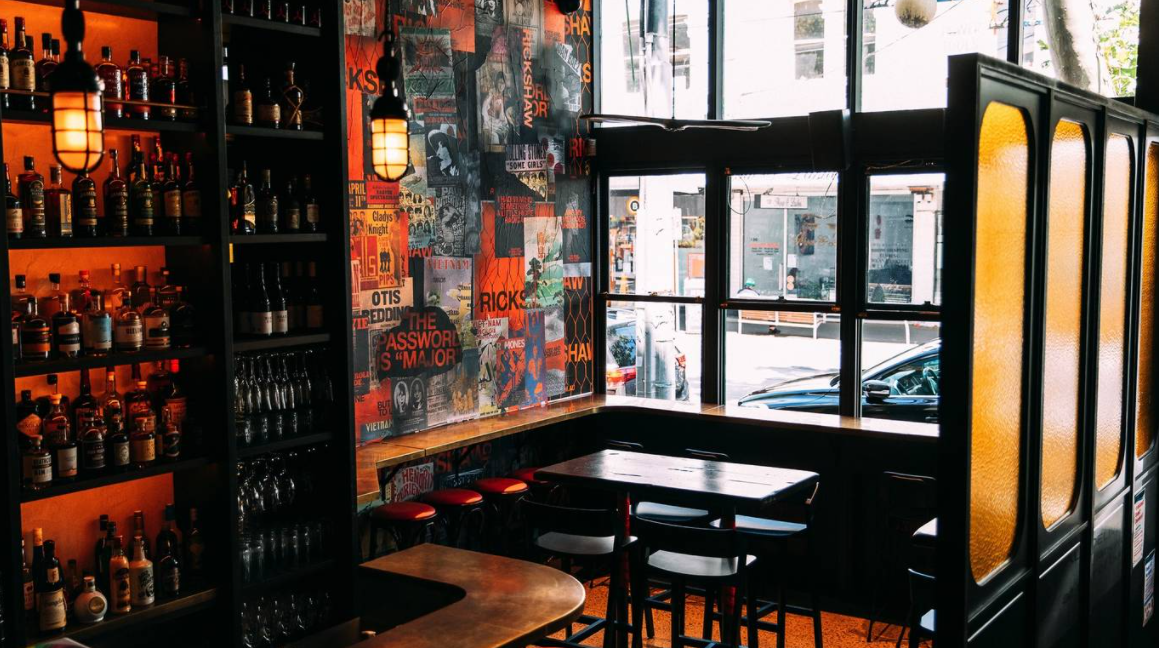 Photo: NYT
A new bar in Richmond has stirred controversy due to its Vietnam War theme. The bar, named Rickshaw Bar is helmed by owner David Anderson and creative director Stuart Neil (Black Swan Hospitality), and its Instagram account spruiked images of fallen helicopters, branded dog tags, and food and drinks on fire. The venue's Instagram profile (now deleted after a storm of angry comments) read: "comfortably numb", according to Time Out.
The original press release for the venue stated that the site was a "dark and grungy space reminiscent of 70s Saigon… exposed concrete floors, charred wood paneling and army green booths suggest what a post-apocalyptic future may have looked like in the 70s; with burnt orange and brushed gold details mirroring the fire that flashes from the kitchen and the bar. The suggestive glow of red-neon light leads to the dark depths of the 65-seater venue, while stickers and tattered posters adorn the walls and empty bullet shells are littered throughout."
Social media commenters directed their disgust at various war-themed photos, and the venue deleted scores of images, then comments, followed by the deactivation of its Facebook and Instagram pages. Time Out contacted Rickshaw by phone and Instagram, but our messages were not returned.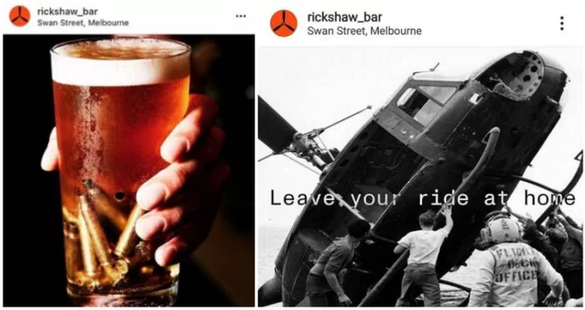 Photo: NYT
Now members of the community are calling out the establishment for its "hurtful and insensitive" decorative motif, including pint glasses filled with bullets, used dog tags, discarded military aircraft materials, and references to the chemical weapon Agent Orange, which the US notoriously employed to eliminate forest cover and crops for Vietnamese troops during the 20-year war.
"Imagine a war where over a million people died, & then imagine deciding to create an aesthetic out of it, to sell cocktails filled with bullet shells, with an Agent Orange theme," New York Times quoted a tweet that saw the support of nearly 1,500 on Twitter.
For people like the owner of Brunswick-based Vietnamese eatery Shop Bao Ngoc, Ngọc Trần, whose parents migrated from Vietnam, this venue stirs up a lot of raw emotions. "It promotes war and PTSD that is passed on through generations. It doesn't end with our parents, and we are living the aftermath."
Photo: Herald Sun
Lan Anh Hoang, associate professor in development studies in the School of Social and Political Sciences at the University of Melbourne, was born in Communist northern Vietnam after the war and says a venue like this is divisive: "Among Vietnamese Australians, you know, it's quite mixed. But the people who were directly affected by the war, who lost their loved ones, and whatever they had, to the Communist government during the war, I think they have the right to be hurt. And I can understand why they feel hurt and offended by this."
Following the backlash on social media, Rickshaw Bar has since removed the offending images and ads from their feeds. "We have taken down our content and apologize to anyone that was offended or found the content inappropriate," the bar wrote on Instagram on Wednesday. "We have revised our tone and are working hard to make this right. Sorry for any distress caused — it was never our intent."
Despite the war finally ending in 1975, the Vietnamese continue to live with the deadly remnants of it, including unexploded landmines that still injure and kill innocent people today. Traces of Agent Orange — a mixture of herbicides with links to life-threatening diseases including cancer, leukemia, and Parkinson's — also pose lingering effects on the country's people and the environment. The Red Cross estimates that 3 million Vietnamese have been affected by dioxin, including at least 150,000 children born with serious birth defects, with millions of Americans and Vietnamese still affected, directly and indirectly, by the wartime US spraying of Agent Orange and other herbicides over southern and central Vietnam.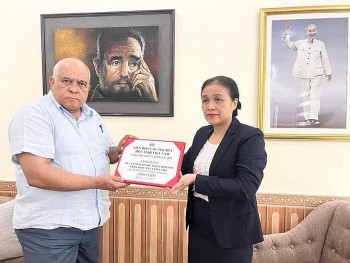 Focus
According to Cuba's News Agency Prensa Latina, on August 16, President of Vietnam Union of Friendship Organizations Nguyen Phuong Nga said that Vietnamese people will always stand by and support Cuba no matter what difficulties our friend is facing.