Vietnam War veteran appeal French court ruling on lawsuits against Agent Orange producers
Tran To Nga, an Agent Orange victim herself, sued 14 firms that made or sold the highly toxic chemical. Though her lawsuit was rejected by the French court, Nga said "We will continue the fight".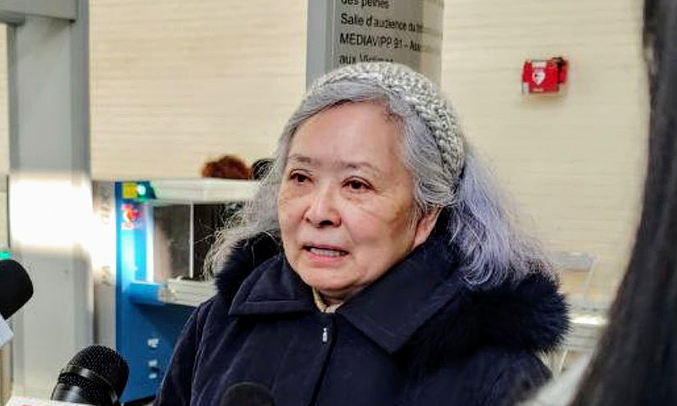 Tran To Nga, an Agent Orange victim herself, sued 14 firms that made or sold the highly toxic chemical. (Photo: VN Express)
A Vietnamese-French woman is appealing a French court's decision to dismiss her lawsuit against firms that manufactured the toxic Agent Orange defoliant used in the Vietnam War. Tran To Nga, 79, lost no time in instructing her lawyers to appeal a decision made Monday by the court in the Paris suburb of Evry, dismissing a lawsuit against several agrochemical companies, according to VN Express.
The French court on Monday threw out a lawsuit by a French-Vietnamese woman against more than a dozen multinationals that produced and sold a toxic herbicide dubbed "Agent Orange," used by U.S. troops during the war in Vietnam. The court ruled it did not have jurisdiction to judge a case involving the U.S. government's wartime actions, Agence France Presse reported.
The multinationals have argued that they could not be held responsible for the use the American military made of their product. In dismissing the case, the court said that the companies were acting "on the orders" of the U.S. government, which was engaged in a "sovereign act."
Filed in 2014, the case has pitched Tran To Nga, a 79-year-old who claims she was a victim of Agent Orange, against 14 chemical firms, including U.S. companies Dow Chemical and Monsanto, now owned by Germany's Bayer. Nga, who worked as a journalist and activist in Vietnam in her 20s, has said she was suffering from effects including type 2 diabetes and a rare insulin allergy, Tuoi Tre cited.
Backed by several NGOs, she accused the companies of being responsible for injuries sustained by her, her children, and countless others, as well as for damage done to the environment.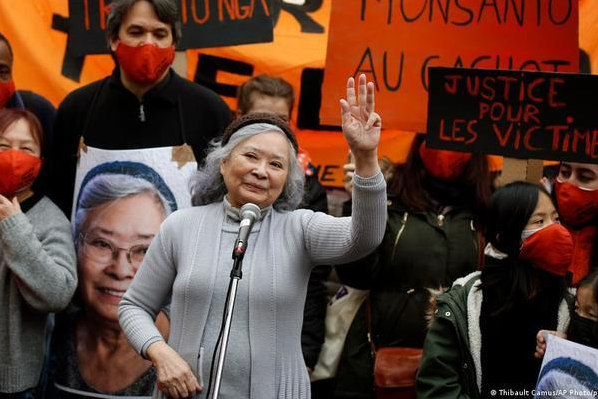 Nga during an event to support victims of Agent Orange. (Photo: Vietnamnet)
If the French court had ruled in her favor, it would have been the first time ever that a Vietnamese victim of Agent Orange had won compensation for the horrific after-effects caused by the dioxin contained in the defoliant. So far, only military veterans from the U.S., Australia, and South Korea have been compensated. So far, only military veterans from the United States and other countries involved in the war have won compensation over Agent Orange. In 2008, a U.S. federal appeals court upheld the dismissal of a civil lawsuit against major U.S. chemical companies brought by Vietnamese plaintiffs.
"I am disappointed but I am not sad. Getting to the May 10 decision is already a victory. I want to thank everyone who supports me. "We will continue the fight," Nga said.
On Monday, her lawyers William Bourdon, Amélie Lefebvre, and Bertrand Repolt released a joint statement on appealing the court's decision that picked several holes in it. "One can only be surprised that the court recognizes that the companies concerned would have acted under the constraint of the American government whereas they answered a call for tenders, which they were free to do or not.
"Even more serious, the recommendations made by the American administration did not require the manufacture of a product containing a level of dioxin as high as that of Agent Orange. This only resulted from a sovereign and free initiative of the companies concerned," read the statement, originally written in French.
Lawyer Repolt had told VnExpress International in February that he and the other two lawyers "had to demonstrate that when the chemical companies supplied Agent Orange, they were aware of the dangerousness of the product. "This required producing, before the French judge, exchanges of internal correspondences from the 1960s, demonstrating this perfect knowledge of dangerousness. Given the age of the facts, this was not easy, but I think we produced
Several NGOs estimate that four million people in Vietnam, Laos, and Cambodia were exposed to the 76 million liters (20 million gallons) of Agent Orange sprayed by U.S. forces to destroy ground cover and food sources as it fought North Vietnamese troops between 1962 and 1971.