Vietnam welcomes WHO's initiative on Covid-19 vaccine technology transfer hub
A Vietnamese official on May 24 welcomed the World Health Organization's initiative on establishing a Covid-19 vaccine technology transfer hub, saying it is a concrete example of a new global mechanism to prepare for future pandemics.
Vietnam will establish a technology transfer hub to help boost vaccine production capacity regionally and globally, Vietnamese Deputy Minister of Health Tran Van Thuan told the 74th World Health Assembly.
He proposed that the Director-General of WHO accelerate the initiative and promote cooperation as well as support from technology developers to soon realize the scheme, VOV reported.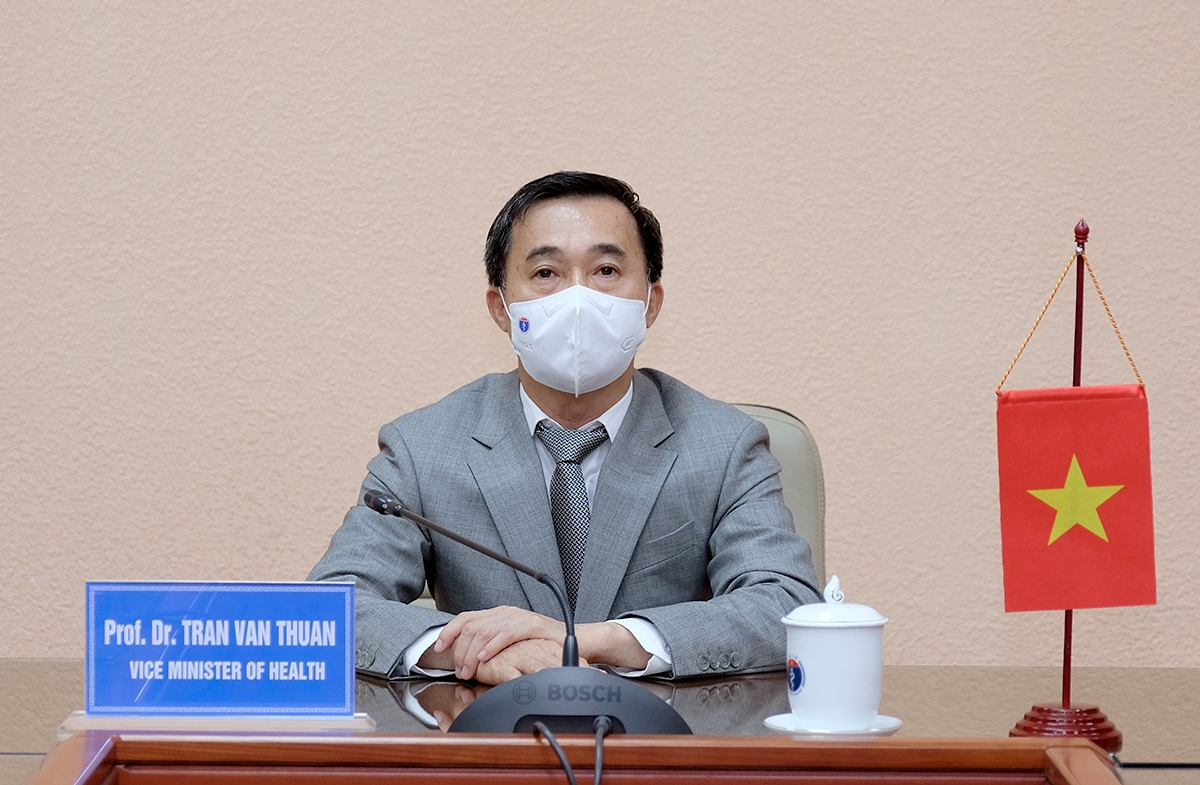 Deputy Minister of Health Tran Van Thuan speaks at the assembly. Photo courtesy of Ministry of Health
Thuan also reiterated Vietnam's commitment to mobilize the political system, the entire society, as well as the technical system and resources to respond to the pandemic.
Vietnam is trying its best to control outbreaks while maintaining socio-economic stability and ensuring national health security, he stressed.
Noting that Covid-19 is not the last pandemic for humankind, Thuan said it's time to discuss how to better prepare for the next pandemic.
Vietnam believes that a more cohesive global response mechanism is needed to get the entire government and society involved in the fight, while helping countries improve their preparedness and response capabilities, said the Vietnamese health official.
The 74th World Health Assembly is taking place in an online format from May 24 to June 1, attracting the participation of United Nations and world leaders, including UN General Secretary Antonio Guterres, French President Emmanuel Macron, and German Chancellor Angela Merkel.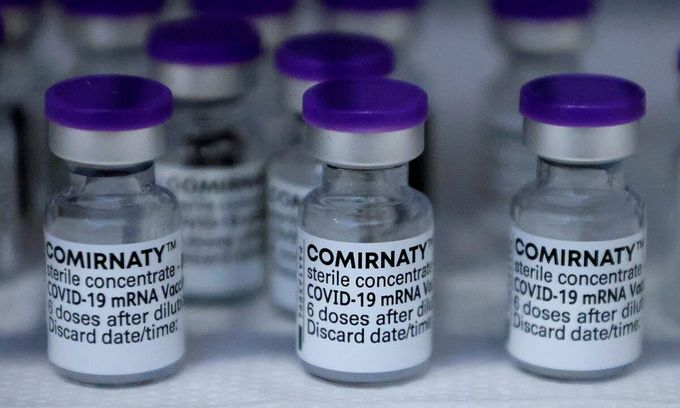 Vials of the Pfizer-BioNTech Comirnaty coronavirus disease (Covid-19) vaccine are pictured in a general practitioners practice in Berlin, Germany, April 10, 2021. Photo by Reuters/Fabrizio Bensch.
Previously, on May 12, WHO said it was reviewing a proposal by one manufacturer in Vietnam to become an mRNA-based Covid-19 vaccine technology hub.
"A vaccine manufacturer in Vietnam has already expressed its interest to become an mRNA-based COVID-19 vaccine technology transfer hub," Kidong Park, the WHO representative in Vietnam, said in an emailed statement to Reuters.
Park added that the organization expects Vietnam to also apply for "large scale manufacturing" of an mRNA-based COVID-19 vaccine.
Park did not say which vaccine manufacturer had expressed interest in the plans.
On May 11, Vietnam News Agency (VNA) reported that Vietnam is seeking the transfer of mRNA technology to domestically manufacture Covid-19 vaccines as officials warned of supply issues until the end of the year.
Governments are looking to build up local vaccine production after manufacturing setbacks slowed rollouts in some countries.
Dr Kidong Park said the WHO is closely monitoring the situation of the ongoing pandemic outbreak in Vietnam.
According to the WHO Representative, the pandemic has been evolving fast and is complex in nature in Vietnam. It has quickly spread to a number of cities and provinces, including in industrial zones. Two types of variants of concern (B.1.1.7 and B.1.617.2) have been detected.
"These factors make case investigation and contract tracing very challenging," he stressed.
The next few weeks can be crucial in controlling this outbreak, he said, adding that with the aggressive contact tracing and testing, it can be expected that more cases will be identified, and more provinces/cities could be reporting cases.
"There is a very high risk of additional cases to continue to be reported in the coming days from the community, and possibly from people who are isolated as F1," Park warned.
Regarding WHO's evaluation on Vietnamese government's measures to cope with the pandemic, Park said the country has intensified its response measures that have been proven to work in the past outbreaks. These have been adjusted on a daily basis as the situation evolves.
"We do hope and have confidence that Vietnam could suppress current outbreaks with a whole-of-government and a whole-of-society approach," he noted.