PM: Vietnam has registered over 100 mln Covid-19 vaccine doses
The batch will help speed up coronavirus vaccination coverage for the Vietnamese population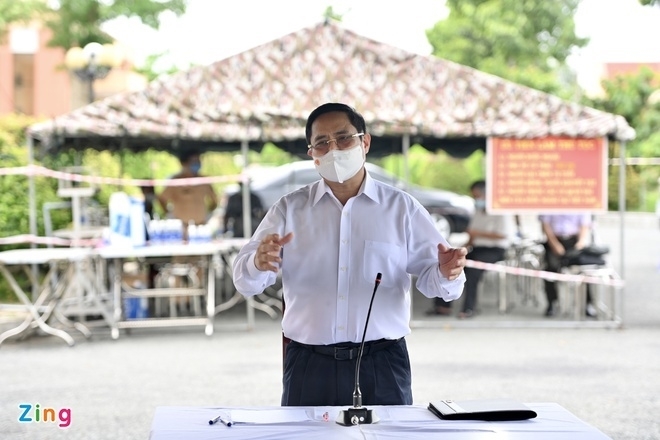 Prime Minister Pham Minh Chinh (Photo: Zing)
Vietnam has reached deals with foreign manufacturers for the distribution of over 100 million Covid-19 vaccine doses, Prime Minister Pham Minh Chinh said after his visit to Tra Vinh province Saturday. He added that authorities must further expedite technology transfer and the research of domestic vaccines.
According to the prime minister, the government is proposing to establish a vaccine fund financed by the state budget and donations from units, agencies, communities, benefactors, enterprises, and localities. The money will be allocated to vaccine purchases and rollouts, with frontline workers prioritized for the shots.
"Recent research shows the shelf life of Covid-19 vaccines is short, people must get regular inoculation. Therefore, the vaccination cost might be a huge sum," Chinh added.
The leader also reiterated Vietnam's anti-pandemic motto, which was "early detection, quarantine, contact-tracing, quick stabilization, and effective treatment." He called for all localities to conduct Covid-19 tests in a more proactive manner to better control the novel virus.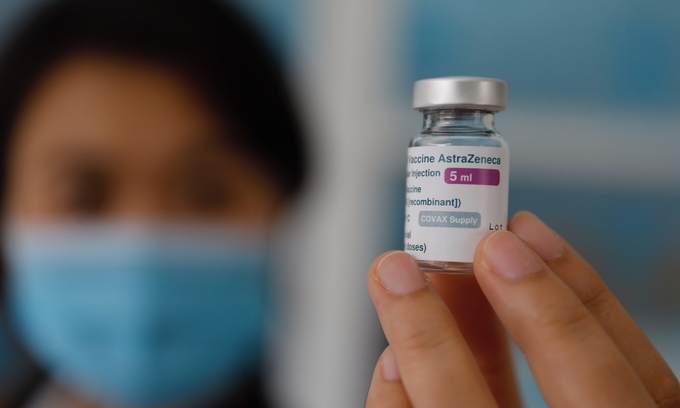 A nurse holds a vial of the AstraZeneca Covid-19 vaccine in HCMC, May 11, 2021 (Photo: VNE)
Vietnam has been using the vaccine produced by British-Swedish firm AstraZeneca for the nationwide Covid-19 vaccine rollout which started on March 8.
The country has received over 2.6 million doses of the vaccine, 117,600 via commercial contracts and the rest through Covax, and immunized over a million of its 96 million population.
Its Ministry of Health has struck deals to buy 30 million AstraZeneca doses and obtain 38.9 million doses of the vaccine via Covax. The ministry has also registered to buy about 10 million additional doses through Covax under the cost-sharing scheme to enjoy the lower prices, according to VNE.
Besides, the nation has also inked a deal for 31 million doses of the U.S. Pfizer vaccine within this year.
Domestically, four Vietnamese vaccines are in development, produced by Nanogen Pharmaceutical Biotechnology JSC, the Institute of Vaccines and Medical Biologicals (IVAC), Vaccine and Biological Production Company No. 1 (Vabiotech) and Polyvac. A research center under the health ministry is currently in negotiation with a Russian partner to obtain the necessary technology for the production of the Sputnik V coronavirus disease vaccine this year.
Since a new Covid wave began on April 27 the country has had 2,089 cases in 30 cities and provinces.