Vietnamese Adolescents To Get Covid-19 Vaccine Next Month
Teenagers aged 16 and 17 in Vietnam will receive Pfizer vaccine shots against Covid-19 starting from next month, according to the health ministry.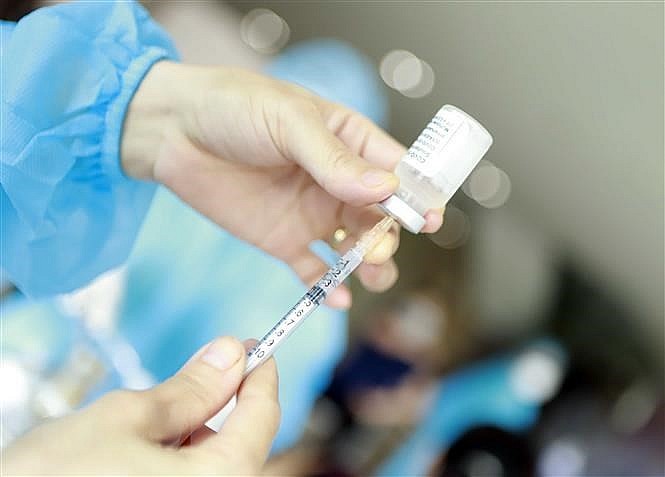 Teenagers aged 16 and 17 in Vietnam will receive Pfizer vaccine shots against Covid-19. Photo Vietnamplus
Pfizer, produced by an American corporation called Pfizer in New York and BioNTech, a German biotechnology company based in Germany, has been recommended for children by the World Health Organization (WHO).
Health Minister Nguyen Thanh Long said, "The vaccine is safe for children."
Only those having the written consent of parents and guardians can be vaccinated. They will have their health checked prior to the inoculation in line with the ministry's Covid-19 vaccination guidelines, VnExpress reported.
The health ministry had on October 14 approved the administration of vaccines for children aged 12-17, prioritizing the 16-17 age group.
Pfizer will the the only Covid vaccine to be administered to children in Vietnam. Photo Ministry of Health
Dr. Kidong Park, WHO Representative in Việt Nam said the extensive vaccination of children aged 12 and above help reduce the disease burden and the risk of new variant emergence, potentially by reducing viral transmission.
Park spoke highly of the Vietnamese Ministry of Health's vaccination scheme, saying: "The Ministry of Health emphasizes the importance of accelerating vaccination for adults as first priority, especially health workers, older people, and those with co-morbidities."
This is in line with WHO recommendations, he told Vietnam News Agency.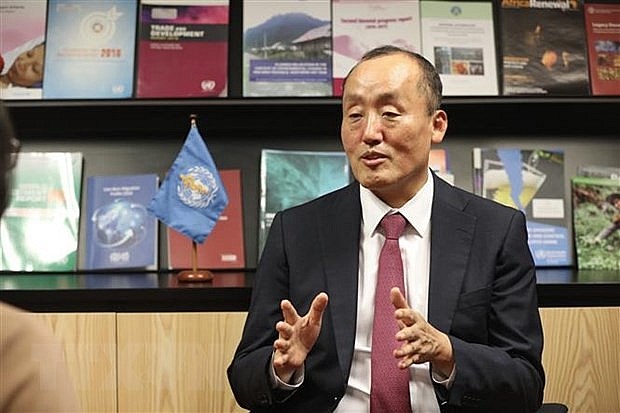 Dr Kidong Park, WHO Representative in Vietnam, praises Vietnam for its vaccination campaign for children. Photo VNA
According to Park, WHO has granted Emergency Use Listing (EUL) to the Pfizer/BioNTech vaccine COVID-19 vaccine for use in adolescents (children above the age of 12).
WHO is urging manufacturers who have completed data on their vaccines to submit the data to WHO for review to increase vaccine availability for children and adolescents.
As adolescents and children with comorbidities are also at significantly higher risk of serious COVID-19 disease, they may be offered vaccinations, according to WHO.
The European Medicines Agency's human medicines committee has recommended granting an extension of indication for the Covid-19 vaccine Comirnaty (Pfizer) to include use in children aged 12 to 15. The vaccine is already approved for use in adults and adolescents aged 16 and above.
Comirnaty is a vaccine for preventing Covid-19. It contains a molecule called messenger RNA (mRNA) with instructions for producing a protein, known as the spike protein, naturally present in SARS-CoV-2, the virus that causes Covid-19. The vaccine works by preparing the body to defend itself against SARS-CoV-2.
The use of the Comirnaty vaccine in children from 12 to 15 will be the same as it is in people aged 16 and above. It is given as two injections in the muscles of the upper arm, given three weeks apart.
Hanoi and Ho Chi Minh City get ready
Hanoi is making plans to inject two Covid-19 vaccine doses for adolescents aged from 12 to 17, starting 2022, according to Khong Minh Tuan, deputy director of the Hanoi Center for Disease Control.
Tuan said his center is focusing on fully vaccinating the capital city's adult population, before proceeding to administer to those aged 17-18, and those below 17 years of age, adding that the capital city plans to vaccinate children from three years old.
Meanwhile, Ho Chi Minh City plans to begin vaccinating 780,000 children against Covid-19 starting on Wednesday, first in the downtown District 1 and the outlying Cu Chi District.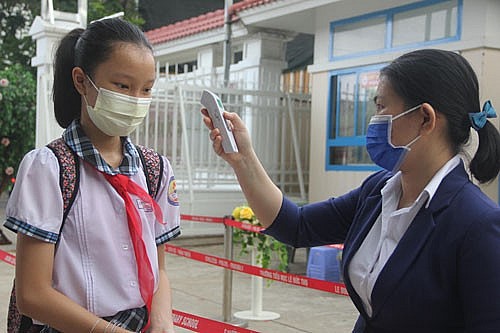 Children in Ho Chi Minh City will fully get two doses of vaccine before returning to school. Photo Nguoi Lao Dong
The municipal health department has cooperated with the Ho Chi Minh City Pasteur Institute to train medical workers from hospitals, clinics, and other medical facilities in the city regarding vaccination for children. Around 3,900 workers have signed up for training, cited Hanoi Times.
Children under 18 have accounted for around 17% of all Covid-19 infections in Vietnam, according to data from the health ministry.
Pfizer said the Covid-19 vaccine is more than 90% effective in preventing symptomatic disease among children aged 5-to-11.
The analysis was based on around 2,250 trial participants, randomized to receive either the vaccine or a placebo, with data accruing until October 8. Most positive cases occurred when the Delta variant was dominant in the US and globally.
"VE (Vaccine Efficacy) against laboratory-confirmed symptomatic Covid-19 occurring at least 7 days after Dose 2 in evaluable participants without evidence of prior SARS-CoV-2 infection was 90.7 percent," Pfizer said.
This is the first time Pfizer has released an efficacy estimate for its Covid vaccine in younger children, along with a detailed dataset, AFP reported.