Vietnamese Ambassador and 1 Million Indians Light Candles to Celebrate Diwali 2021
Vietnamese Ambassador and 1 million Indians light 1.2 million candles to celebrate Diwali festival in the north Indian city of Ayodhya. Also known as the festival of light, it is a celebration that marks the triumph of light over darkness, good over evil.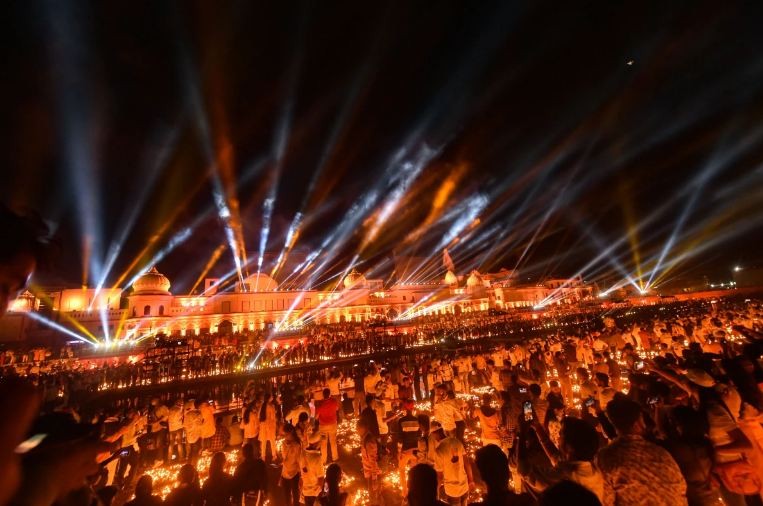 Ayodhya breaks its own record by lighting 9 lakh diyas. Source: India Today
From Jammu and Kashmir to Kanyakumari, India is all decked up to celebrate the auspicious festival of Diwali on Thursday. Vietnamese Ambassador to India Pham Sanh Chau and 1 million people burned 1.2 million candles to welcome the Diwali in Ayodhya, where the famous Ram Temple is situated.
He was warmly welcomed by the Chief Minister, ministers of Uttar Pradesh state government and the people and wished for a good New Year.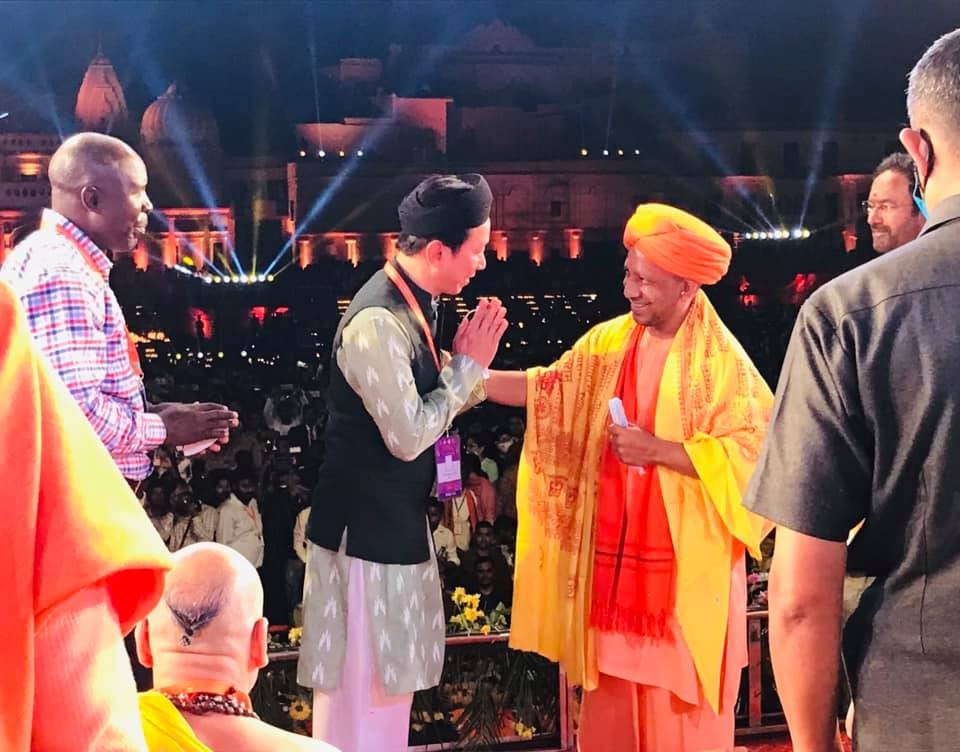 Vietnamese Ambassador Pham Sanh Chau attendes the Diwali festival in Ayodhya. Photo provided by Vietnam's ambassador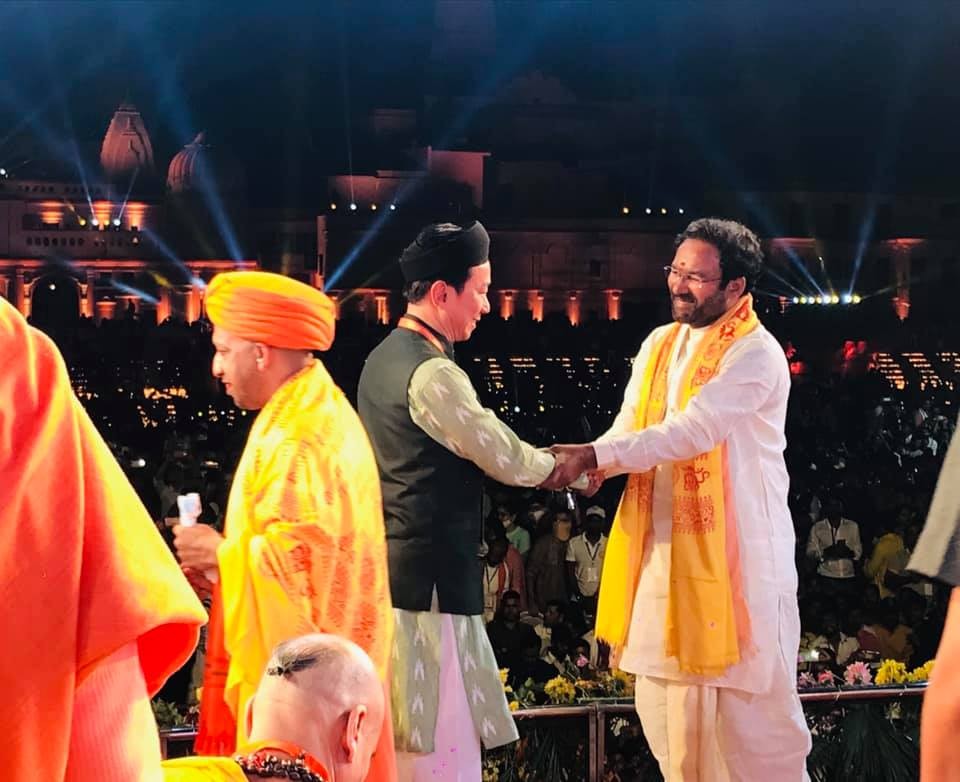 Photo provided by Vietnam's ambassador
Diwali is India's most important festival of the year—a time to celebrate the triumph of light over darkness, knowledge over ignorance, and good over evil. Widely observed among more than a billion people from a variety of faiths across India and its diaspora, the five days of Diwali are marked by prayer, feasts, fireworks, family gatherings, and charitable giving. For some, Diwali is also the beginning of a new year.
But Diwali is perhaps best known as a festival of lights. Derived from the Sanskrit dipavali, which means "row of lights," Diwali is known for the brightly burning clay lamps that celebrants line up outside their homes.
The banks of the Saryu river bank in Ayodhya were lit up by 9 lakh diyas on Diwali eve, helping Uttar Pradesh break its own record of lighting 5,84,372 earthen lamps in 2020. The feat has earned it a place in the Guinness Book of World Records.
As the chief minister lit the first diya, around 12,000 volunteers present at the ghat illuminated the other earthen lamps at Ram Ki Paidi, making the entire ghat dazzle.
This was followed by a laser show and fireworks to mesmerize the gathering at the ghat for about half an hour. Around 500 drones also lit up Ayodhya's skyline with Ramayan era scenes.
Guinness World Records representatives presented the state's highest elected official, with a certificate after watching the event with drone-mounted cameras, according to Uttar Pradesh government spokesperson Shishir Kumar.
According to Hindu epic Ramayana, Diwali marks the return of Lord Rama, his wife Sita and brother Laxmana to Ayodhya after spending 14 years in exile and defeating the demon king Raavana.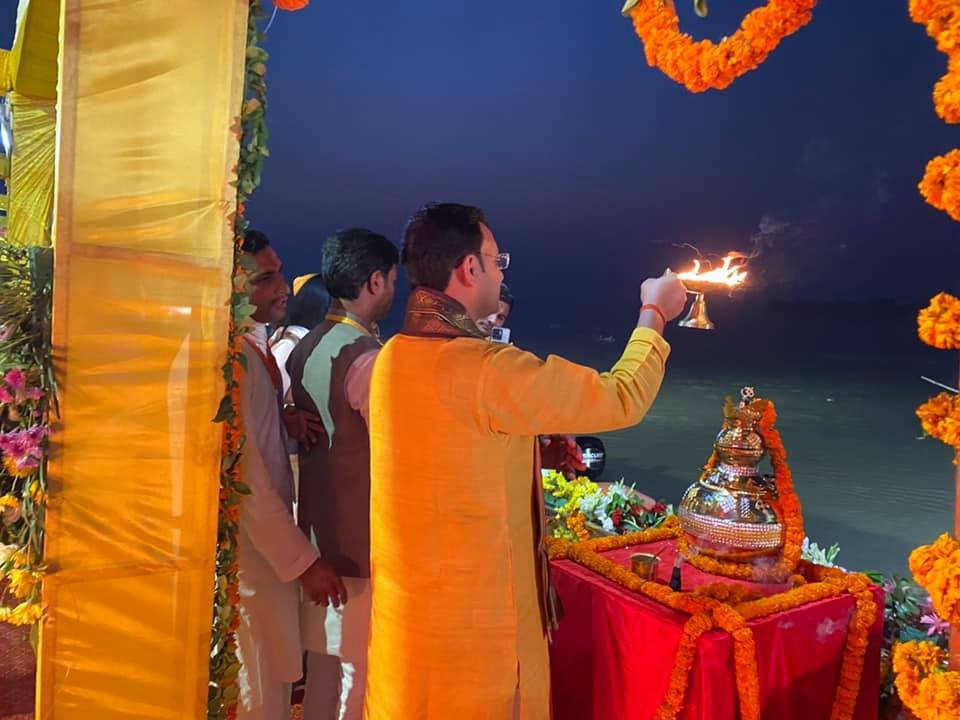 Ram Ki Paidi ghat glitters with over 9.41 lakh earthen lamps as new record set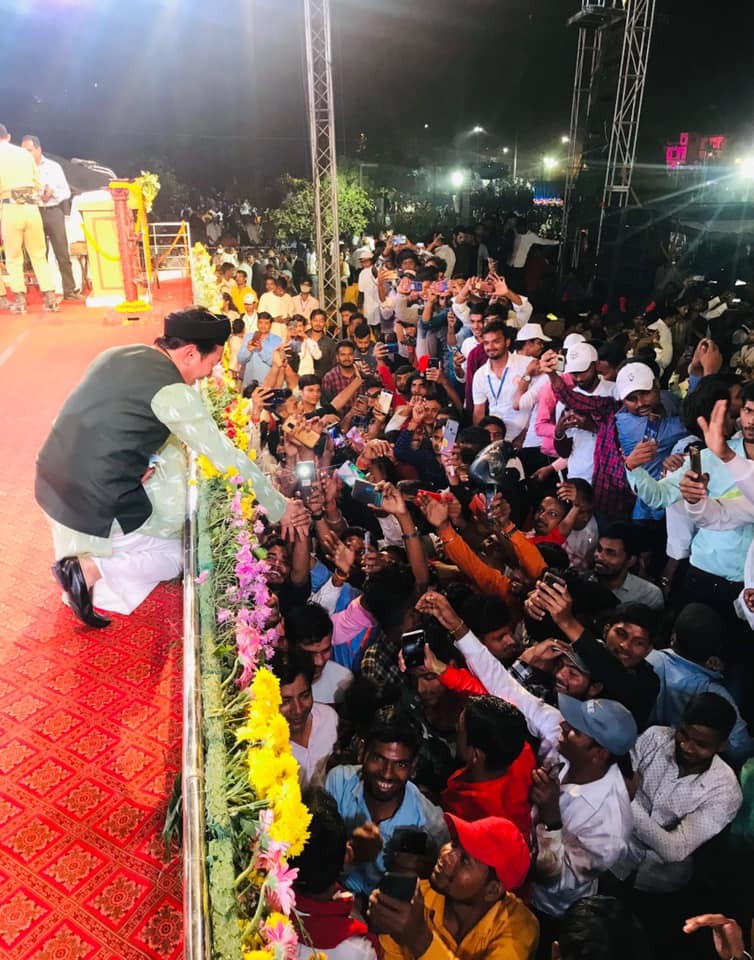 Photo provided by Vietnam's ambassador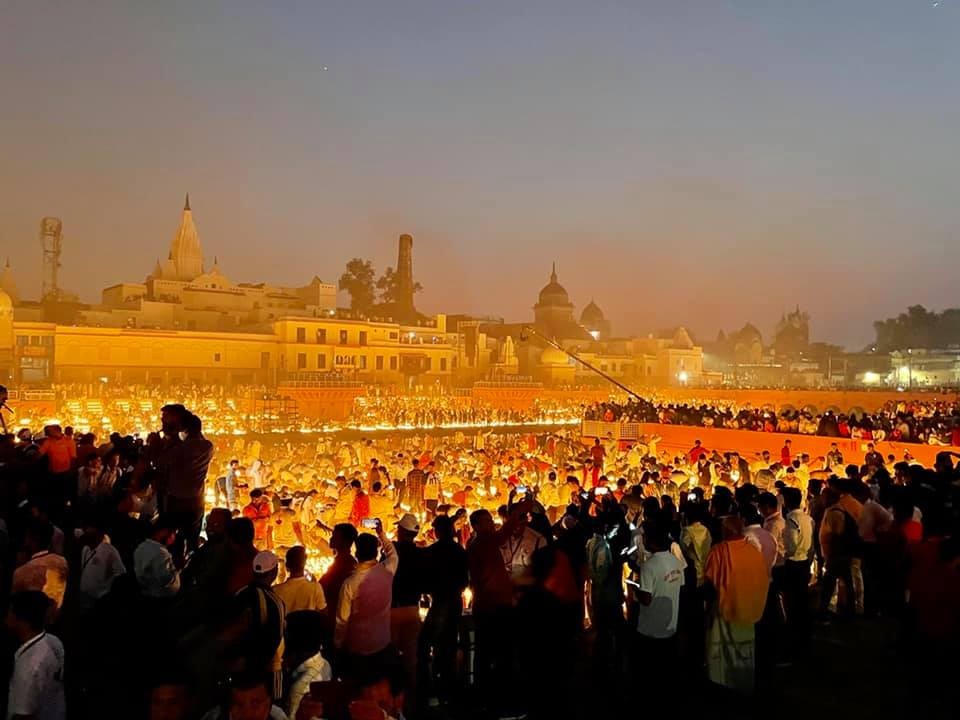 The majestic Ram Ki Paidi ghat on the banks of the Saryu in Ayodhya was illuminated with 9,41,551 diyas (0.94 million earthen lamps) during the Deepotsav celebrations on Wednesday evening, creating a Guinness world record for illuminating the largest number of earthen lamps at one place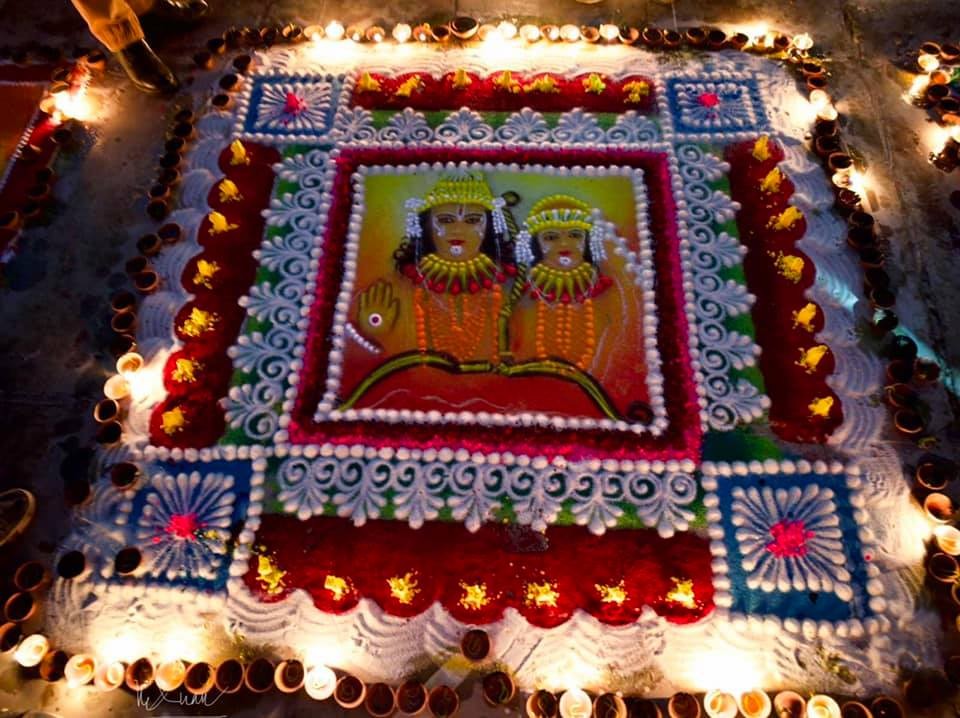 Hindus believe the deity Ram was born and returned after 14 years in exile. Thousands of volunteers lighted diyas along the Saryu river's banks, along roads, and at homes.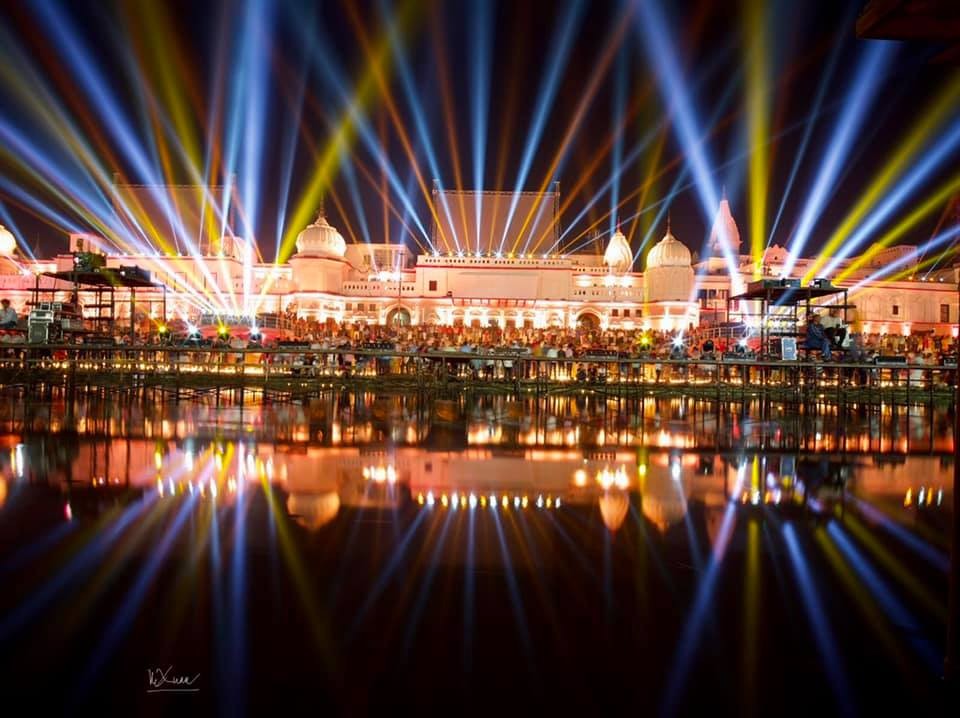 People watch a laser show on the banks of the river Sarayu during Deepotsav celebrations on the eve of the Hindu festival of Diwali in Ayodhya on November 3, 2021.
Earlier, ambassadors from Vietnam, Kenya and Trinidad and Tobago to India also performed 'Rajtilak' of artists playing the characters of Lord Ram, Lord Laxman and Goddess Sita during Diwali celebrations in Ayodhya on Wednesday.
In 2020, the Ayodhya administration had set a Guinness World Record by lighting 6,06,569 diyas at the Ram ki Paidi ghat.
The administration had broken its own record, set in 2019 when 4,10,000 diyas were lit on Deepotsav.
After forming the government in UP in March 2017, the Yogi Adityanath regime has been celebrating Deepotsav in Ayodhya every year on the Diwali eve.
India's most important holiday
Diwali is so widely celebrated—it's an important religious festival for Hindus, but is also observed among Jains, Sikhs, and Buddhists—that it has no single origin story. But while each religion has its own historical narrative behind the holiday, they all ultimately represent the victory of good over evil.
Each of the five days of Diwali has its own significance. On the first day of Diwali, people pray to the goddess Lakshmi, bake sweets, and clean their homes—which they decorate the next day with lamps and rangolis, designs made on the floor out of colored sand, powder, rice or flower petals.
Diwali's third day is its most important: On this day, people may go to temple to honor Lakshmi or gather with friends and family for feasts and fireworks. Devotees also set ablaze the lamps they had displayed the day before.
For many celebrants, the fourth day of Diwali marks the new year and a time to exchange gifts and well wishes. Finally, the fifth day is typically a day to honor one's siblings.
Over the years, Diwali has become India's biggest holiday season—rivaling Thanksgiving or Christmas.
Covid-19 cases in India have been falling, more than a billion doses of vaccines have been administered, most studies show the high prevalence of Covid antibodies among people, and high frequency indices on the economy and mobility are looking up.
However, the coronavirus pandemic continues to upend these celebrations. Some temples streamed services online, while family gatherings will be more intimate than usual.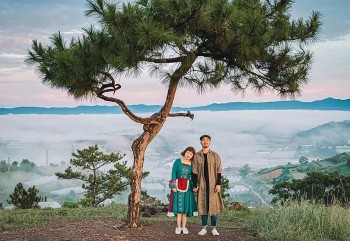 Travel
Three local cities are set to be presented with the ASEAN Clean Tourist Awards 2022.