Vietnamese-American share positive beliefs about COVID-19 vaccine
Many Americans in general and Vietnamese-born Americans, in particular, are willing to vaccinate, putting their faith in the effectiveness of COVID-19 vaccines.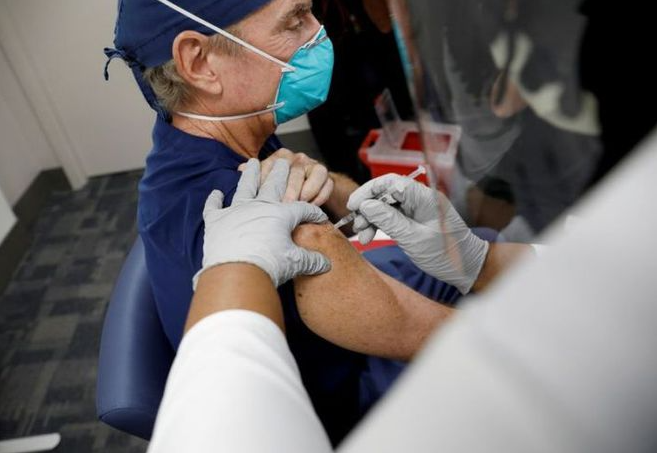 A health worker is vaccinated with Covid-19 in Florida, USA. (Photo: Reuters)
According to a recent survey by Pew, 60% of Americans believe that they are certain or likely to receive COVID-19 if it is available in their localities. Although this figure is 9% higher than in September 2020, but still lost to 72% of Americans in May 2020 who said they would be vaccinated, when the vaccine was not urgently approved in the US.
If broken down by race or ethnicity, 83% of Asian Americans, including Vietnamese, said they were "most likely or likely to be vaccinated," outperforming all other groups, according to Pew.
The United States is currently the country most affected by Covid-19, with 26 million infections and 439,000 deaths. The storage and distribution of vaccines are not synchronized due to the regulations on the state. Each state government has a different priority list and the majority of health workers are vaccinated first.
In an interview with Thanh Nien, Mr. Jason Nguyen, a Vietnamese-born nurse in California, shared about his vaccination experience: "After the second dose, my whole body was in pain, with chills, fever, dizziness, and nausea. I couldn't even lift my arm to change clothes when I got home."
"At that time, I was about to call an ambulance but decided to try to pass. Fortunately, a friend brought me medicine and food, "said Nguyen. Currently, Mr. Nguyen has to take care of both the normal hospital patient and the emergency room at the same time due to the overcrowding of the hospital and lack of manpower due to the overwhelming number of Covid-19 patients.
Unlike Nguyen, nurse Jennifer Tran in Georgia told Thanh Nien: "I was given 2 doses of Covid-19 vaccine and did not experience any undesirable reactions."
Many patients have also asked the nurse about the vaccine and she encourages everyone to get vaccinated if it is on the priority list.
"There is too much misinformation on social media about the safety of vaccines. This has also partly led to concerns about the safety of Covid-19 vaccines by many of the patients I have met. Currently, in the state where I live, only doctors are given priority to vaccinate Covid-19. I hope my whole family will be vaccinated soon, "Ms. Tran said.