Vietnamese Americans offered millions of hot meals to frontline fighting COVID-19
Since the outbreak of Covid-19 in the US two months ago, owners of Vietnamese restaurants in California have decided to distribute millions of meals to doctors working in the frontline hospitals.
According to information from the Vietnamese Community in the United States, many Vietnamese restaurants at Silicon Valley joined hands to make and share millions of meals for frontline medics, who were working hard to cure the Covid-19 patients in the state.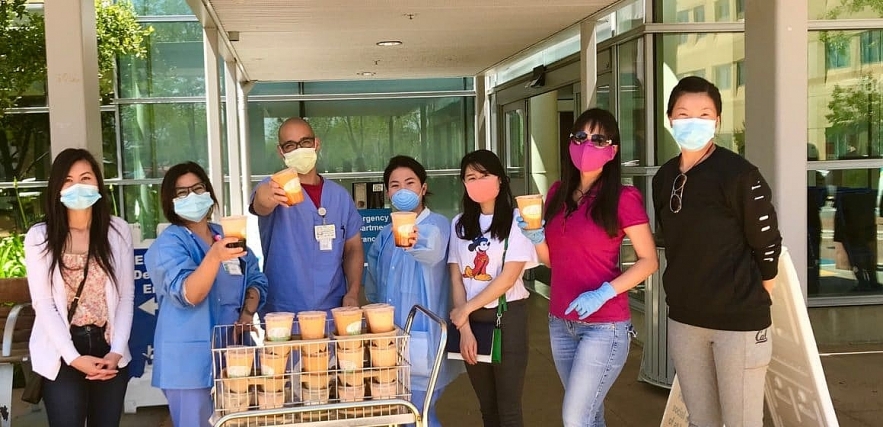 Phan Tieu Van and her fellows at Kaiser Permanente Medical Center
Phan Tieu Van – a sales-clerk initially associated with her friends to donate a large number of medical supplies such as face masks and hand sanitizers to local hospitals. However, she had realized that it was very difficult for the medical staff to have hot and delicious meals after overtime and stressful working hours, then the idea of supporting them with lunch such as Vietnamese shaking beef, Hai Nam chicken rice, etc. as came to her mind.
Tieu Van said that Vietnamese business owners including restaurant owners, tea shop owners started to find her and collaborated with each other to support healthcare workers. Pho Ha Noi Restaurant is the first restaurant donating 4.000 free meals in 7 weeks. Food and drink were delivered to Kaiser Permanente Medical center, Local Medical center, Valley Medical center, O'Connor Hospitals, and other health facilities.
Tea shops in San Joe such as Penguin, Teahee and Kay's Tea House supported 2.000 drinks for this campaign.
Owner of Pho Ha Noi – Huyen "Helen" Nguyen, said that her staff and her daughter dedicated themselves to this volunteer program.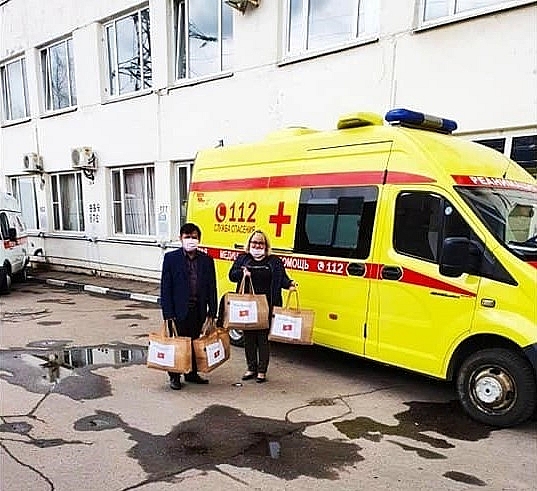 Photo: Vietnamnews
She said doctors in the local hospital managed to cure her daughter of her cancer when she was 10-month age. She was extremely grateful to doctors for their help and always willing to support them in response. This time is her opportunity to express her gratitude.
Quynh Le, a restaurant owner, is also a victim of COVID -19 as her business was forced to close due to the concerns over pandemic transmission. However, she decided to reopen the restaurants just 1 week later to fulfill the staff's working hour vacancy and volunteered to provide hospitals with food. Besides, she also donated meals for homeless people through an organization supporting homeless people in Silicon Valley.
Ms. Loan Vo, a pulmonologist at O'Conner Hospital at San Jose, also a parttime lecturer at Foothill College, connected Tieu Van with hospitals to implement her volunteering mission.
Loan said that getting volunteering meals from Vietnamese restaurants and donors in the area helped medical staff reduce their tiredness and stress when fighting the COVID-19 pandemic.
'When receiving these meals, we knew that we are receiving concern from the community, and we are not alone in this fight.", she said.
Her students at Foothill College also helped donors to deliver food from Vietnamese donors to support health officers in this fight against COVID-19.
Vietnamese version: https://thoidai.com.vn/nguoi-viet-tai-my-ho-tro-hang-ngan-bua-an-nong-toi-cac-benh-vien-tuyen-dau-chong-covid-19-109253.html?fbclid=IwAR0D0o_JxOOen9EvvLowCOYRObQbfTDoP0RJj52oPOg4xjb3S30phxmtvQM
Người Việt tại Mỹ hỗ trợ hàng ngàn bữa ăn nóng tới các bệnh viện tuyến đầu chống COVID-19