How to Make Banh Duc (Plain Rice Flan) From Leftover Rice
Rice is one of the most versatile ingredients in the world, and if you've got any leftover rice after a meal, don't throw it out! Instead, make the most of it by trying this recipe.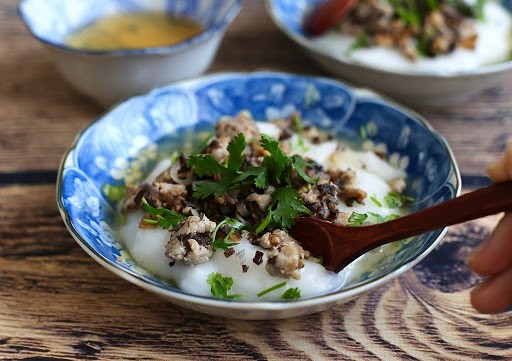 A bowl of plain rice flan with tasty mushroom meat filling. Photo: huongnghiepaau.com
So you've got some leftover rice and you don't really know what to do with it? We've got good news for you: Cooked rice is super versatile so you can actually make a ton of stuff. How about some Bánh đúc (Plain Rice Flan) for a comfy dish ready in under 40 minutes?
What is Bánh Đúc?
Visitors usually think about Chung cake whenever they hear about Vietnam, nevertheless, Vietnam has another famous cake which has been associated with Vietnamese culture for many centuries - "Bánh Đúc" or plain rice flan. It is considered one of the most rustic and simple cakes of Hanoi cuisine, but the way to serve it varies thanks to Hanoian foodies.
Bánh đúc has a jelly shape and mild flavor. It is served either hot or cold, commonly with soy sauce and sometimes with tofu. The buttery taste of peanut, rice flour, the spicy sweet flavor of soy sauce and the cool of soft tofu are mingled perfectly together to bring us a cool dish in hot days. It is also interesting to relish a hot bow of bánh đúc topped with ground pork, grilled ground spawns, fried onions, roasted sesame seeds and herbs, called "bánh đúc thịt", a good treat in the winter.
In the southern, another popular variation is called bánh đúc đậu phộng (peanuts), whole peanuts are added when boiled, and the mix is then cooled and cut into small bite-size pieces. It should be served plain with either nước tương (soy sauce) or mắm tôm (fermented shrimp paste).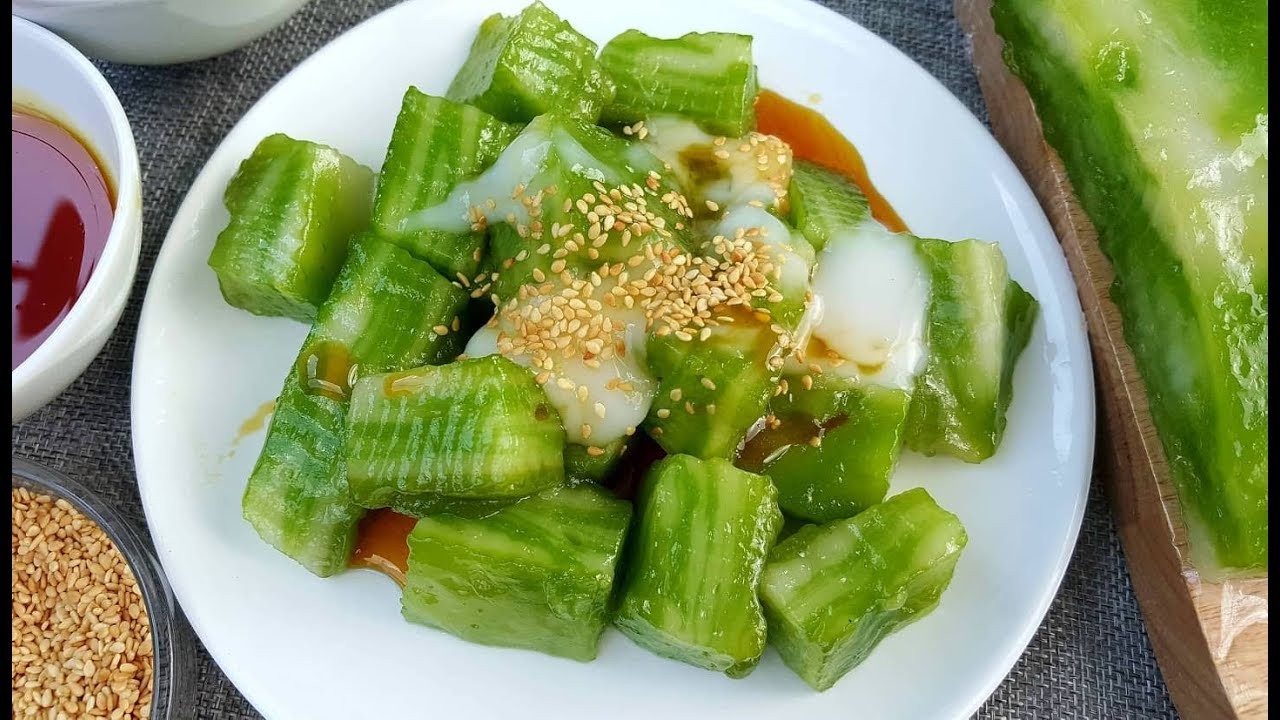 Bánh đúc lá dứa - Pandan-infused rice cake and coconut milk.
In Ho Chi Minh City, you have bánh đúc dừa (steamed rice cake infused with coconut milk). It is a much thicker style, about an inch to an inch and a half thick. Steam it with coconut milk and let it cool. Once cool it is then cut into bite-sized rectangular pieces, topped with a stir fried mixture of ground pork, onions, củ năng (chopped jicama) and chopped wood ear mushroom. Add mỡ hành (scallions oil), hành phi (fried onions) and nước chấm (marinated fish sauce).
Today we will introduce a simple way to make your own Bánh đúc with some leftover rice. Soft and flexible cake mixed with crunchy minced meat, wood ear and mung beans makes for a delicious meal.
Ingredients
2 bowls of leftover rice
2/3 cup tapioca flour
200g minced shoulder lean meat
4 cups bone broth (or water)
Dried wood ear, soaked, chopped
Scallions, shallot, dried onions, lime, coriander, chili (to taste)
Fish sauce, salt, sugar (depending on taste)
Cooking oil
Instruction
For the onion oil:
Soak the dried wood ear mushrooms in water until they open out. Wash and grind or mince them.
Grind or chop up the onions and shallots
Chop the scallions and then add ¼ teaspoon of salt and two teaspoons of boiling oil to make onion oil.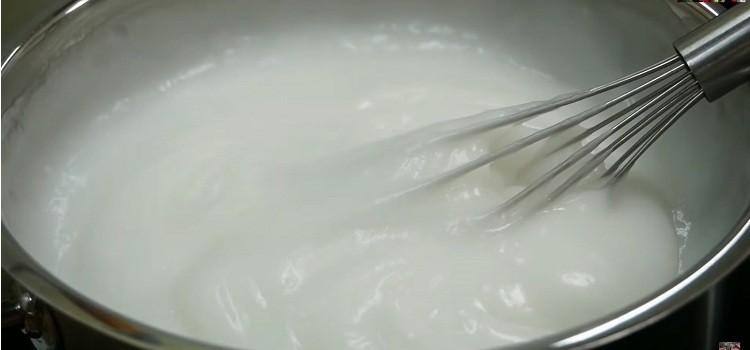 Stir evenly and let the mixture settle on. Filter 2 times to discard the residue. Source: vina.com
For the cake:
Put cold rice with 1/2 bone broth (or filtered water and a little salt) into a blender and puree, filter through a sieve.
If the mixture is still not smooth, continue to add the remaining water to puree, filtering to get a fine mixture.
Stir the tapioca flour with a little water and then add the above mixture, stir it, and let the flour mixture rest for a while while making the topping.
Put the filtered flour liquid in a saucepan and boil it while stirring evenly. When it starts boiling, turn down the flame and continue stirring evenly until the mixture is smooth. Cook over low heat for 5 minutes, stirring constantly. Total cooking time is about 15 minutes.
Meat processing. Source: vina.com
For the topping:
You should choose pork shoulder because it has both lean and fat parts. Then, grind or mince it with one shallot.
After that, mix the minced pork with ½ teaspoon of salt, one teaspoon of sugar and ½ teaspoon of fish sauce.
Heat one tablespoon of vegetable oil in a pan until hot and sauté the shallots until fragrant. Add the minced pork to it and turn evenly. When the pork is medium-rare, you put the minced wood ear mushrooms, and continue turning evenly.
Once the pork is well-done, add the minced onions to it and turn about 1-2 minutes before turning off the heat. Add some pepper and 2 tablespoons of fried onions and turn evenly.
For the dipping sauce:
Pour 250ml of water, 25g of sugar and 60ml of fish sauce into a saucepan and bring it to a boil. Let it cool and add 1/4 of lime juice.
Once all done, put the hot plain rice flan into a bowl and add the minced pork, onion oil, fried onions, sweet & sour sauce as well as coriander, chili on top. Finally, enjoy this hot dish.
Source: Asia Life Magazine
Note:
Bánh đúc is best eaten when it's still warm.
Bánh đúc has many different types such as banh duc nong (served hot), banh duc tom / thit (steamed coconut rice cake with shrimps or pork) and banh duc ngot (sweet). Whatever ingredients are used, one indispensable ingredient is flour rice. Bánh đúc made from glutinous rice flour, giving it a chewy and soft texture.
Grind soaked rice with water in a grist mill; add lime juice to the flour solution with fine proportion to bring the cake a certain glutinous degree; then boil the solution, add peanuts to enhance nutty flavor, and stir it continuously to prevent it being burnt.
If you do not have time to grind rice flour for making cakes, you can buy rice flour to make cakes faster.