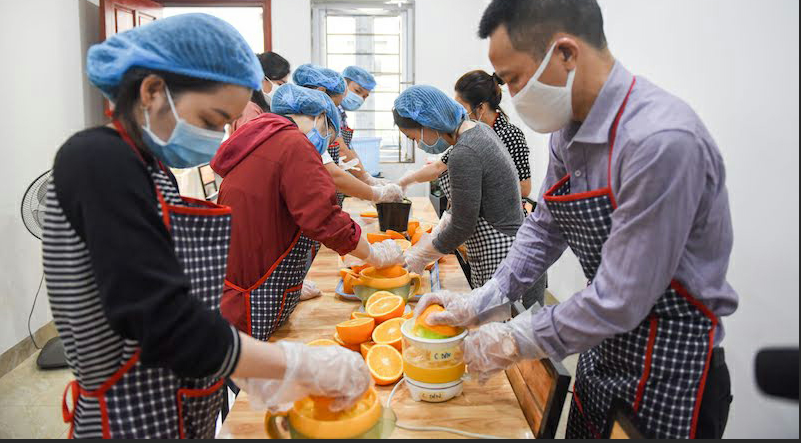 Nhien's group donates hundreds of orange juice bottles every day (Photo: Tinn.vn)
Nguyen An Nhien, one member of the voluntary group said she and her colleague started thinking of a charitable project to help the community ever since her company shut over coronavirus (covid-19) concern. "Finally, we agreed on making orange juice for doctors and medical staff in the capital", she told Tiin.vn.
The group chose a house in Nguyen Tuan Street, Thanh Xuan District, Hanoi as the gathering place. To avoid mass crowding, smaller divisions of 7-8 members take a turn to make the juice from scratch: clean oranges, squeeze into juice, bottle the juice then deliver to medical facilities.
Everyone put one face masks, aprons to make sure the orange juice meets hygiene standards. Plastic gloves are changed every 30-45 mins.
Orange juice is bottled, cooled down in iceboxes to make sure it's fresh, delicious and still of best quality when delivered to the doctors.
One paper notes with the message "From our hearts to yours, we put our love in the bottle" is stick on each bottle".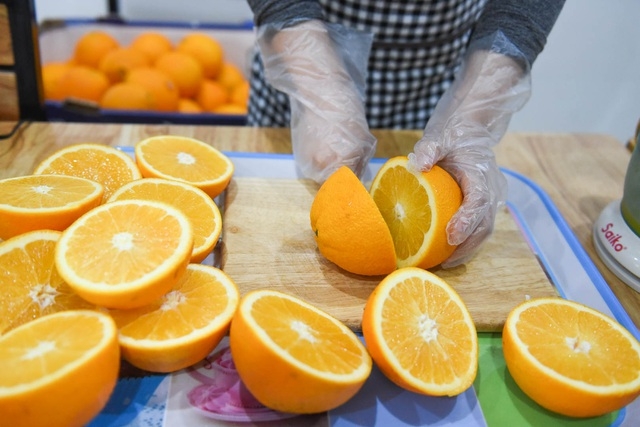 Oranges are cut into half (Photo: Dan Tri)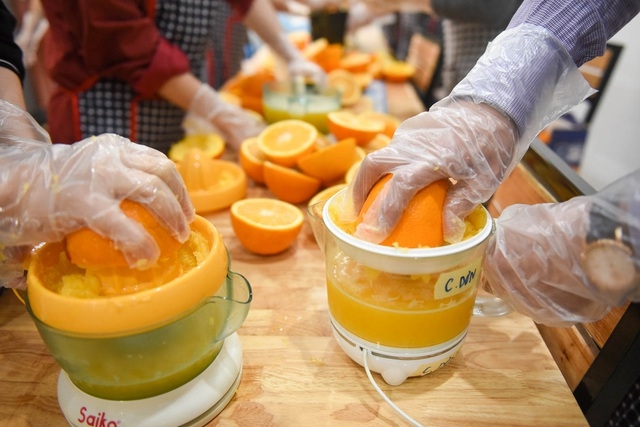 Then squeezed (Photo: Dan Tri)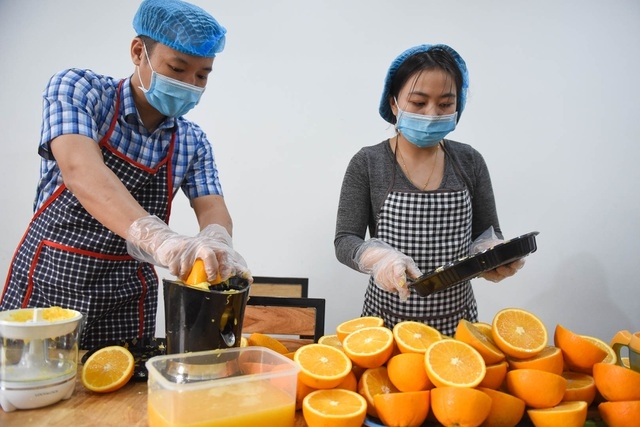 All are manually made (Photo: Dan Tri)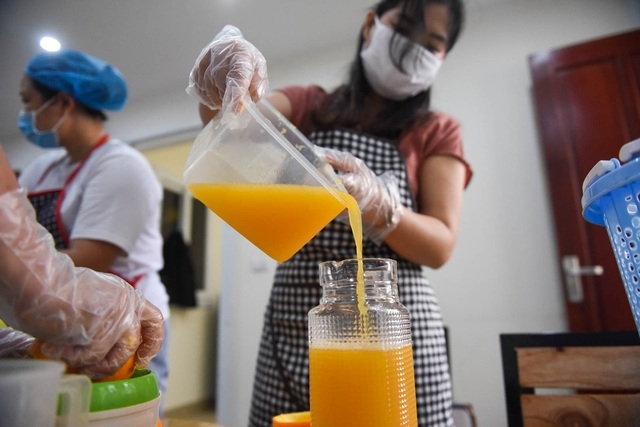 The juice is poured into bottles (Photo: Dan Tri)
Then cool those bottles in iceboxes so that the juice stays fresh (Photo: Dan Tri)
"I've been doing this for the past few days. Everyone rises up early. When I show up at the place at 6 am, other members are already there", Nhien said.
Every day, the squeezing thing starts from 7h30 am to 12 pm, then hundreds of orange juice bottles are shipped to Bach Mai hospital and the Central Tropical Disease Hospital in Dong Anh district.
"I myself and some other members work in the medical field, therefore we really want to do our best for the frontline medics. Each fresh orange juice we make must be top-notch, as they are our best regards to the 'blouse warriors' of Vietnam", Duc Trong, one member said.
Due to financial concerns, Nhien's group initially intended to squeeze 200kg of oranges each day for three days, but as they got support from acquaintances, the projects – which first launched on March 26 – is carried out until now. "We got free oranges, money. Some business even subsidizes the bottles or lend us fruit squeezers. We really appreciate it", Nhien smiled, adding that all oranges are imported from Egypt, with prices reduced by half, VnExpress reported.
On the first day, Nhien's group met certain difficulties. "It's way harder to do than we'd expected. You know, it's not 4 or 5kg of oranges, it's tenfold of that and required a lot of skills and patience", Nhien said.
"3 out of the 10 squeezers didn't even work at first as we didn't know how to use them properly, plus they were overloaded. We managed to get more squeezers by the next day, everything went faster and more smoothly", she told VnExpress in a statement.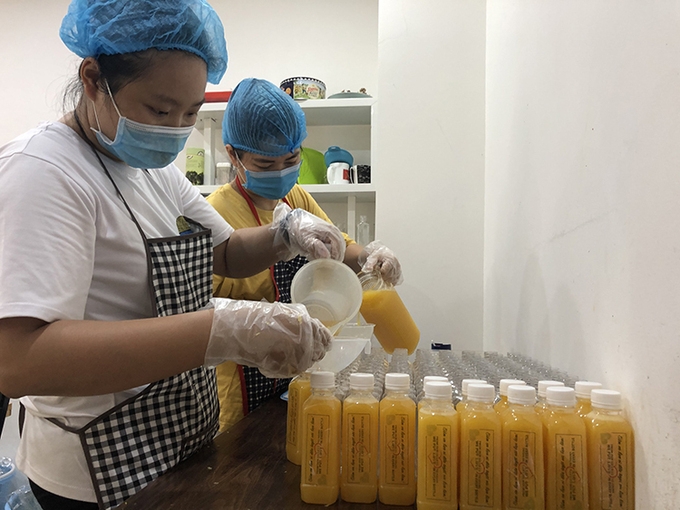 All bottles are stick with a paper note From our hearts to yours, we put our love in the bottles" (Photo: VnExpress)
"We know that those small difficulties we met are nothing compared to what the doctors are facing. We just hope this small present could somehow energize them to complete their work", another volunteer said.
"I have nothing to say but sincere thanks to all of you. You guys have changed our perception, that medics are not alone", one doctor from Bach Mai hospital shared his thought.
To date, a total of 3,000 bottles have been delivered to medics. The project has since been receiving constant supports. Many people are donating money, and volunteering to join the group in the next phase.
The second phase of the program "5,000 bottles of orange juice sent to doctors" is set to start this April 10. But this time, instead of gathering people in one location, oranges will be delivered to households for household members to join, according to VnExpress.
Jasmine Le