How dangerous is new hybrid coronavirus variant found in Vietnam?
The "very dangerous" hybrid coronavirus variant is "more transmissible" than previously known strains.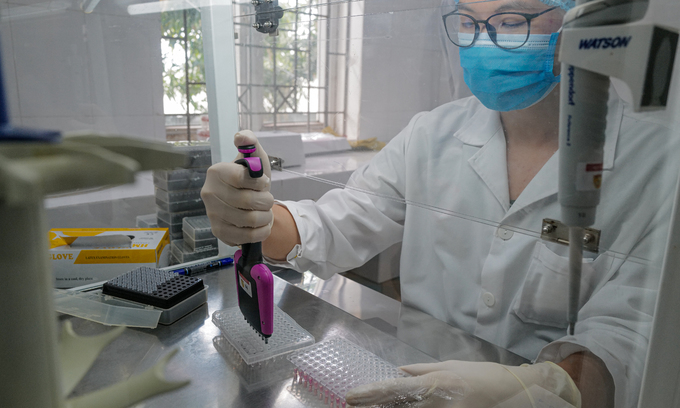 A medic works on samples taken for the new coronavirus test at a lab in Bac Giang province, May 29, 2021. Photo: VnExpress
The new coronavirus variant found in Vietnam, which is a mix of the virulent Indian and UK variants, spreads quickly by air, according to Minister of Health Nguyen Thanh Long.
Long told a conference on May 29 that the new variant is thought to be much more transmissible than the previously known types. "Laboratory cultures of the mixed variant also show that the virus replicates itself very quickly."
The UK variant is believed to be more transmissible than ordinary strains, while the Indian variant is both more transmissible and potentially less susceptible to neutralizing antibodies of the immune system, experts said.
But the new coronavirus variant recently detected in Vietnam have characteristics from both the UK and the Indian variants. Notably, it is an Indian variant with mutations that originally belong to the UK variant.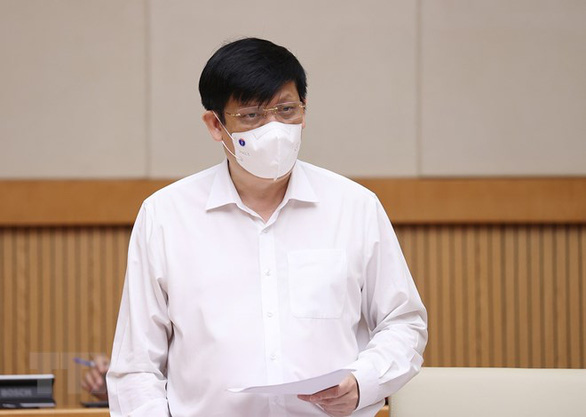 Minister of Health Nguyen Thanh Long. Photo: VNA
"This possibly explains why so many new cases had appeared in different parts of the country in a short period of time," Long said.
Long cited Hosiden Company in the northern province of Bac Giang, which is now the country's biggest pandemic hotspot, as an example, saying nearly 1,000 out of 4,800 workers there have got infected with the virus and the transmission occurs within only 1-2 days.
Genetic sequencing by the National Institute of Hygiene and Epidemiology found at least four Covid-19 patients in the country carry the hybrid variant.
Such mutation on the Indian variant has yet to be recorded by GISAID, a global science initiative and primary source that provides open-access to genomic data of influenza viruses and the coronavirus responsible for the Covid-19 pandemic.
Long said his ministry would announce the new coronavirus variant on the global genome map.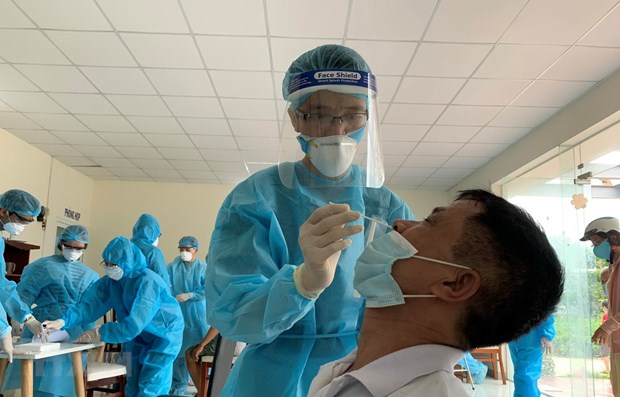 Medical workers take samples for COVID-19 testing in Ho Chi Minh City. Photo: VNA
So far, Vietnam has recorded the presence of seven coronavirus variants, namely B.1.222, B.1.619, D614G, B.1.1.7 – known as the UK variant, and B.1.351, A.23.1 and B.1.617.2 – the India variant.
The country's ongoing outbreak continues to grow with 61 new domestic Covid-19 patients confirmed on March 31 morning, pushing its fourth wave's tally to 4,096.
Of the latest patients, Bac Giang province reported 43 cases and all are related to clusters at its industrial parks.
Hanoi recorded 15 cases who have come into contact with Covid-19 patients.
Over a month into the new Covid wave, the fourth and also the most challenging outbreak Vietnam has faced yet, the Southeast Asian nation has recorded domestic cases in 34 of its 63 cities and provinces./.