Vietnamese children's songs receive new life in translation -video
Several famous Vietnamese children's songs have now been translated into English
The "Bilingual Songs for Kids" project. Photo: BSK
A Vietnamese singer has embarked on a community project "Bilingual Songs for Kids" to bring new approaches to a wide range of audiences, especially for children with disabilities, prolonging and enhancing the life of valuable musical works.
Nguyet Ca (real name Bach Thuy Linh) is a singer who performs Trinh Cong Son' songs. For many years, she had the idea of ​​translating classic Vietnamese children's songs into English. For her, it is a gift for her students and their parents, as well as her 10-year-old son.
Refreshing classic children's songs.
Nguyet Ca has embarked on the community project "Bilingual Songs for Kids." Contributing are her friends who share the same passion, such as Tran Nhat Hoang, a former member of the Buc Tuong band; Vu The Chung, a translator who has successfully translated many songs of musician Trinh Cong Son into English; and acoustic guitarist Thien Bass. Recently, the group has added a member an educator, Dinh Thu Hong, who lives in the United States.
Before recording the songs, Nguyet Ca contacted musicians to ask for permission and luckily they all supported the idea. When listening to the bilingual version "Cánh én tuổi thơ" (Swallows for Children) musician Pham Tuyen also praised the creative translation.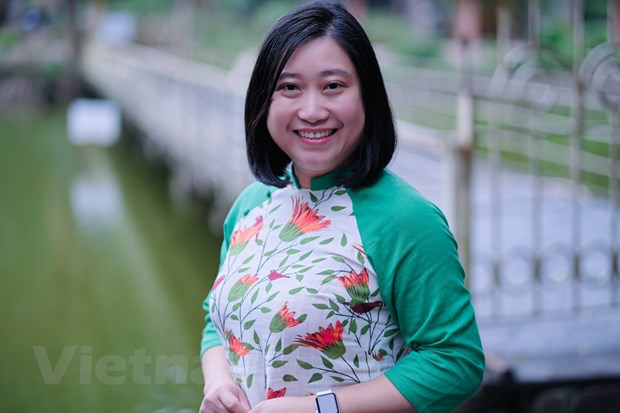 Dinh Thu Hong, an educator, also participated in the project. Photo: Vietnamplus
Singer Nguyet Ca said that the criteria for choosing songs were works that have been attached to childhood for many generations Vietnamese, which conveyed a humanistic and pure message The songs are translated accurately, respecting the spirit of the authors. They are seen as works with a life of their own, not just a product of forced translation.
Video: Bilingual song Cánh én tuổi thơ (Swallows for Children).
The value of music
To spread these songs, artist Nguyet Ca and her associates used popular digital platforms such as Facebook and YouTube, and performed at educational and cultural seminars in schools.
Many adults also fall in love with songs, which carry so many beautiful childhood memories. More broadly, the project also wants to target the expatriate community, so that they can better understand the melody and lyrics of Vietnamese children's music.
Vietnamese people living and working abroad, who have foreign spouses, will have a source of children's songs in both English and Vietnamese to teach their children, making the connection between children and their homeland more meaningful.
Currently, the project has eight songs that have been translated and will be recorded and released in turn. The opening songs "Cánh én tuổi thơ" (Swallows for Children) by Pham Tuyen, "Cho con" (For you, my child) by Pham Trong Cau, and "Chỉ có một trên đời" (Mom, You're the only one to me) by Truong Quang Luc, received positive feedback and were widely shared.
"Trái đất này là của chúng mình" (This is our lovely earth) by musician Truong Quang Luc, has also just been released to celebrate World Environment Day (June 5).
Video: Bilingual song Trái đất này là của chúng mình (This is our lovely earth).
The project leaders hope that more and more people will be interested in participating in many ways, such as by sending translations or performing, so that the songs that accompany childhood will be continued to be loved and sung by today's generation.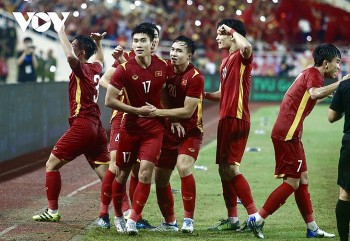 Viet's Home
The Vietnamese football team, both male and female, played their best, devoted themselves, united, and promoted the collective spirit, successfully defending their SEA Games champion title.