Vietnamese Defence Minister: National borders are sacred and inviolable
Minister of National Defence General Ngo Xuan Lich on May 21 presented a revised bill on Vietnamese borders at the current National Assembly session, stating that the bill needs to be enacted in order to protect the nation's borders which should be viewed as both sacred and inviolable.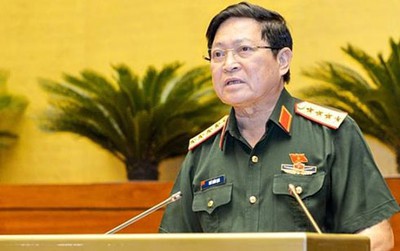 Minister of National Defence General Ngo Xuan Lich.
Putting forward his argument, General Lich noted that peace, friendship, co-operation, and development are some of the common trends in the world, but the regional and global political and security landscape is evolving in a complex and unpredictable manner. Disputes often occur over territorial borders, natural resources, ethnic and religious conflicts, or matters of secession.
According to the Minister, an adjustment of strategy, along with the engagement, domination, competition, benefit-sharing, and consolidation of power among large countries in Asia and the Pacific, results in the political and security environment of the region being increasingly complicated. Indeed, hostile forces leave no stone unturned in their attempts to sabotage the Vietnamese revolution, while violations of law, particularly drug-related and trans-national crimes, in addition to free migration, serve to make security matters more complicated.
Furthermore, non-traditional security issues such as climate change, natural disasters, and environmental pollution are increasingly coming to the forefront of the ministry's attention. The current COVID-19 epidemic, an issue that has negatively affected the majority of countries and territories worldwide, is directly related to prevention and control efforts at the country's borders.
"Such context requires border work to be renewed as a means of meeting the country's ultimate goal of safeguarding national independence, sovereignty, and territorial integrity while building borders of peace, friendship, co-operation, and development," General Lich said.
The Minister stressed the need to endorse the proposed bill on the nation's borders, outlining that the Ordinance on Border Guard, which was first promulgated more than 20 years ago, has revealed a series of shortcomings in implementation.
"National borders are sacred and inviolable," General Lich said. "Building, managing, and protecting national borders is the responsibility of all sectors and the entire political system. It is necessary to have a system of synchronous and unified legal documents aimed at firmly protecting territorial sovereignty and national border security."
"Therefore, the promulgation of the Vietnam Border Law is a particularly important and necessary step to meet the requirements of building, managing, and protecting the national borders and border areas in light of the new situation," Defence Minister Lich concluded./.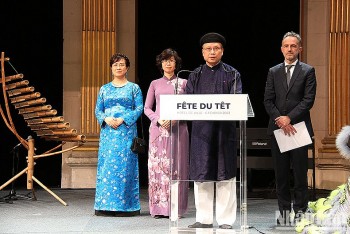 Friendship
Speaking at the celebration on the occasion of Lunar New Year for the overseas Vietnamese in France on February 6, Ambassador Extraordinary and Plenipotentiary of Vietnam in France Dinh Toan Thang emphasized that 2023 is an important milestone to promote the friendship and cooperation between Vietnam and France to the next level.