Vietnamese embassy in Israel prioritizes the safety of overseas citizens
Amid the escalating tension between Israel and Palestian over the past 10 days, the Vietnamese embassy in Israel affirmed that citizen protection was a top priority right now.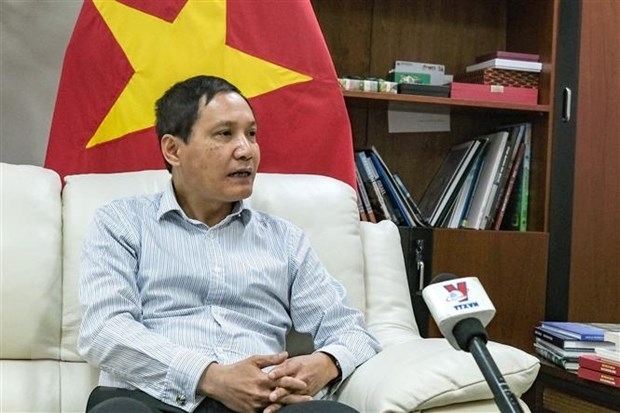 Do Minh Hung, Vietnamese ambassador to Israel, grants an interview to media on the situation in Israel and Vietnamese citizen protection measures. Photo VNA
Do Minh Hung, Vietnamese ambassador to Israel, said the Vietnamese community in Israel consisted of about 400 Vietnamese students who are trainees or working under agricultural internship programs. A small part of students is taking master or doctorate courses. The remaining group is about 500 Vietnamese people who have settled down in Israel for a long time.
The security tension and rising conflicts over the past days have directly affected safety as well as lives, study and work of Vietnamese community in Israel, he said.
Among roughly 400 Vietnamese agricultural trainees in Israel, about 40 are working or studying at Sderot agricultural center, which is located very close to Gaza.
According to the Vietnamese embassy in Israel, this is the group facing the highest risk in recent days, so the embassy has paid special attention to this group and kept in touch with them regularly, almost every hour, to update their information and instruct them with safety measures.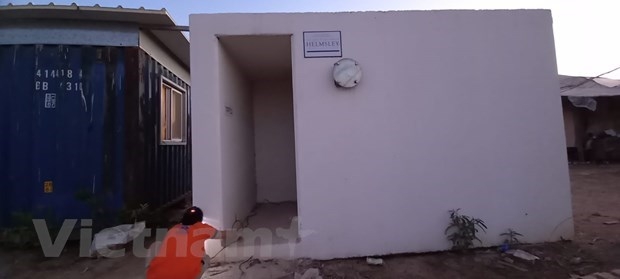 A Vietnamese student in Netivot prepares a shelter to sleep at night. Photo Vietnamplus
Approaching those students is facing many difficulties because the local government is applying emergency measures, restricting travel, limiting large gatherings of more than 10 people in areas around Gaza, ambassador Hung said.
Highlighting the top priority of the embassy which is to protect Vietnamese citizens, ambassador Hung said the Vietnamese embassy in Israel proposed a plan to ensure safety for Vietnamese community, especially students, during a teleconference with the Israel foreign ministry on May 12.
The embassy has issued an announcement to the Vietnamese community with instructions in safety and security measures.
The Vietnamese in Israel have been requested to fully and strictly implement measures on safety and security, protect themselves, and protect the surrounding community.
In the context of complicated and unpredictable situation in Israel, ambassador Do Minh Hung called on the Vietnamese community in Israel to stay calm, maintain solidarity, and promote resilience of Vietnamese people in difficult circumstances and keep maintaining regular contact with the embassy.
Shells from the Gaza Strip hit a house in the city of Aschelon, central Israel. Photo VNA
The ambassador suggested that Vietnamese people immediately contact the Vietnamese embassy in Israel in the event of emergencies.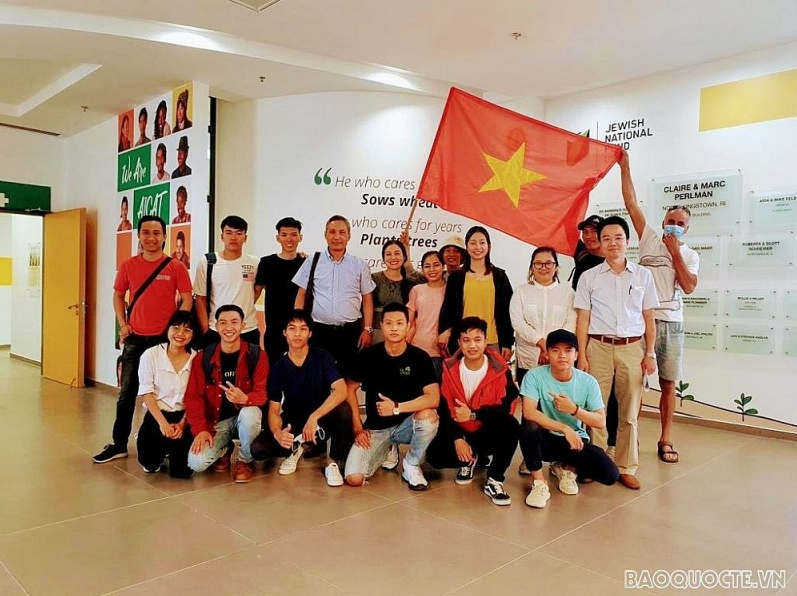 Ambassador Do Minh Hung visited Vietnamese students in AICAT center in 2020. Photo: TG&VN
The fighting between the Israeli army and the Palestinian Hamas has been intense for the past 10 days. As of Sunday, at least 277 people in Palestine and 12 in Israel have been killed.
In Israeli cities, many agencies, organizations, and schools had to close. In places near the border with Gaza, the streets have turned empty as people do not dare to go out for fear of being hit by artillery shells./.