Vietnamese expat wearing 'Non La' to pose with Iceland's awakening volcano after 6,000 years
Emily Phan has never thought she would have a chance to see a volcano awaken with her own eyes.
Geldingadalir Volcano in Fagradals mountain has been dormant for 6.000 years, is awakening again on March 19, and shows no signs of stopping since. In Iceland, many people have gathered around to witness one-in-6.000-year volcano eruption, and Emily Phan and her friends are one of those people.
Emily Phan, who has lived in Iceland for 10 years, said that this is the first time she has ever had a chance to see this rare and incredible event. Instead of going to see the volcano in the morning, this 1990 born tourist chose to take off in the evening to fully witness the vicious red glow of the lava.
Along the journey, Emily brings a non la (palm-leaf conical hat). "Being Vietnamese, this is a one-of-a-kind chance that I want to make this moment meaningful and special. Non-La (conic is very handy to bring with." She also said a lot of people showed interest and complimented her cute "hat".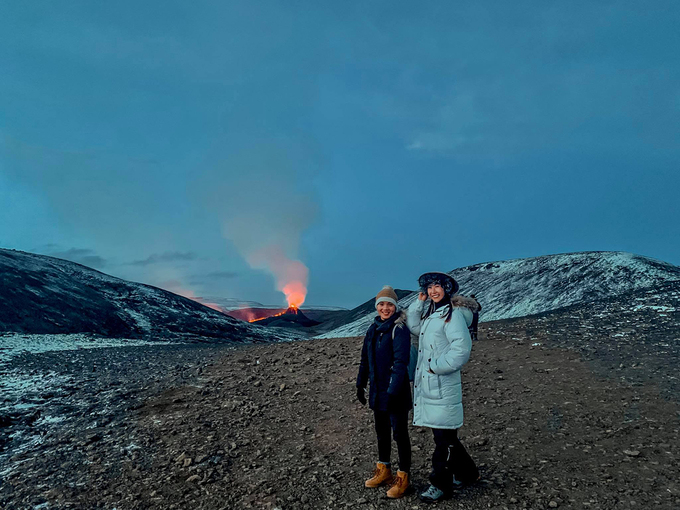 Emily and her friends on the way to see the volcano. Photo: NVCC
The volunteer teams in Iceland have marked a pathway and shortened the distance of the hiking road to the volcano down to 7 kilometers. However, it was heavily crowded, and Emily decided to park her car and walked a distance that was twice as long. She told that it took her 1.5 to 2 hours walking every evening, and climbed a total length of 13 kilometers to reach to the erupting volcano.
"The journey was painfully long, but we were all excited because we got to see the volcano for the first time in our life. People were laughing and shouting with happinese when they were close to the destination, which made me feel like I would be there in any minute."
Emily was deeply amazed by the volcano eruption scene in front of her eyes: "I could not describe my feelings when I witnessed it. I burst out when I saw the melting lava while hearing the sound of it boiling and cracking…"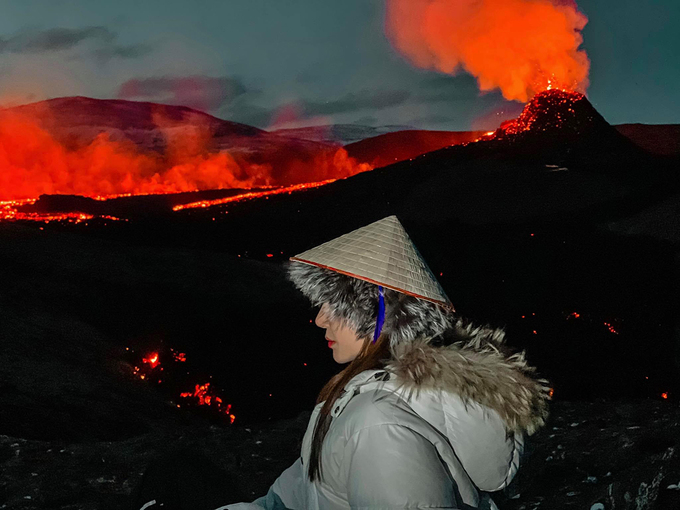 Emily posing with Non La for a picture with the erupting volcano. Photo: NVCC
She said it was like the scene in the movies and documentaries that she had watch when she was a child. The temperature in Iceland at that time was only -6 to 6 Celcius Degree. Despite the heat that came from the burning lava, Emily still felt the freezing cold.
"People brought stuff with them for a picnic, some of them even grilled sauces and hams, and warmed up their tea using the heat from the frozen lava. They brought lava rocks home and kept it as memories." She said.
Emily intended to come back to Geldingadalir in the morning to capture more perfect moments of this incredible event. She said Icelandic authority has set up cameras recording for the tourists to see the volcano and will build public toilets in the foothill of the mountain.
Police patrols and rescue teams are ready to help the tourists 24/7. If the toxic measurement in the air is high or the weather turns bad, the warnings will be sent and the pathway to the mountain will be closed for the safety of the tourists. They are also warned not to come close to the lava to ensure safety. Tourism companies provide bus tours to serve the demands, which is convenient for people who are worried about not be able to find a parking spot.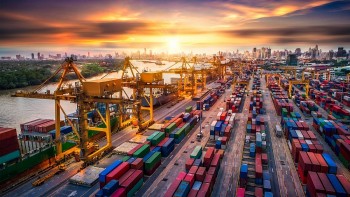 National
Vietnam, a rising star in the global supply chain, has the potential to become a new tiger in Asia, economist Brian Lee Shun Rong at Maybank - Malaysia's largest financial services group and the leading banking group in South East Asia – has reportedly said.