Vietnamese exporters turn to domestic market amid Covid-19 pandemic
The Vietnamese market with a population of nearly 100 million is attracting both foreign and local food suppliers, with many local exporters turning to the domestic market to overcome this difficult COVID-19 period
The Vietnamese market with a population of nearly 100 million is attracting both foreign and local food suppliers, with many local exporters turning to the domestic market to overcome this difficult COVID-19 period, according to VNA.
With the pandemic affecting exports and tourism, the domestic market continues to be a bright spot for the economy, the Ministry of Industry and Trade (MoIT) said.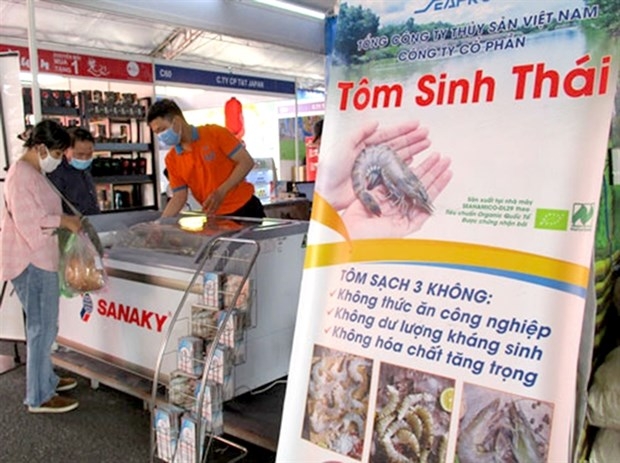 A seafood export business displays its products to domestic consumers. Photo: NLD
Le Ba Minh, director of the Pacific Foods JSC Company, a fish sauce exporter to the US market, said with more than 10 years of conquering the US market. Its fish sauce products also is the best-selling fish sauce on Amazon e-commerce platform after only a year launched the fish sauce products on this floor.
In June, the company started selling in the domestic market through e-commerce platform Shopee.
"The fish sauces for the domestic market have the same quality as exports. We prepared for two years to develop our domestic market."
The Minh Phu Seafood Group has been known as the 'Vietnamese shrimp king,' but its products could never be found in the domestic market because they were exclusively meant for exports.
At many trade events held in the country Minh Phu used to have a booth, but always targeted at foreign clients. However, in recent months, Vietnamese consumers have been surprised to see advertisements for its products appear on social media.
The company management explained that since its products are free of antibiotics and impurities, their prices are higher than others sold in the domestic market.
Analysts explained that Vietnamese consumers used to be price-conscious, but living standards are now increasing due to rapid economic growth and food safety has become a factor, persuading exports-only firms to look at the domestic market, especially with COVID-19 hitting exports.
The domestic market of nearly 100 million people is large enough for businesses to overcome difficulties and challenges during the COVID-19 pandemic, according to the MoIT.
It has launched programmes to stimulate consumption and support businesses.
With support from localities, businesses and business groups and, especially, consumers, they are stimulating consumption and retail sales in the country.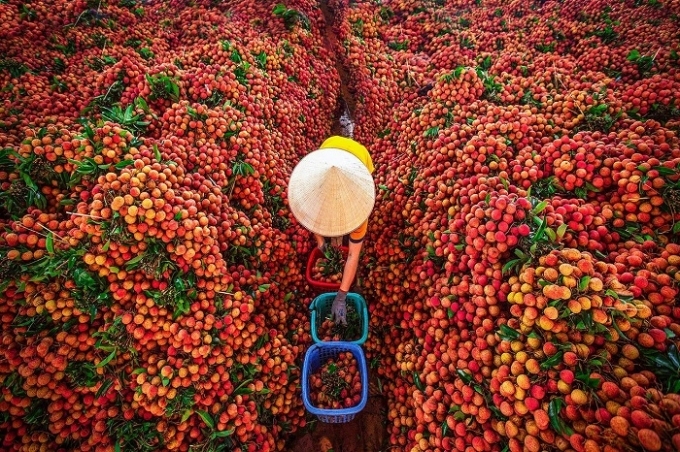 Vietnam ranks third worldwide for the volume of lychee with approximately 380,000 tons/year. Photo The Times
Meanwhile, Bac Giang, Vietnam's lychee growing hub, was also reportedly switching from export of the fruit to selling in the domestic market due to the Covid-19 pandemic.
Bac Giang has 28,100 hectares under the fruit, and expects to harvest 180,000 tons this year, up 8 percent from 2020, according to its Department of Agriculture and Rural Development.
According to Luc Ngan vice chairman Nguyen The Thi, around 67,000 tons grown in the district would be sold for domestic consumption, 23,000 tons would be used for dry lychee processing, and only 32,000 tons would be exported.
Bay, who has a two-hectare lychee orchard in Giap Son village, Luc Ngan District, said: "I used to sell 4-5 tons of lychees a day in previous years, but now I only sell half as much."
She said Chinese traders are unable to visit to buy lychees as they normally do since Bac Giang is one of provinces worst hit by the pandemic.
She now relies greatly on selling to the province cooperative, and hopes the pandemic would soon be under control and Chinese traders could come again during the main harvest season between mid-June and the end of July, VnExpress reported.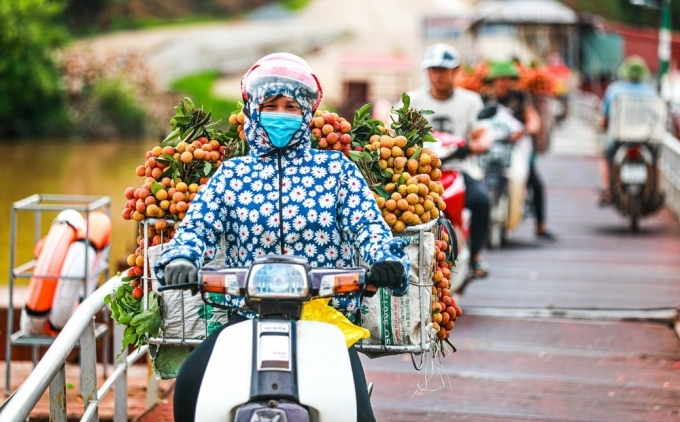 A woman carries lychees to the market for sale. Photo TravelMag
Minister of Industry and Trade Nguyen Hong Dien said on May 25 that the ministry will facilitate domestic consumption, export, and e-commerce.
The ministry held a meeting with Bac Giang's authorities following the request made by Prime Minister Pham Minh Chinh who said that the ministry needs to take all measures to facilitate the consumption as lychee gives high economic values.