Vietnamese Fans Of Japanese, Korean Celebs Raise Funds For Good Deeds
These diehard fans are using their admiration for foriegn idols to help the homeland.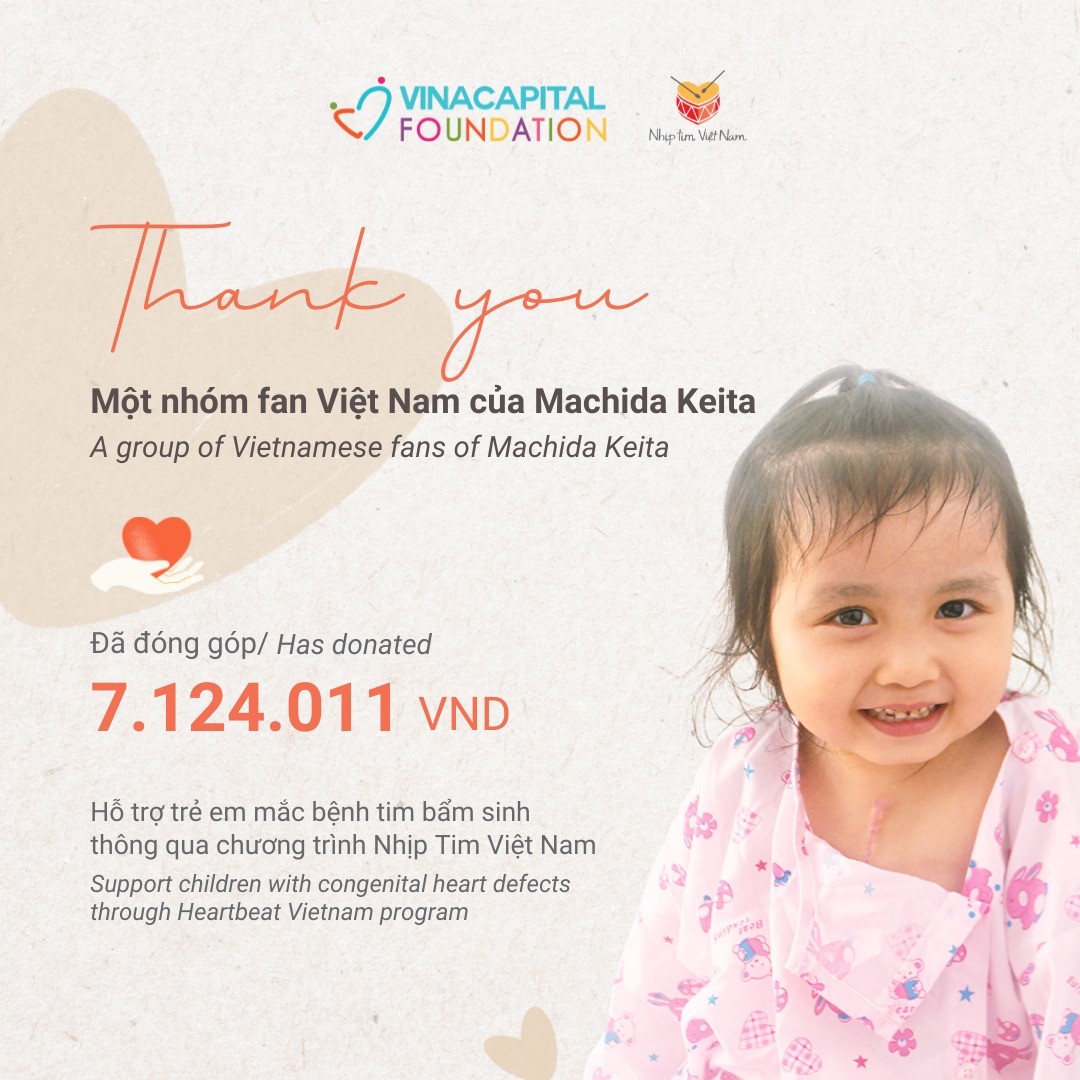 Source: VinaCapital Foundation
Fans of Korean and Japanese idols are giving back to their community. Young people from the fan clubs have actively contributed to charity work and anti-pandemic in Ho Chi Minh City.
VinaCapital Foundation (VCF) and Heartbeat Vietnam (NTVN) on Nov. 22 just announced that the fans of Japanese actor Machida Keita in Vietnam for contributing VND 7.1 million to the Heartbeat Vietnam program.
"Your meaningful activities and valuable support will help VCF and NTVN save more children's lives and help their families improve their spiritual and financial lives. VCF and NTVN appreciate the trust you have placed in our organization and the opportunities to save little hearts and strengthen their families. We hope that this meaningful activity will inspire many other young people to join hands with us to help change the lives of Vietnamese children," the post wrote.
Heartbeat Vietnam - a program of the VinaCapital Foundation, funds life-saving heart operations for the most financially disadvantaged children in Vietnam.
Despite the increasingly complicated situation of the Covid-19 pandemic, VCF and Heartbeat Vietnam have always made great efforts to raise funds for supporting disadvantaged children with congenital heart defects to receive timely treatment and reduce the risk of dying while waiting for the surgery.
In order to call for donations from the community, Heartbeat Vietnam is currently implementing the "Save 10 children with congenital heart defects" campaign via ZaloPay from Aug. 25 with the aim of fundraising VND 280 million, which will sponsor life-saving surgeries for 10 babies.
Up to the morning of Nov. 15, after 2.5 months of fundraising, the campaign has raised nearly VND 180 million. This means 4 in 10 disadvantaged children with congenital heart defects in Thai Binh, Nam Dinh, Hanoi and Tien Giang provinces will have their surgery costs funded.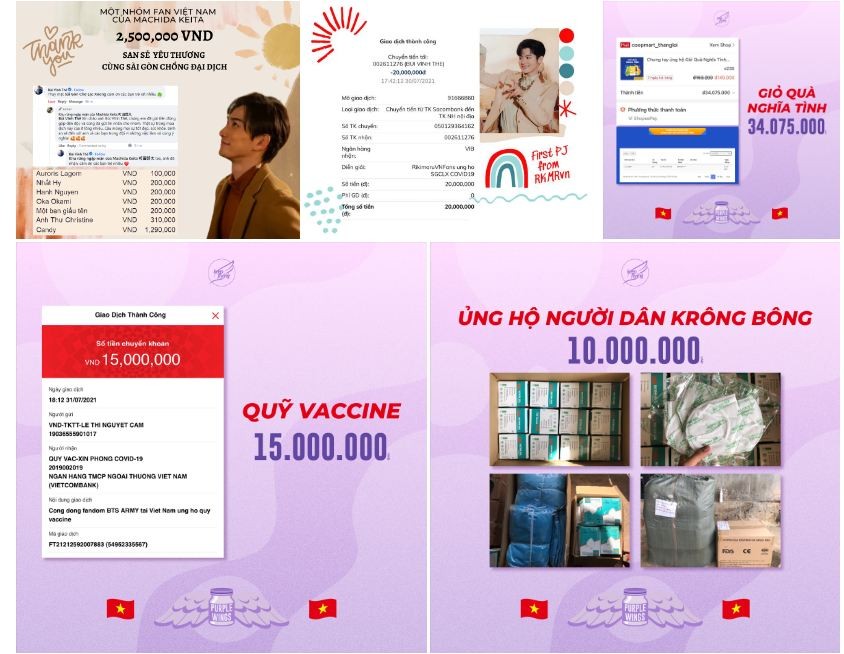 The results of fund-raising campains in support of Ho Chi Minh City by fan groups. Source: Zing News
When the Covid-19 outbreak in Ho Chi Minh City worsened, many people lost their livelihood and fell into poverty. Concerned about that situation, this community joined hands to contribute to the Saigon Cho Lac Xuong charity fund, contributing the amount of support members to help difficult situations during the pandemic in the city.
Campaigns calling for donations of the fan base usually take place in a short time, about 4-5 days. That doesn't stop members from contributing enthusiastically.
The fanpage management team supports idols, influential people in the fan community, and calls on members to contribute. Standing up to receive donations is no small responsibility. Thanks to a detailed and transparent plan, and the initiative in contacting reputable charity funds, the campaigns are trusted and supported.
They are mostly young fans and students, but still trying to scratch the last few dong in their wallet to participate, with a cute message hoping that HCM City and Vietnam will triumph over the Covid-19 pandemic.
Many young people are living, studying and working abroad, but their hearts are still directed to their homeland.
"There is a fan who is an international student in Tokyo, Japan. Previously, she contributed to the fight against the pandemic at another fund, but she are still willing to contribute as soon as the fandom calls for it.
We are very touched by that spirit. She is also an active participant in our charity projects so far," 26-year-old Candy Nguyen, representative of actor Keita's fan community, shared with Zing News.
Although they are young people from many regions and different backgrounds, they all share the same positive spirit and responsibility to the society, inspired by their admiration for idols.
Contrary to the "extreme" that many people often think about the fan-idol relationship, liking an artist can become a motivation for fans to improve themselves, do meaningful things, and contribute for community.
"Although Machida Keita's fandom in Vietnam is still young, we always aim to do community and social activities. First for the love of the homeland and responsibility for the country of each Vietnamese person, then because we want to spread the positive image of our idol. Loving idols rationally is trying to improve and live better by themselves," Candy told Zing.
Through such humanitarian campaigns, members of the same fan group become more connected. From sharing common interests, they became like-minded friends, the spirit of supporting the idol and the country.
"Before we belong to any fandom, each of us is a Vietnamese citizen. Therefore, it is inevitable to unite with the whole country to fight Covid-19."
That is the sincere sharing from the representative of the fan group of Japanese singer Rikimaru Chikada. The fanbase also has raised fund and transfered the donation the Saigon Cho Lac Xuong charity fund.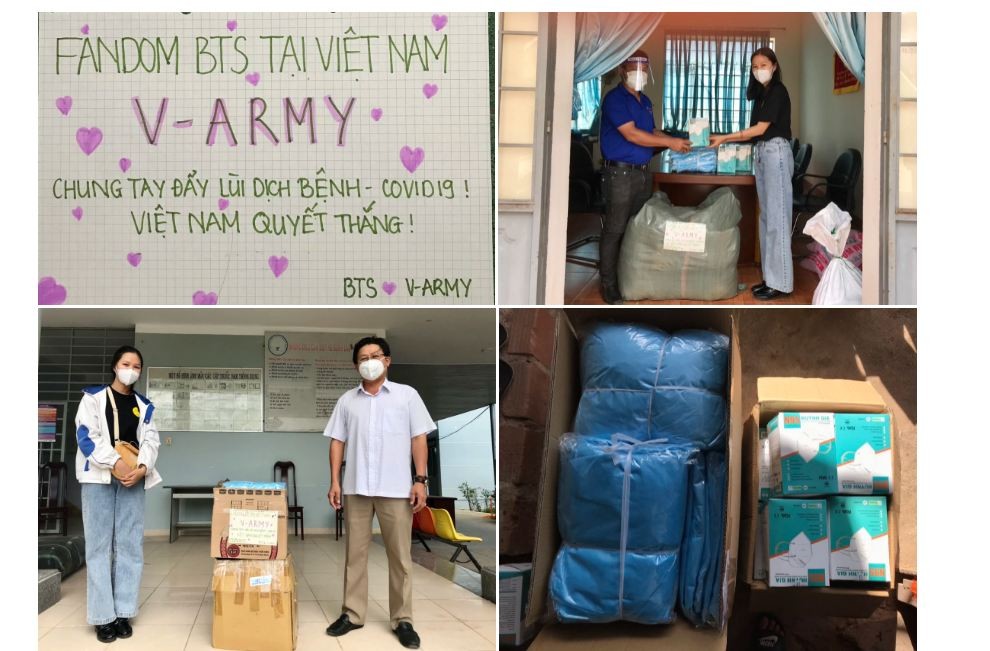 The Vietnamese ARMY community sends gifts to Krong Bong town, Dak Lak province. Source: Zing News
Bringing the same above spirit into their volunteer activities, the Vietnam's ARMY (stands for Adorable Representative M.C. for Youth) fanbase of Korean boy band BTS, wishes that contributions to the fight against the pandemic, though modest, can partly help repel the SARS-CoV-2 virus.
Participating in supporting difficult situations, young people feel that life is much more meaningful.
Sharing the same desire to support the community, the fanbase in Vietnam has organized the Purple Wings campaign and called on the members to support.
After five days, the campaign succeeded beyond expectations. Donations are sent to 24 volunteer groups and funds to support the anti-pandemic work in the city.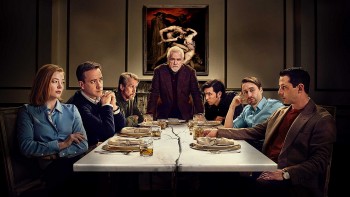 Handbook
Succession, Yellowjackets, Ambulance, etc, are some of the best TV shows with excellent plots, stellar casts, and high rates from the audience.