"Vietnamese football can surpass Japan's", VFF's Japanese New Technical Director
The new Japanese Technical Director of the Vietnam Football Federation (VFF) Yusuke Adachi highly appreciated the potentialities of Vietnamese football.
"I want Vietnamese football to go beyond Japan's, that's my dream. Of course, it cannot be done in a short time, but it can in 30 years. I have no magic to make this come true immediately but in fact, Vietnamese football has so much potentiality", Yusuke Adachi said at his inauguration ceremony on Wednesday.
VFF New Japanese Technical Director Yusuke Adachi Photo: Nguoi Lao Dong
"Vietnamese football players do not have a physical advantage but are really skilled and fast. Vietnamese are so hard-working and cooperative which helps them improve quickly".
Vietnam has only beaten Japan in an official tournament which was in the group stage of the 2018 Asian Games under the guidance of Head Coach Park Hang-Seo.
Coach Park Hang-Seo (L) presented flowers to New Technical Director Yusuke Adachi at VFF headquarters on the afternoon of September 9. Photo: Lam Thoa/ VNExpress
Adachi hoped that he could cooperate well with Coach Park Hang-Seo to develop Vietnamese football, reported VNExpress.
"Coach Park has done miracles for Vietnamese football. He knows about Vietnamese football more than me. That is a good thing since I can gain information from him. It won't be difficult for me and Coach Park to work together because we share the same goal of helping Vietnamese football develop", Adachi added.
Adachi accepted to be the Technical Director of VFF in July 2020. But due to the COVID-19 pandemic, two months later, he could arrive in Vietnam. Adachi's contract is valid until January 31, 2023.
Yusuke Adachi is responsible for personnel training, especially young coaches, and works as technical director of football clubs and centers while getting updated on international information and modern methods in order to help Vietnamese football come closer to international football.
Adachi hoped he could cooperate well with Park Hang-Seo to develop Vietnamese football Photo: Dan Tri
Adachi was born in 1961, is an elite coach of AFC. He used to train coaches like Phan Thanh Hung, Hoang Van Phuc, Nguyen Huu Thang, and Nguyen Minh Phuong. Besides, he was invited by FIFA as a member of the Professional Data Analysis Group at the 2001 FIFA Confederation Cup, 2002 World Cup and 2006 World Cup.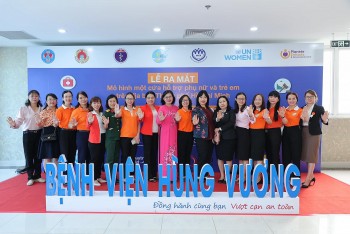 Viet's Home
What is the one-stop centre for women and children experiencing violence?