FIFA to offer US$1.5 million bailout to Vietnamese football
The International Federation of Football Association (FIFA) announced that it would present a US$1.5 million bailout to all FIFA member associations including Vietnam so as to compensate losses triggered by COVID-19 pandemic.
Permanent Vice President of the Vietnam Football Federation (VFF) Tran Quoc Tuan represented the VFF to give opinions at the event, which also saw the attendance of President of the Asian Football Confederation (AFC) Sheikh Salman bin Ebrahim Al Khalifa, reported Nhan Dan.
The FIFA boss announced the conclusion of the Bureau of the FIFA Council, stating that a universal solidarity grant of US$1 million is being made available to all FIFA member associations, and an additional grant of US$500,000 is being allocated specifically to women's football.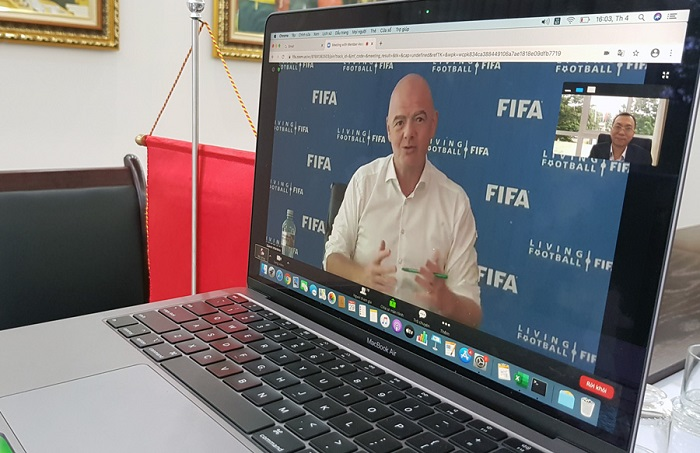 FIFA President Gianni Infantino holds a virtual meeting with senior officials of FIFA member associations in Southeast Asia. (Photo: VFF)
The announcement came after complicated developments of the COVID-19 pandemic globally have caused the postponement of FIFA tournaments and all international football fixtures, according to VOV. Football activities failing to take place as planned have caused a deficit in revenue related to television rights, ticket sales, and sponsorships. The FIFA funding is extremely necessary and expected to help member associations to maintain activities and continue to invest in the target projects.
At the meeting, VFF Permanent Vice President Tran Quoc Tuan briefly reported on Vietnam's football activities in recent times. Thanks to the country's effective efforts in curbing the pandemic, domestic football events have been allowed to resume with over 400 matches across professional and youth tournaments, attracting huge attention from fans. In addition, Vietnamese football has been actively involved in community activities to join hands with the whole nation in pushing back the disease.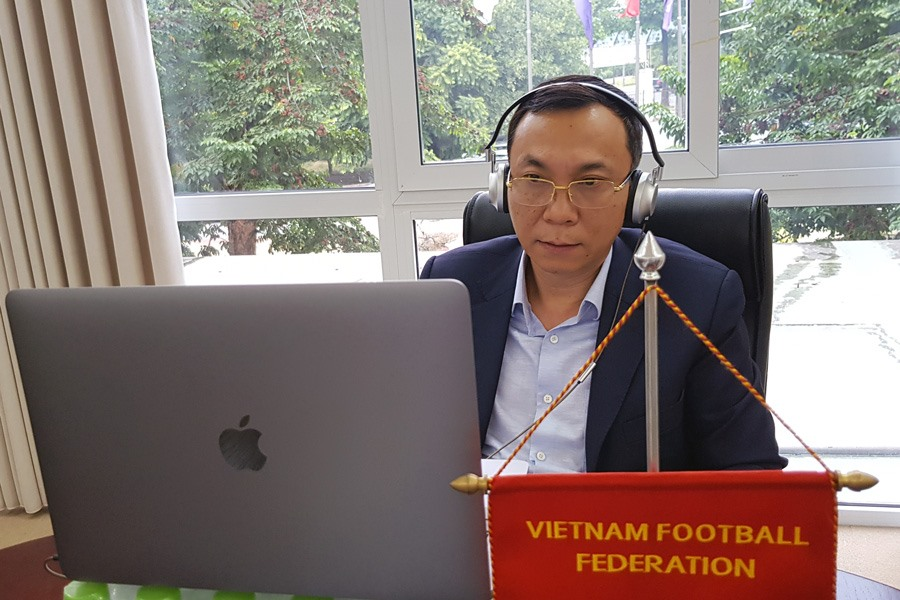 Tran Quoc Tuan, vice president of the Vietnam Football Federation, attends the FIFA-hosted virtual meeting. Photo: VOV
The operational results of Vietnamese football have impressed and received high appreciation from the FIFA boss, Tuan said.
Participants particularly expressed their concerns about the possible impact of the pandemic on World Cup 2022 qualifiers in the Asian region scheduled for October and November. FIFA President Gianni Infantino confirmed he would work with the AFC to closely monitor the development of the COVID-19 pandemic to seek further solutions.
Earlier, on July 26, Vietnam Professional Football (VPF) issued a document announcing to halt all professional football leagues in Vietnam, including the top V-League in a move to prevent the COVID-19 transmission after new transmitted cases had been recorded in the central city of Danang in nearly 100 days. According to VPF's document, the postponement would last until further notice released.
On the morning of July 31, Vietnam confirmed 45 new Covid-19 patients all linked to hospitals in Da Nang, now Vietnam's biggest outbreak, raising the nation's active cases to 140, stated VNExpress.
33 of them are linked to Da Nang Hospital, four to Da Nang Hospital for Lung Diseases, and two to Da Nang Oncology Hospital. Four other patients are staying at a hotel where kidney patients of the Da Nang Hospital are isolated, two at the medical center of the city's Cam Le District.
With the 45 new cases, the largest number of domestic infections reported in one day in Vietnam ever since the first cases were detected in the country in February, the nation now has 509 Covid-19 patients. Of these, 369 have recovered.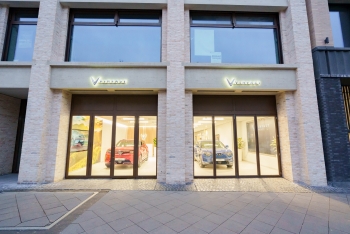 Economy
VinFast has officially opened its first two VinFast Stores in Cologne, Germany, and Paris, France.