Vietnam's southwestern provinces tighten border control amid rising Covid-19 threats from Cambodia
As the Covid-19 pandemic has complicatedly developed in Cambodia, Vietnam's southwestern provinces have tightened the border control.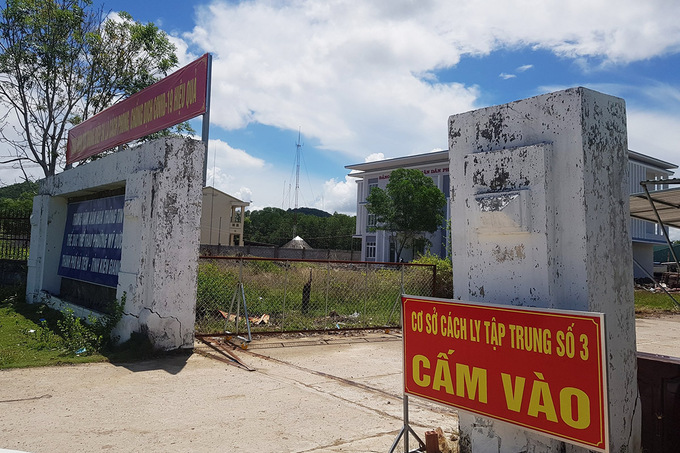 A centralized quarantine facility in Ha Tien Town. Photo: Vnexpress
Kien Giang province, which shares a 56-kilometer land border with Cambodia and has a 200-kilometer coastline. According to the Provincial People's Committee, there are 103.000 Vietnamese living in Cambodia, with about 1.700 people living in provinces bordering Kien Giang namely Kampot, Kep, and Preah Sihanouk. Over the past time, Kien Giang has detected many people illegally entering Phu Quoc Island via the sea route, Vnexpress reported.
The Kien Giang Steering Committee for Covid-19 Prevention and Control determined the border control was the top priority in the Covid-19 fight. In Ha Tien Town, which shares a 14-kilometer land border and 26-kilometer coastline with Cambodia, a total of 48 border stations have been set up with 24/7 patrols.
Vice Chairman of Kien Giang People's Committee Nguyen Luu Trung said the disease prevention and control were still under control. However, amidst the rampant Covid-19 situation in Cambodia, the province has prepared scenarios for the worse cases by establishing field hospitals with 300-500 beds for mild Covid-19 patients and other 50 beds for critically ill ones, etc.
Ho Chi Minh City's Cho Ray Hospital and Pasteur Institute were requested by the Health Ministry to send more medical workers and set up Covid-19 testing labs in Ha Tien and Kien Giang General Hospital.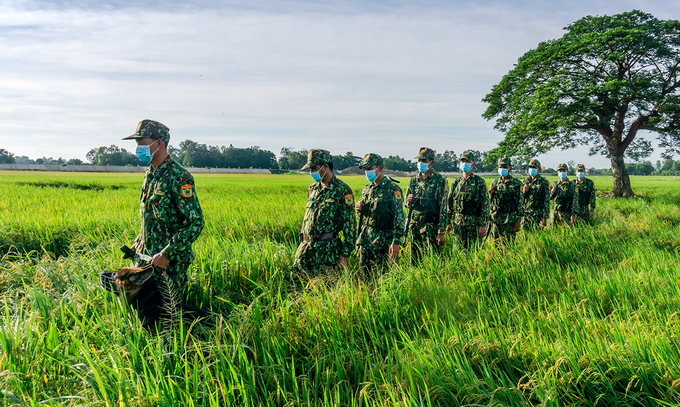 An Giang border guard patrols the border area. Photo: Vnexpress
An Giang Province shares a 100-kilometer land border with Cambodia, has two international border gates and numerous trails. Hence, the province's border guards along with functional forces have ramped up the patrols, with around 2000 personnel to keep a close eye on illegal entrants.
Colonel Nguyen Thuong Le, Head of An Giang Border Guard said the province regarded the prevention of illegal entrants as the foremost priority. It has mobilized 33,000 households living near the border to sign documents committing to strictly comply with the regulations on epidemic prevention and control, especially no illegally entering and existing. Since the beginning of this year, the province has discovered more than 600 people trying to illegally enter the country and have put them all under quarantine.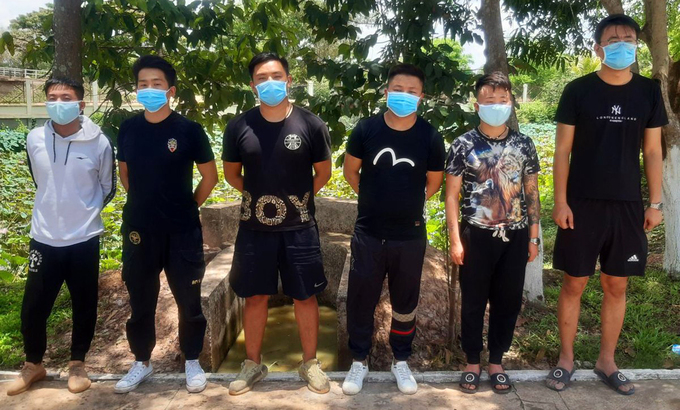 Six Chinese nationals are detained by Long An authorities while trying to illegally exist to Cambodia on April 22. Photo: Vnexpress
Long An Province, which shares a 130-kilometer border with Cambodia, has maintained 40 border stations and patrols. Since the beginning of this year, the provincial authorities have found over 130 people illegally entering and existing, including 95 foreigners. The police have prosecuted 14 cases with 29 accused of organizing for others to illegally exit and enter.
Vice Chairman of Long An People's Committee Pham Tan Hoa said the province has strictly cracked down on illegal entrants. He added that it has 36 border stations, but they have encountered difficulties when the rainy season comes. Hence, the province is building 13 solid stations with land donated by citizens to help patrol forces have better living conditions.
As the province sharing the longest border with Cambodia (about 240 km), Tay Ninh Province has arranged 123 border stations with more than 600 officers and soldiers on duty. Chairman of the Provincial People's Committee Nguyen Thanh Ngoc said the province has carried out various measures to prevent Covid-19 such as mobilizing residents not to illegally entering and exiting, rewarding for those who report illegal entry and exit cases, etc.
According to Ngoc, Tay Ninh receives and quarantines from 20 to 30 people from Cambodia each day. The province has also prepared over 3,000 beds for quarantining.
"In addition, in order to effectively combat Covid-19, the province has supported medical equipment for three Cambodian provinces bordering Tay Ninh (Svay Rieng, Tbong Khmun, Prey Veng)", said Ngoc.
Previously, at a meeting with 10 localities bordering Cambodia on April 23, Deputy Prime Minister Vu Duc Dam, also Head of the National Steering Committee for Covid-19 Prevention and Control ordered the localities to strengthen the border control and sternly punish illegal entrants.
Cambodia closed all markets in the capital Phnom Penh on Saturday to contain a surge in coronavirus infections and thousands of families pleaded to the government for food as a two-week lockdown continued, said Reuters.
Cambodia also reported a daily record of 10 new coronavirus deaths on Saturday, its health ministry said, as infections spike following an outbreak first detected in late February.
The latest figures take the country's overall number of cases to 9,359. Cambodia until recently had one of the world's lowest numbers of infections. It has reported 71 deaths, all in the past two months.
Phnom Penh went into lockdown on April 15 and has declared some districts "red zones," banning people from leaving their homes except for medical reasons.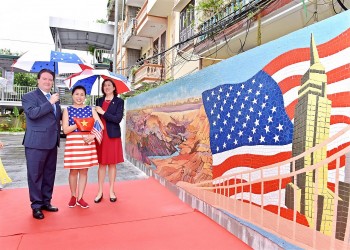 Multimedia
A ceramic mosaic mural named "Vietnam - US friendship" depicting the natural and cultural heritages of the two countries, was just revealed in Hanoi