Vietnamese in Cambodia strictly follow raft house relocation order
Nearly 1,000 Vietnamese households in Phnom Penh have dismantled their house following the city authorities' order to relocate floating houses and fish rafts on the Tonle river.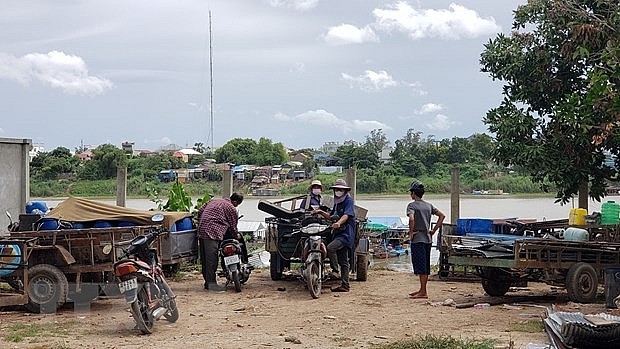 Vietnamese Cambodians relocate from their floating house (Photo: VNA)
Vietnamese living in Cambodia's Prek Thmey ward and Prek Pnov district reportedly dismantled their raft house and relocated in a rush last weekend. They are now waiting for resettlement, as reported by Baoquocte.
The majority of the overseas Vietnamese living in these places earn their livelihoods by fishing or working on the shore. Their lives were made more difficult as they had to relocate within 7 days.
Many households face challenges as they had to move their fish rafts. It's also difficult to consume the fish which are not yet big enough for selling, especially during the Covid-19 pandemic time.
Sim Chy, chairman of the Khmer-Vietnamese Association, said the association had informed 6 districts of the list of households with fish rafts to ask for extended relocation time.
On Saturday, the association negotiated with Prek Pnov's authorities for a temporary gathering of boats at the riverbank of Samrong ward while the overseas Vietnamese wait for resettlement assistance.
Vietnamese expats living in other parts of Tonle were also encouraged to abide by the local government's regulations and not to leave for Vietnam, which will be difficult.
Dong Van Can, a 55-year-old Vietnamese who lives on a floating house in Prek Pnov said most of the overseas Vietnamese there obey local regulations, but need more time to handle their fishing rafts, and finding temporary accommodation on the mainland.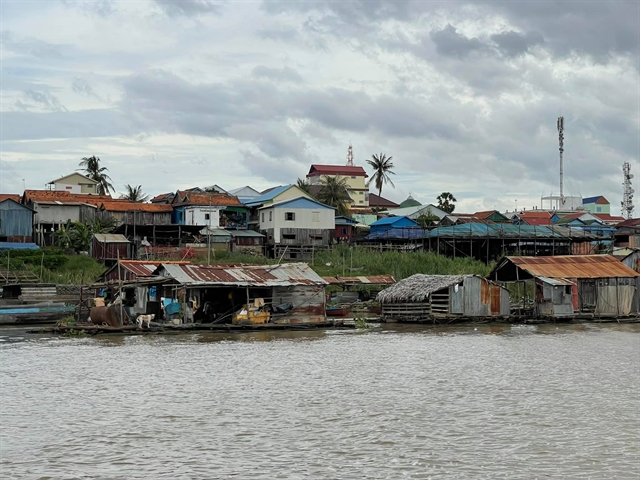 Floating houses on the Tonle Sap River in Phnom Penh. (Photo courtesy of Vu Quang Minh, Ambassador of Vietnam to Cambodia)
The Vietnamese Ministry of Foreign Affairs has earlier called on Cambodian authorities to ensure the welfare of people of Vietnamese origin after Phnom Penh ordered the relocation of floating villages on the Tonle Sap River.
Cambodian authorities asked households there to relocate within seven days, saying they would dismantle all illegal works on the river after the deadline, Khmer Times reported.
The reason given for this relocation is that the floating village dwellers "seriously affect water biodiversity, damage water quality, pollute the environment and affect the beauty of Phnom Penh, as well as affect the health of people who use unclean water."
The decision of the Phnom Penh government affects about 700 families, many of whom are of Vietnamese origin.
The ministry's spokesperson Le Thi Thu Hang said at a press conference in Hanoi on June 10 that Vietnam "pays attention to this information," Viet Nam News reported.
She said during a June 6 meeting between Vietnamese foreign minister Bui Thanh Sơn and his Cambodian counterpart Prak Sokhonn, Son again asked Cambodia to continue addressing the legal status of the people of Vietnamese origin.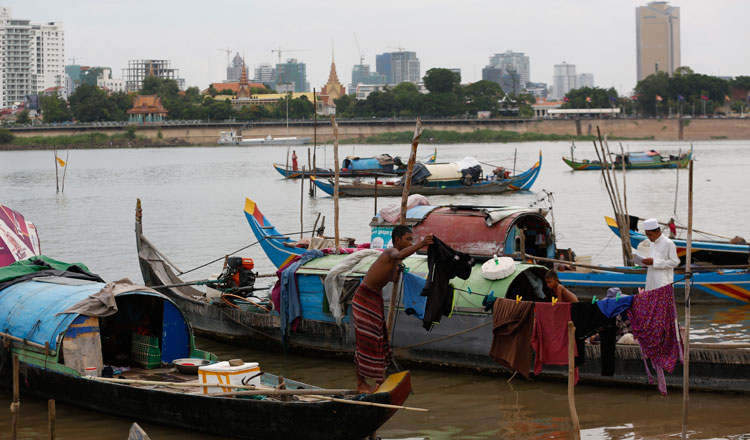 Phnom Penh City Hall set a one-week deadline for people who live in floating houses along the Mekong and Tonle Sap Rivers to move out. (Photo: KT/Siv Channa)
Vietnam suggested that Cambodian authorities "ensure the rights and welfare of the Vietnamese community, and enable the people affected to soon return to stability, to either keep their current work or switch to another appropriate occupation and to have full access to essential services," she said.
On June 4-7, Vietnamese Ambassador to Cambodia Vu Quang Minh also visited Vietnamese Cambodians in relocated areas, Hang said.
The foreign ministry's State Committee for Overseas Vietnamese Affairs and the Vietnamese Embassy in Cambodia have asked Cambodia to offer practical support to resettled residents, thus ensuring their legitimate rights.
The Cambodian side has acknowledged Vietnam's requests and said the Cambodian government will continue to enable Vietnamese students and workers to study and work in Cambodia, and to provide favorable conditions for people of Vietnamese origin to enjoy stable livelihoods in this country.
Cambodia's Tonle Sap is the largest freshwater body in Southeast Asia. Boasting one of the most fertile ecosystems in the world, it provides 75 percent of Cambodia's freshwater fish catches, VnExpress said.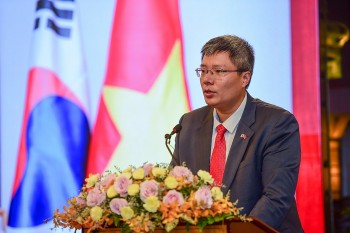 Viet's Home
Tran Hai Linh, member of the Central Committee of the Vietnamese Fatherland Front, chairman of the Vietnam-Korea Business & Investment Association (VKBIA) shared with the Vietnam Times about strengthening the capacity to promote Vietnamese culture to the world.