Vietnamese in Europe Donate to Homeland's Fight Against Pandemic
The donation contributes resources to Vietnam's fight the pandemic and help recover the country's socio-economic development, ensuring a safer 'new normal.'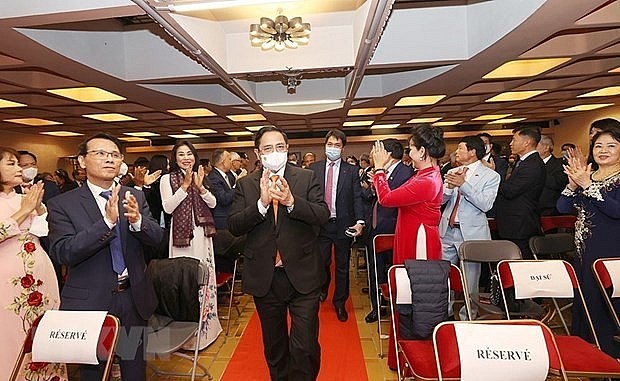 Overseas welcome Prime Minister Pham Minh Chinh. (Photo: VNA)
Overseas Vietnamese in Italy, France, and the United Kingdom donated cash and medical equipment to support Vietnam's effort to control the pandemic on Nov. 4 and 6 on the visit of the prime minister and government's high-level delegation to Europe.
A group of Vietnamese in Italy granted their gifts on prime minister Pham Minh Chinh's meeting with overseas from 13 European countries on Nov. 4.
The group represented the community of Vietnamese people in Italy to propose that the Government soon coordinate with Italian partners to deploy direct flights between the two countries.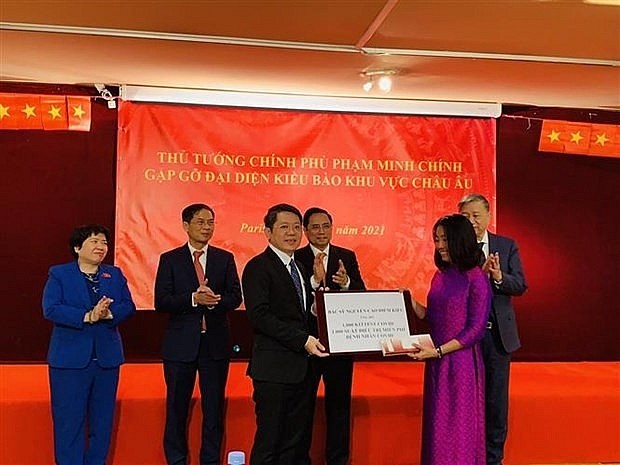 Doctor Karen Nguyen presents a gift to support the fight against the pandemic in Vietnam. (Photo: VNA)
A group of medical experts represented by Dr. Karen Nguyen sent three gifts to support the homeland's fight against the pandemic. The gifts include free training for medical forces in Vietnam, 1.000 kits to quickly test four corona variants, and 1.000 free treatment packages directly performed by Karen Nguyen in Vietnam.
Le Thi Bich Huong, head of the Italian-Vietnamese Cultural Bridge Association sent EUR 5.000 to orphans whose parents died because of Covid-19 in district 7, Ho Chi Minh City on behalf of the association and Vietnamese Community in Czech.
Expats in Italy had previously sent donations to the homeland. The Italy-Vietnam Mutual Assistance Association donated more than EUR 4.000 to Da Nang hospital and EUR 11.000 to two education institutes in Quang Binh and Quang Tri in early 2021.
Generations of expats in Italy have been devoted themselves to promoting culture, economy, investment, teaching, and learning Vietnamese, between Vietnam and Italy.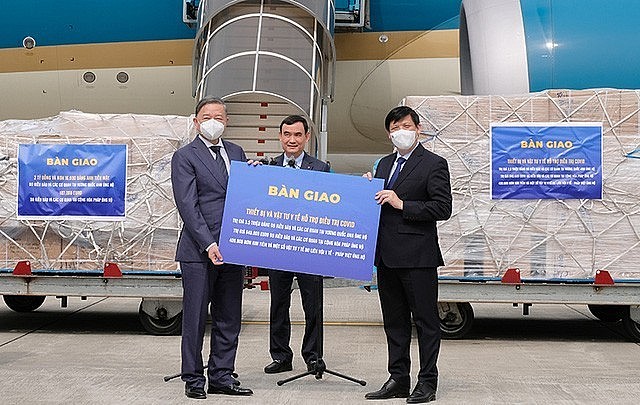 Politburo member, Minister of Public Security To Lam presents to Minister of Health Nguyen Thanh Long donated by medical supplies and equipment that overseas Vietnamese.
Overseas in France and the United Kingdom presented medical equipment and cash to support the homeland in Noi Bai airport on Nov. 6. The ceremony was held on the occasion of the government's high-level delegation to Europe.
The gift includes medical supplies to support the treatment of Covid-19 that is worth GBP 3.5 million (donated by overseas in the United Kingdom), EUR 640.000 (donated by Vietnamese in France), and 400.000 needles and some medical supplies supported by the France-Vietnamese medical association.
Besides, a donation in cash, including VND 2 billion (US$86,95) and more than EURO 33,000 was received by the Central Committee of the Vietnam Fatherland Front.
The donation makes a practical contribution and contributes resources to the country in the fight the pandemic, recover the country's socio-economic development towards safe and flexible adaptation of new normal.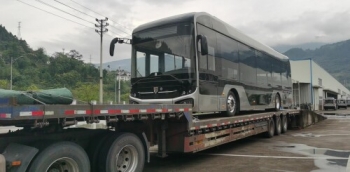 Economy
Ev Dynamics (Holdings) Limited is a pioneer and a prominent player in China's new energy commercial vehicles market, as well as a whole-vehicle manufacturer of specialty passenger vehicles and new energy passenger vehicles.