Vietnamese in Iran, Italy recommended to follow local regulations on COVID prevention
The Vietnamese Ministry of Foreign Affairs has recommended the Vietnamese citizens living in Iran and Italy where COVID-19 infections are rising fast that they should strictly comply with the host countries' regulations on disease prevention and control.
The Consular Department of the Ministry of Foreign Affairs of Viet Nam on March 2 asked Vietnamese citizens to strictly comply with COVID-19 prevention regulations on travel, gathering, medical hygiene, and self-isolation in these countries.
The Vietnamese in Iran and Italy should stay at home and should not make unnecessary visits to public services, epidemic regions and epidemic affected-areas.
The Vietnamese people should resolutely follow guidance provided by official press and avoid unverified information on social network.
For those from epidemic regions in Italy and Iran returning to Viet Nam, they must undergo medical inspections and shall be isolated for 14 days as regulated.
Vietnamese citizens may contact the citizen protection hotlines in Italy +39 328 831 3251 and Iran +98 930 645 9865 or the switchboard of the Consular Department+84 981 84 84 84.
As of morning of March 3, more than 90,000 people confirmed infecting the COVID-19, including 3,100 fatalities across the world. Around 48,000 patients have been successfully treated and recovered.
Italy has been the second hotspot of COVID-19 epidemic outside China, with more than 2,000 patients and 52 deaths. Iran confirmed the highest number of deaths of the virus after China with 66 deaths and 1,501 infects.
chinhphu.vn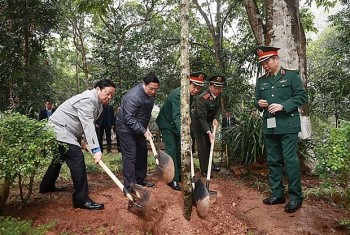 National
The Prime Minister launches a tree planting festival in Ba Vi on New Year of Cat.