Vietnamese in Laos fear economic burden if Covid-19 prolonged
Many people reckoned that residents in Vientiane have stayed calm and comply with anti-Covid-19 regulations during this lockdown. Nevertheless, if the epidemic keeps lasting, the economy will adversely be impacted.
Laos on April 26 recorded 113 cases, raising the tally of infections to 436, said the Laotian Times. The latest cases were detected in 10 provinces and cities, with Champasak (southwest of Laos) accounting for 54 cases and Vientiane capital city 31 cases.
This was the first time that Laos has logged a three-digit number of new infections per day since the Covid-19 broke out. Vietnamese people in Laos updated with Zing News about the epidemic situation while expressing their concern about the effects on the economy if Covid-19 keeps lasting.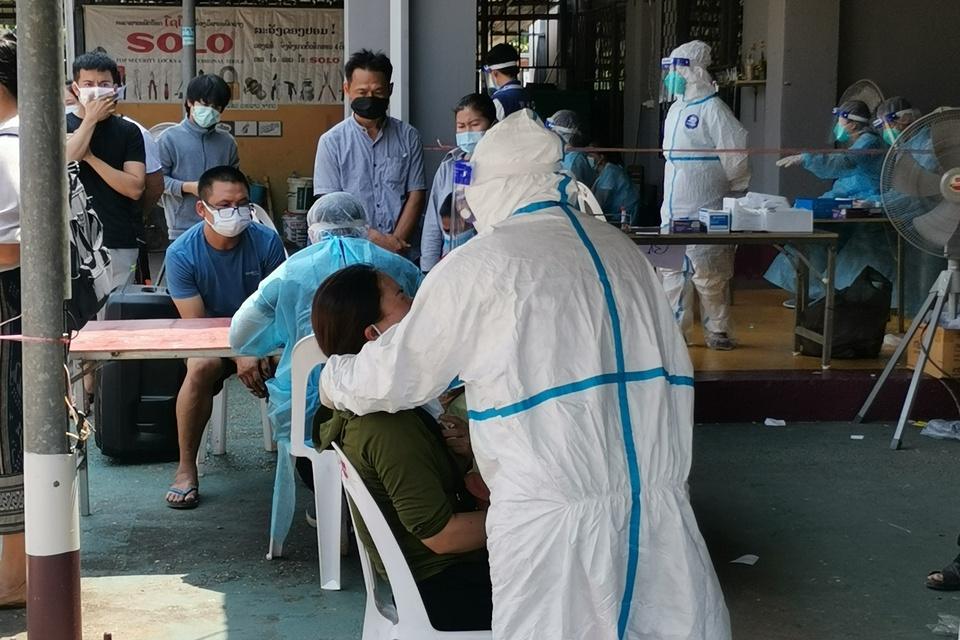 Residents had their samples for Covid-19 testing at a stadium in Beeng Khayong, Sisattanak district, Vientiane, April 22. Photo: Lao Youth Radio FM 90.0 Mhz.
"Still gathering to drink beer every afternoon"
Hoang Luong, who has lived in Vientiane for 7 years, said despite the complicated development of Covid-19, many people have still ignored anti-epidemic measures.
"In my neighborhood, many people still gather to drink beer every afternoon. Not to mention, citizens here have a habit of eating with their hands or sharing the same bowls which pose a risk of infections", said Luong, adding that many people don't wear face masks in public spaces.
Luong also said the spike of Covid-19 cases in Lao was due to the last traditional New Year as many people still got together and organized parties in spite of the Government's banning order.
He commented the Lao government has rapidly and decisively responded to the epidemic. However, some localities and residents have disregarded the rules.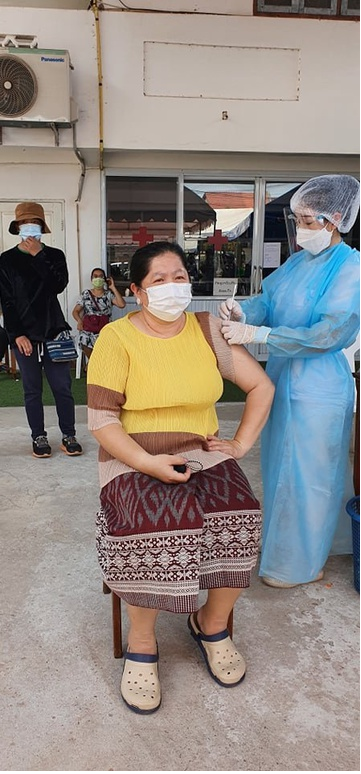 Viengvilay Ouanlasy's mother received the Covid-19 vaccine on April 26. Photo courtesy of Viengvilay Ouanlasy.
Viengvilay Ouanlasy, 28, half Vietnamese, half Lao, residing in Hatxayfong district, Vientiane, said relatives of some of his friends have contracted the virus, which makes him so worried.
Tu Uyen, in Vientiane, has also lived under unease over the past days. She said "I have a small child, so, I feel really anxious. I stay at home all the time and only going out to buy food".
"I don't know what to do if the epidemic keeps going on"
Truong Tuan, a former diplomat living in Laos, said Vietnamese workers in the country have encountered many difficulties since the first outbreak. He expressed his concern that this Covid-19 wave would more greatly impact the life of Vietnamese workers.
"Restaurants and beauty establishments have been the hardest hit by the epidemic", Tuan told Zing News.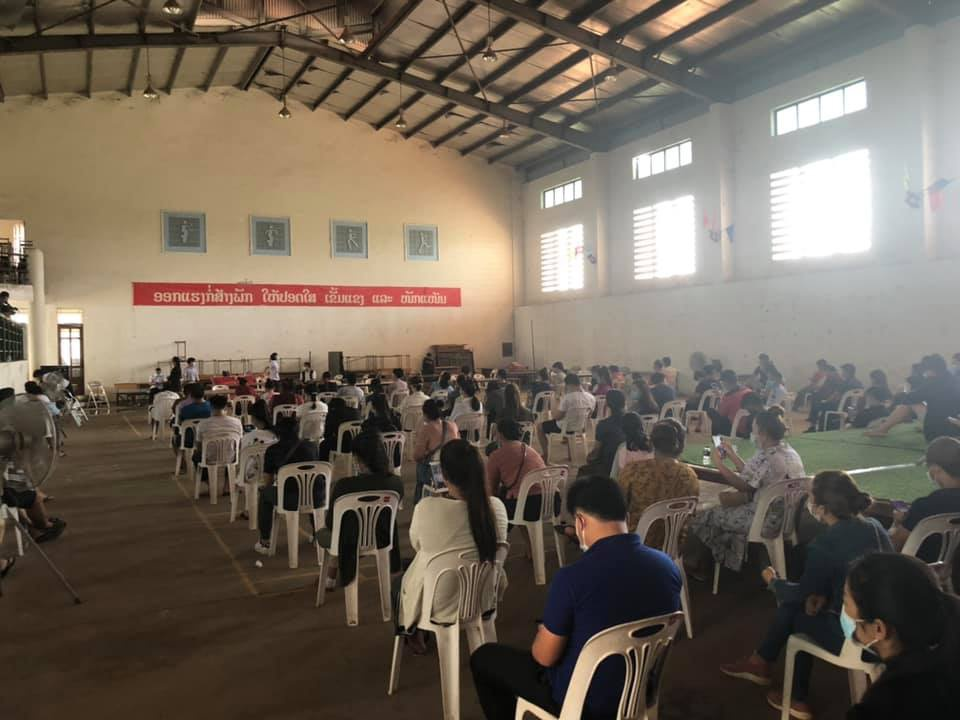 Centralized Covid-19 testing at the Lao-Viet high school, April 22. Photo: Lao Youth Radio FM 90.0 Mhz.
Tran Thi Phuoc, 54, said her business has fallen into a slump due to Covid-19. Many Vietnamese people, including her, wish to return to Vietnam, but can't.
She also hoped the government would take measures to support Vietnamese in Laos wanting to return home.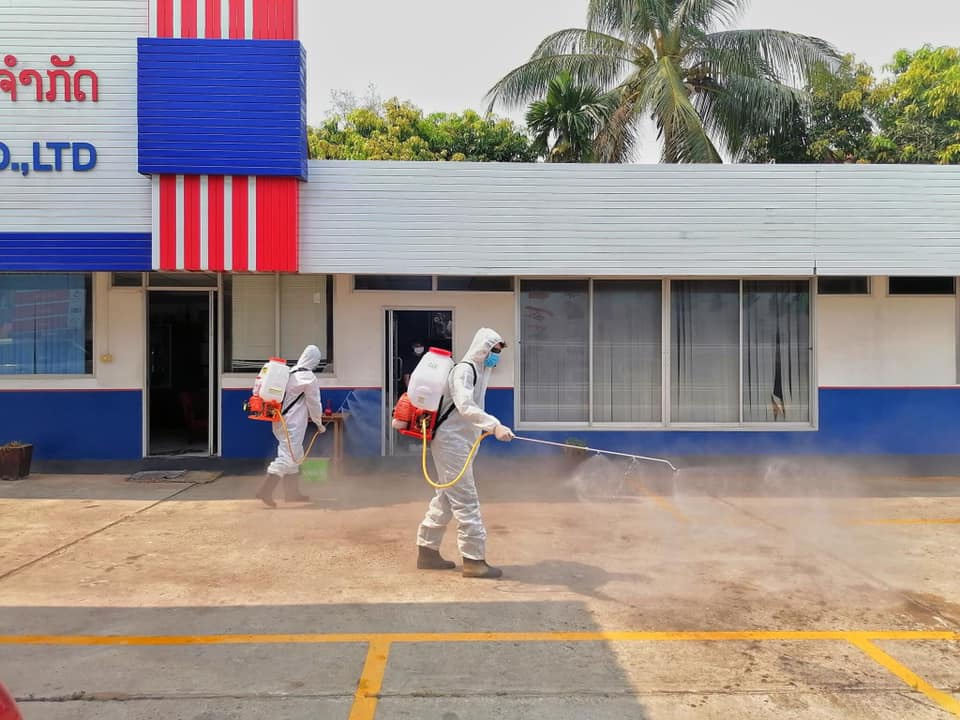 Medical workers disinfect the city to prevent the Covid-19 spread. Photo: Vientiane Times.
According to Tran Duc Anh Tu, 32, who trades in wooden furniture in Vientiane, the majority of Vietnamese in Laos work in the service or business sectors. Hence, the lockdown has exerted a great impact on them.
"I don't know what to do if the epidemic keeps going on", he said.
Uyen and Luong have also suffered such a hard time.
"During the epidemic, the prices of goods escalate. Many Lao people lose their job. They have no money, so, my business is also really difficult," Luong said.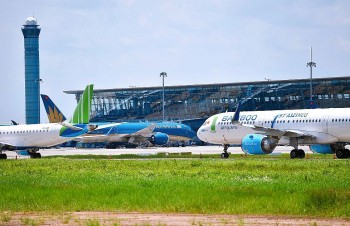 Economy
Vietnam Business & Weather Briefing (August 9): Vietnam's economic growth is expected to reach 7.5% in 2022, new securities accounts hit a near two-year low in July.