Vietnamese-Korean Couple Shares Their Star-Crossed Love Story
Thao and Kim Seung, the Vietnamese-Korean couple that has recently gone viral on social media, never thought they could be a match made from heaven.
Recently, Kim Seung, a Korean young man that can speak Vietnamese, has been documenting his love story with his Vietnamese girlfriend on social media. The Vietnamese-Korean couple is adored and followed by a lot of netizens.
The man was born in 1990 and has a bright smile, a good-looking appearance, and is fluent in Vietnamese speaking. Seung said he has learned this language for many years and is currently living in Seoul with his Vietnamese girlfriend, Ton Thi Thao.
With her support, the Vietnamese-Korean couple decided to film a lot of funny clips of their daily lives which attracted the attention of people online. Not only that, their passionate love also shines through their videos and it brings people a sense of happiness.
From friendship to love
Three years ago, Kim Seung and To Thi Thao, who was born in 1997 in Ha Tinh, knew each other through a dating app.
At that time, Kim Seung was learning Vietnamese and lived in Danang. From a Vietnamese friend's advice, Seung downloaded an app to meet and chat with more people. He happened to stumble across Thao's profile and decided to send her a greeting text.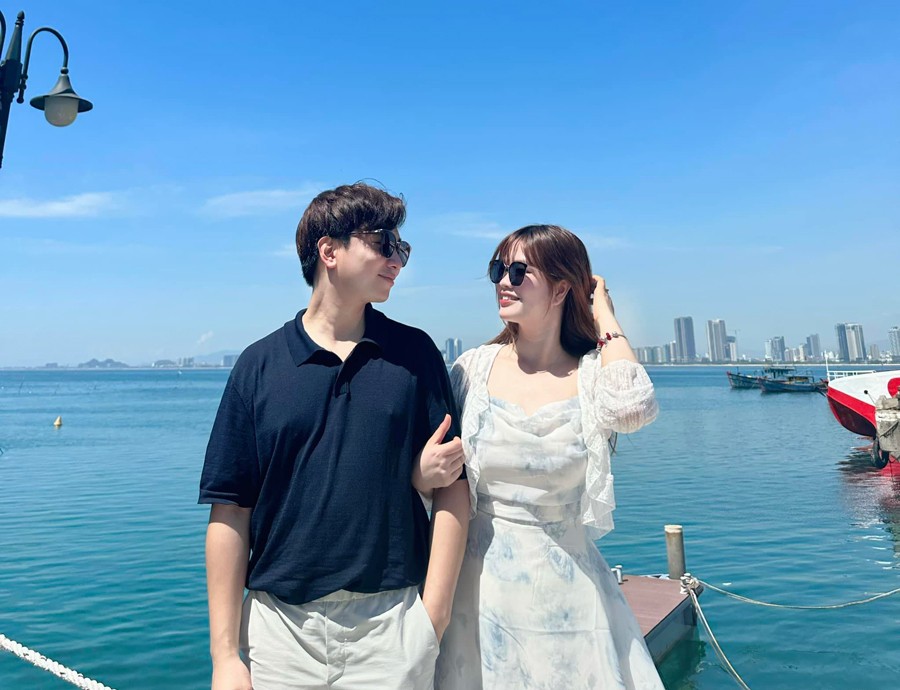 Kim Seung and his girlfriend, Thao. Photo: Courtesy of the character
However, Thao only used the app because of her work and was not interested in meeting foreign friends there. Hearing a lot of complaints from her colleagues about online relationships, she did not reply to Seung's messages.
Seung himself also got unlucky with other women on the app, so he decided to delete it.
Thao thought it was just a random encounter that did not mean anything, but the event turned out to be a faithful meeting that would blossom their love in the future.
A year later, Seung came across Thao again on Facebook. He took a look at her profile, then decided to text her once again. Instead of using English, he messaged her in Vietnamese.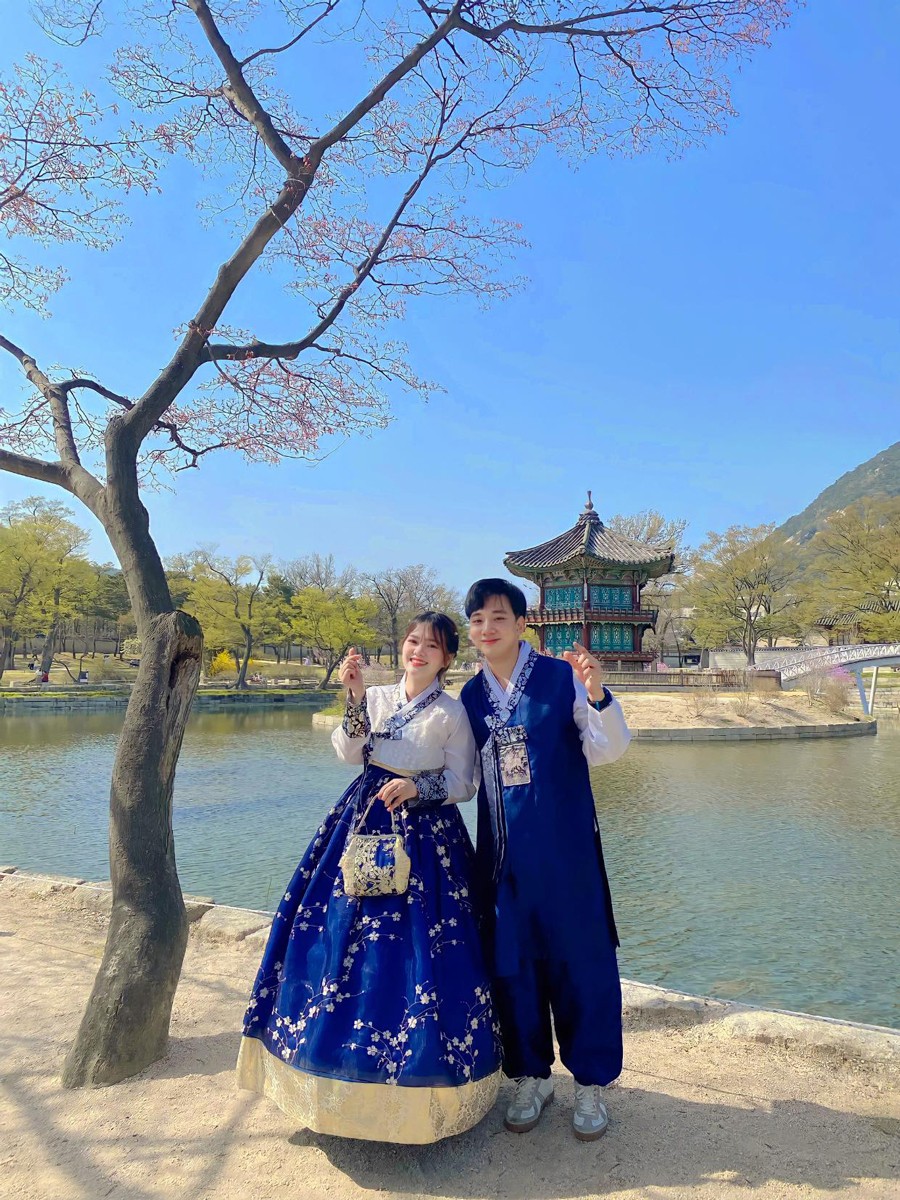 The couple is in a Korean traditional Hanbok costume. Photo: Courtesy of the character
After seeing his Facebook page and learning that he is a nice, friendly person, Thao gave him a chance to be friends with her. Her original purpose was to have more Korean friends and improve her own Korean speaking skills.
The two of them slowly began to text each other more and meet up at the café. When they first met, they talked for six hours straight and had a lot in common with each other. Both of them thought they would only be language exchange partners.
After a lot of meetings, Seung slowly developed his feelings for the young woman. His kindness, friendliness, and warm nature totally won Thao's heart.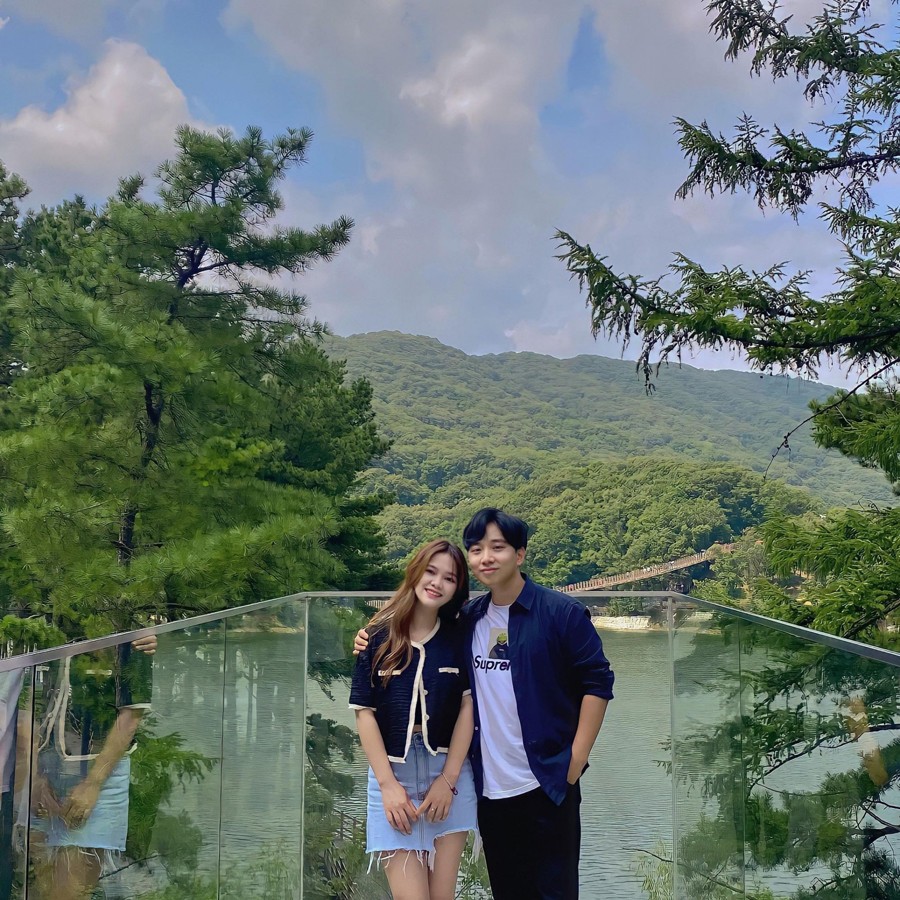 Photo: Courtesy of the character
When they are together, Seung always cherishes Thao and gives her the best.
Thao fondly remembers a cute moment in their shared history. "Our best memory was when we were in a distant relationship. In 2019, Seung opened his Tokbokki restaurant with his friend. The restaurant was very crowded but his visa application was not approved and the business suffered greatly after being fined. He had to return to Korea for a while, before being able to come back to Vietnam.
We both cried a lot. When the Covid-19 pandemic broke out for the second time in Vietnam, Seung had to come back to Korea and we bid goodbye. He still video-called me almost every day. I missed him so much and lost a lot of weight.
One day, we hung out with each other and wore beautiful clothes to take a lot of pictures. He took me to a lovely place and proposed to me. All our pain, happiness, and love were worth that wonderful moment. I will never forget that day."
A happy ending
In the beginning, Thao's family did not approve of the young couple's relationship. Thao's parents were deeply worried for their daughter and feared that she would not be happy. Even Seung's parents were not thrilled to know that their son was in love with a Vietnamese woman. The distant geographical distance makes both of them encounter many difficulties in love and future plans.
"After the day Seung went to our hometown, Ha Tinh, to meet my parents, they gradually accepted him since he took care of me very well. They are on great terms now, and my parents always told me to be nice to him," Thao said.
Thao showed her engagement ring. Photo: Courtesy of the character
As for Seung's parents, even though they still did not like their son getting married to a Vietnamese woman, they were impressed after watching a short video of Thao talking in Korean to greet the New Year. Slowly, they warmed up to her and approved of the young couple's love.
Currently, Thao is a second-year international student with a master's degree in Seoul (Korea), so she has a lot of time to be close to her boyfriend.
Since they both can use Vietnamese and Korean alternatively, they help each other a lot in work and daily life. "We planned to get married in the spring next year, it will also be the time when I will have my master's degree. In the upcoming time, we will plan our business in Vietnam," Thao said.
Thao and Seung's love is shared a lot on social networks. In particular, the cuteness of Seung is adored by many young people.