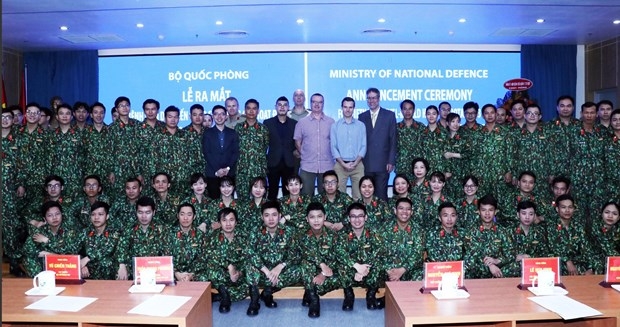 Members of Level-2 Field Hospital No. 3 and delegates at the launching ceremony in March pose for a photo.
According to VNA, the State Committee on Overseas Vietnamese Affairs under the Foreign Ministry on May 15 presented over VND 232 million (USD 9.945) to the Defence Ministry's Department of Peacekeeping Operations.
The sum will be sent to the Vietnamese peacekeeping forces in South Sudan and the CAR in an effort to fight COVID-19.
Speaking at the event, deputy head of the committee Luong Thanh Nghi said the sum was donated by the Department of Peacekeeping Operations (BAOOV), adding that it is their first activity towards the Vietnamese peacekeeping mission.
Nghi expressed his belief that the forces will continue upholding their sense of solidarity and overcoming difficulties to fulfil assigned tasks.
Founded in 2009, the BAOOV groups more than 300 members, including Vietnamese businesspeople and enterprises from over 38 countries and territories.
Over the past years, it has partnered with the State Committee on Overseas Vietnamese Affairs to promote economic and trade ties between Vietnam and countries.
Since its inception in May 2014, the Vietnam Peacekeeping Centre has dispatched many officers on UN missions. The number of Vietnamese officers involved in UN peacekeeping missions remains modest but their contribution has been constantly praised by the UN and Vietnam's international friends.
Level-2 Field Hospital No. 3 will be deployed to replace Level-2 Field Hospital No. 2 which is performing duties at the UN peacekeeping mission in South Sudan.
It is subordinate to the HCM City-based Central Military Hospital 175 and consists of 70 members.
According to Maj. Gen. Hoang Kim Phung, Director of the Vietnam Department of Peacekeeping Operations, Level-2 Field Hospital No. 2 in the UN mission in South Sudan has been performing their duties well. In three months working in Bentiu, it provided checks and treatments to 527 patients, successfully conducted six surgeries, and airlifted three patients in critical conditions to higher-level hospitals.
Africa has now seen a total of 75,447 coronavirus cases and counting, said a May 15 update by the Africa Centres for Disease Control and Prevention, Anadolu Agency reported.
Of these, 27,227 patients have recovered while 2,556 people have so far died, bringing the number of active cases in the continent to 45,664.
North Africa continued to be the worst affected of the continent's five geographical regions with 25,000 cases followed by West Africa with 22,200, Southern Africa with 13,900, East Africa with 7,300, and Central Africa with 7,000.
In terms of regional death tolls, North Africa was the worst affected with 1,300 deaths while West Africa suffered 464 fatalities, Central Africa 269, Southern Africa 257, and East Africa 226.
Hannah Nguyen