Vietnamese salon workers in US devastated by pandemic, hate attacks
For ethnic Vietnamese working in nail salons in the U.S., Covid-19 and racist violence targeting Asians in the last few months are a double whammy.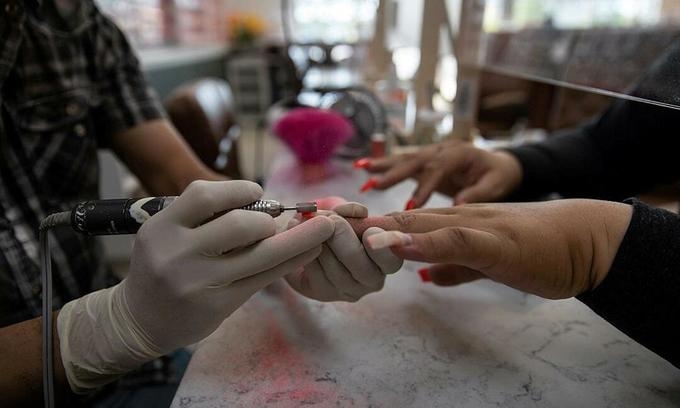 A nail salon opens in Georgia, U.S., April 25, 2020. Photo by Reuters/Maranie Staab.
Le Nguyen, 46, emigrated to the U.S. more than 10 years ago and spent years working for a nail salon in California's Orange County before opening her own in 2018.
But not too long afterward she was forced to close it as the Covid-19 pandemic broke out.
To put food the table for her five-member family, she went to customers' house and did their nails outdoors, "as long as I could make some money."
Then began the violence and hatred against Asian-Americans.
"My Vietnamese friends and I are shocked and scared. It has hit our livelihoods, feeling of safety and our lives," Nguyen says.
According to a study by the UCLA Labor Center and the California Healthy Nail Salon Collaborative (CHNSC), the nail salon workforce is 81 percent female and 79 percent foreign-born. Of the latter, some three-quarters are from Vietnam.
Many of them have seen their incomes disappear since their salons have been shut for months as a precaution against the spread of the novel coronavirus.
Vicky Tran, who left Saigon for the U.S. 7 years ago when she was 22, used to work at her friend's nail salon seven days a week before her livelihood was taken away last year. She used to earn US$2,700 a month.
"I wake up every morning and ask myself what I should do today to survive."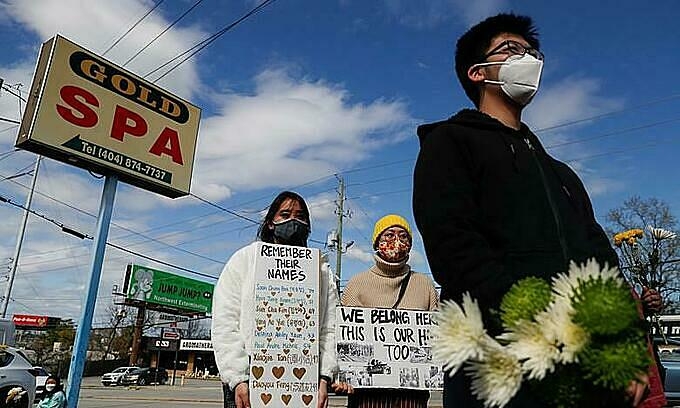 People hold placards during a vigil at a makeshift memorial outside the Gold Spa following the deadly shootings in Atlanta, Georgia, U.S. March 21, 2021. Photo by Reuters/Shannon Stapleton.
According to the study UCLA Labor Center and the CHNSC, more than 50 percent of nail salon owners face difficulties in paying their rent and 91 percent of manicurists applied for unemployment benefits during the pandemic.
But even when they are allowed to open their business, Vietnamese-American manicurists have been living in fear of being infected by their customers.
Winnie Kao of the Asian Law Caucus, the U.S.'s first legal aid and civil rights organization serving the low-income Asia-Pacific-American communities, says health and safety are the biggest worries for manicurists.
Most are anxious since their customers do not adopt preventive measures and refuse to wear masks.
"I want to work and earn money to pay my rent and buy food for my family, but I don't want to bring that virus home, I am scared," Tran says.
The pandemic also has also led to another problem: racism. Last month's shooting at the Atlanta spas killed eight people, six of whom were Asian women.
Local authorities claimed it was early to know the motive behind these attacks. But it has sparked widespread fear among owners and employees at Asian-owned businesses, including Vietnamese, who had already been struggling with a wave of racism and hate attacks driven by the pandemic.
Non-profit coalition Stop AAPI Hate, which has been tracking reports of racism, harassment and discrimination against Asians, said it received at least 3,795 firsthand complaints since 2020 from all 50 states, including 503 anti-Asian hate incidents in the first two months of this year.
"As an Asian-American woman who owns nail salons, a target for racism, violence and hate crimes against Asian women, I saw my own face, my daughters, my mother, my grandmothers, my aunties, my sisters, my staff, my friends," Tran Wills, owner of Base Coat Nail Salons chain, said on Instagram after the deadly shootings in Atlanta.
Many salon owners and manicurists across California, which has the largest ethnic Vietnamese population in the U.S., are feeling vulnerable and worried about their incomes and safety amid the surge in hate crimes.
Vicky Tran says with anger: "I am terrified for my co-workers. Hatred and xenophobia are stalking us."
To stand up or to quit?
Many Vietnamese who have reopened their beauty salons are now taking all kinds of precautions.
Nguyen has installed metal bars outside her salon window to prevent people from smashing it, closes her business before sunset and goes straight home.
"I want my staff to be safe, and so I always tell them to go home before dark, and make sure they have someone to accompany them in case they have to walk in the dark."
She now only accepts customers who have made appointments and locks the door after one enters or leaves.
Other people have gone even further, learning how to use tasers and pepper sprays.
Nguyen too has thought about acquiring a firearm safety certificate to be eligible to buy a gun.
"After more than a decade in America, I finally think about owning a gun to protect myself and my business."
CHNSC has worked to support local and national efforts including providing safety and racial justice training to manicurists at nail salons and pushing for legislation that calls for safe workplaces and linguistically appropriate victim-support services.
But hate attacks and their reduced incomes has caused some manicurists to give up their jobs.
In Oakland, Le Thi Thanh, 34, stopped working at her relative's nail salon on March 20, four days after the shootings occurred at the three spas and massage parlors in the metropolitan area of Atlanta.
"My husband and sons begged me to stay at home; they did not want to worry about my safety every day I went for work," she says.
She is thinking about selling Vietnamese food to earn money.
Though, as more and more people are vaccinated, some nail salons are seeing business improve, Vietnamese nail salon workers and owners know that their industry will never be the same since hatred and violence are likely to stay.
"No matter how long I live in the U.S. and how much tax I pay, I will never be seen as an 'American' because of my Asian appearance," Nguyen says with a sigh.
Vietnamese American film director Bao Nguyen is working with crowdfunding site GoFundMe for a short black-and-white film named #StopAsianHateTogether, which shines a light on the anti-Asian racism in the US.
"Knowing that it's up to all of us to keep each other safe and shine a light together," the film quotes, and it's a harsh look at the history of anti-Asian attacks in this country and the typical brush aside that happens until we're confronted with these horrific crimes once more.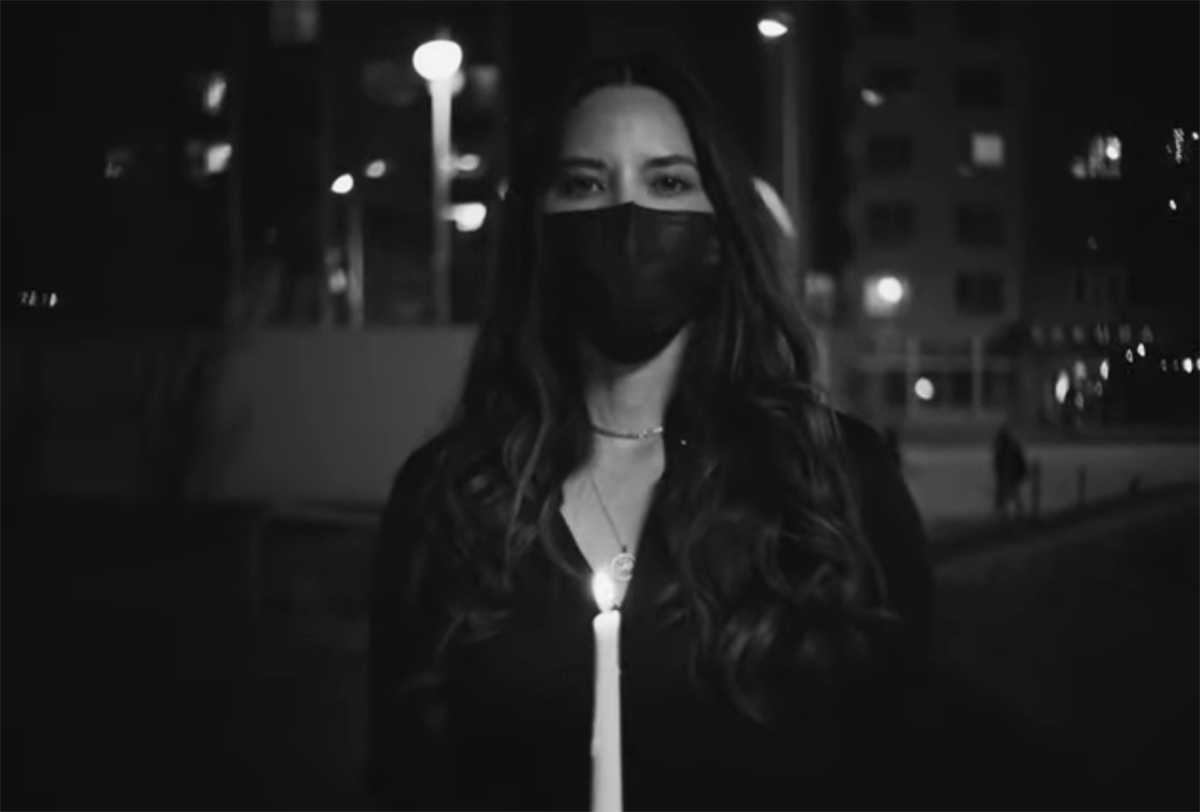 A still from the film (Photo: Captured)
Featuring Olivia Munn, Ken Jeong, Simu Liu, Akemi Look, Lisa Ling, Khalif Boyd, Lacy Lew Nguyen, Winston Duke, Diana Barbadillo, and Vivian Bang, the video points out the anti-Asian hatred that has filled this country for decades. Racism against Asian Americans is not a new thing, and now that it has been brought to light once again because of the tragedy in Georgia, it's important to recognize this history and how we can try to stop the racist acts happening against Asian Americans.
The film directs viewers to GoFundMe.org's AAPI Community Fund, which has raised more than $5.5 million from more than 46,000 donors since it launched March 4. That includes a $500,000 contribution from YouTube. Along with the film's release, GoFundMe.org, the company's charitable arm, is increasing the goal of the AAPI Community Fund to $8 million. The next round of organizations that will be receiving grants include the Asian American Federation, AAPI Women Lead, and Empowering Pacific Islander Communities, as reported by Yahoo Finance.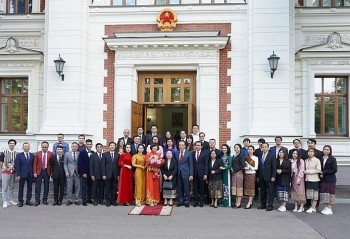 Friendship
The Vietnamese Embassy in Cuba will make efforts to consolidate and cultivate the special Vietnam-Laos relationship in the spirit of respect and support for mutual benefits.