Vietnamese spring rolls – the special dish of ASEAN culinary culture
In the "ASEAN culture and cuisine introduction" program took place in Ukraine last month, Vietnamese spring rolls is hailed the most attractive and impressive dish of the three countries', including Vietnam, Malaysia, Indonesia.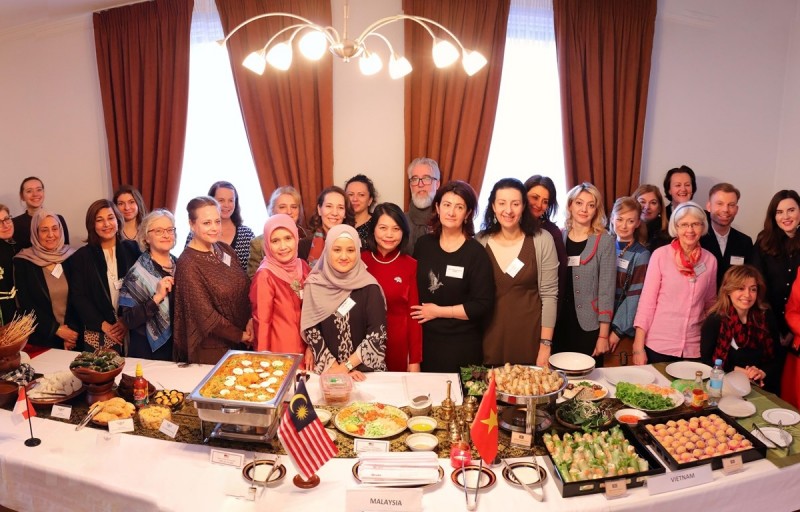 The Vietnamese embassy in Ukraine jointly organize the program to promote culinarily culture of ASEAN's countries (Photo: TTXVN)
"ASEAN culture and cuisine introduction" was jointly organized by embassies of the three ASEAN countries in Ukraine, including Vietnam, Malaysia and Indonesia to promote the art and culinary culture of Vietnam in particular and other ASEAN member countries in general, with the attendance of Mrs. Inna Prystaiko, Spouse of Ukraine's Foreign Minister, numbers of female Ambassadors, other Ambassadors' Spouse, and Chief Representative of 29 diplomatic missions to Kiev.
Boasting rich content, including the introduction of Malaysia's Yee Sang dish, spring rolls' recipe, traditional Indonesian dances, the 3-hour program successfully drawn attention from the guests.
Vietnam has made instruction on how to make the traditional spring rolls, from ingredients preparation, how to wrap the spring roll perfectly, to proper secret to fry a crispy, yellow-brown spring roll. The Vietnamese Embassy in Ukraine also prepared desserts such as donuts and green tea.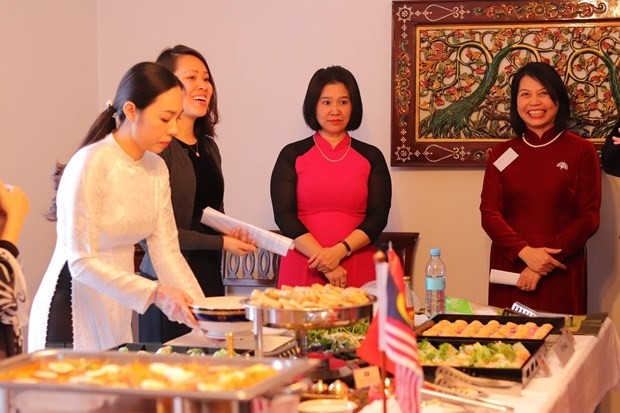 Vietnamese spring rolls strongly impressed the guests joining the event (Photo: TTXVN)
Mrs. Inna Prystaiko, together with female ambassadors and ladies from other countries were particularly impressed with the way Vietnamese spring rolls are made and the flavor of the traditional dish.
For Vietnam, this is also a program in the promotion plan for ASEAN Chairmanship Year 2020 in Ukraine of the country.
At the end of the program, the guests took part in lucky draw and received gifts which are rich in national identity from the three ASEAN countries.
Organs in Vietnamese cuisine

In Vietnam, internal organs and entrails of a butchered animal are cooked as food; not as exotic nor gourmet fare but as everyday food.