Vietnamese Students' Camps Focus on Digital Transformation
The summer camp for Vietnamese students in Russia is expected to help the participants adaptive to the 4th Industrial Revolution.
An art performance at the summer camp in Russia. Photo: VNA
The Ho Chi Minh Communist Youth Union in Russia organized a summer camp for over 300 Vietnamese students on September 2-3 in Kaluga province, allowing participants to strengthen solidarity and exchanges.
The program was resumed after a four-year disruption due to the Covid-19 pandemic, according to VietnamPlus.
According to the secretary of the youth union in Russia Nguyen Viet Linh, with the theme "Train of the Times 2023", the camp was expected to help participants have a correct view of development goals, and make themselves adaptive to the 4th Industrial Revolution.
On behalf of Vietnamese Ambassador to Russia Dang Minh Khoi, Minister Counselor Le Quang Anh expressed his hope that Vietnamese students will become more and more mature, contributing to the building of the homeland and enhancing the friendship between Vietnam and Russia.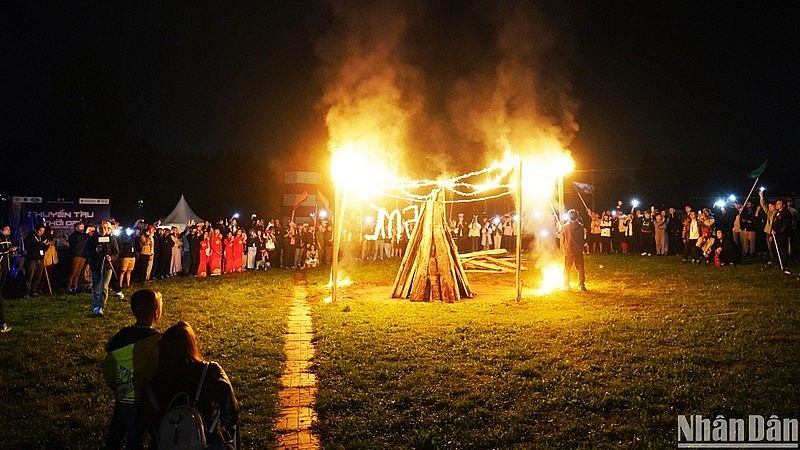 An activity at the summer camp in Russia. Photo: Nhan dan (People) Newspaper
Do Xuan Hoang, Chairman of the Vietnamese Association in Russia, said that students sharing the exact origin should work together to contribute to their homeland.
At the camp, students joined a fashion show, a music performance, and a play that showed their love and pride for the homeland and their youth aspirations in the new era.
Earlier, the 9th summer camp for young Vietnamese people in Europe, themed "Lumos FUTURA - Illuminating the Future World," wrapped up in France on August 27, VOV said.
The four-day summer camp provided an enjoyable and engaging environment for participants.
Initiated in 2007 and held annually by the Association of Vietnamese Youths and Students in Europe since 2015, the event aims to connect young Vietnamese and Vietnamese-origin individuals living abroad and provide a venue for cultural, sports, and scientific exchanges and interactions among the youth.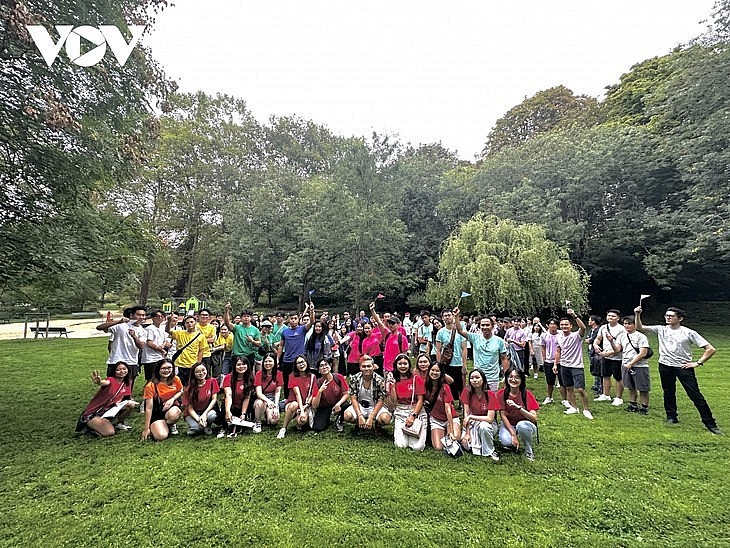 Participants in the 9th summer camp for young Vietnamese people in Europe. Photo: VOV
"The program not only offered entertaining activities but also featured various seminars focused on two topics: artificial intelligence and renewable energy. As a result, there'll be collaborative projects between European countries and Vietnam," said Duong Thi Mai Lan, Vice President and Secretary-General of the Association of Vietnamese Youth and Students in France.
Throughout the program, the campers had the opportunity to interact and learn from each other through a series of games, captivating intellectual competitions, and discussions on innovation, creativity, and new technologies. In addition, they had the chance to explore Paris during sightseeing activities.
Next year's camp is scheduled to take place in Germany.