Vietnamese youths in Russia help football fans get Euro 2020 tickets
Four Vietnamese students in Russia have formed a group to help Vietnamese people buy tickets for Euro 2020 football matches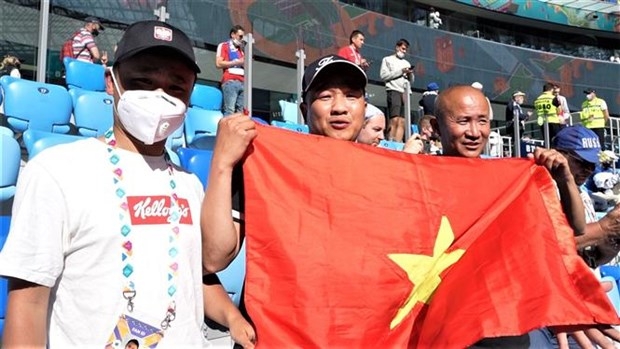 Hoang Van Phu (right) and Nguyen Duc Vuong (middle), two Vietnamese living in Vladivostock went to Saint Petersburg to watch a Euro 2020 match. Photo VNA
Dang Thanh Nhan, 25, a postgraduate of Herzen State Pedagogical University of Russia; Dam Quynh Anh, a graduate of Saint Petersburg Electrotechnical University and two friends have formed a ticket sales group, and all is running smootly thanks to their experience working for a tourism agent in Saint Petersburg.
In 2018 when Russia hosted World Cup, they also helped Vietnamese people in Russia buy tickets.
Nhan said the job gave him more communication skills and experience as the team members all specialize in the linguistics major, Vietnam Plus reported.
The young people registered to buy tickets directly from the website of the Union of European Football Associations (UEFA). However, in case the official website runs out of tickets, to guarantee tickets at a reasonable price, they have to search on Russian social networking sites like Vkontakte, Telegram, or Avito to find tickets.
Nhan said at first they formed the group only to find tickets for World Cup 2018 for themselves. After they realized that many Vietnamese people wanted to watch football but had trouble buying tickets, the group started offering assistance.
Vietnamese and local supporters at a Euro 2020 match at Saint Petersburg stadium. Photo VNA
The youngsters helped a Vietnamese reporter in Russia buy a Euro ticket of Poland-Slovakia match on June 14 at the price of 34 euros, lower than official price (40 euro) fixed on the ticket.
Quynh Anh also helped the reporter to make a Fan ID card.
According to EUFA, foreign nationals planning to attend UEFA Euro 2020 matches in Saint Petersburg as spectators will be able to enter Russia without a visa if they have a passport, a Fan ID, an entrance ticket for a match or documents entitling them to receive tickets.
According to Nhan, if tickets are sold out on the UEFA homepage, they have to search for tickets on Russian websites and social networks and directly negotiate the prices. On unofficial ticket selling platforms or so-called 'black ticket markets', they need to check if the seller is trustfworthy or not.
His team were once cheated in an online transaction, but the the incident gave them more experience, and motivated them to continue.
Nhan said the negotiations were "exciting because it is not like what we learned at school. Every meeting is a surprise waiting for us."
The price of Euro 2020 tickets in Russia is assessed as at a reasonable level.
Tickets to the World Cup 2018 were at least two or three times more expensive than the official selling price, Nhan said. However, Euro 2020 ticket prices in Saint Petersburg can sometimes be bought at a cheaper price.
There are two reasons for that. The firs is the complicated pandemic situation in the world, reducing the number of tourists going to Russia to watch football. Secondly, fewer people in Russia want to watch the matches at stadiums. They prefer to stay at home and watch TV, Nhan said.
Russia currently has some restrictions to curb the spread of Covid-19 but they do not prevent mass events. All amateur and professional sports games, be it football or ice hockey are being held with spectators occupying up to 75% of seats.
Saint Petersburg city in Russia is one of 12 Euro 2020's host cities. The Saint Petersburg stadium will host six group stages matches and one quarter final match, which will allow at least 50% capacity.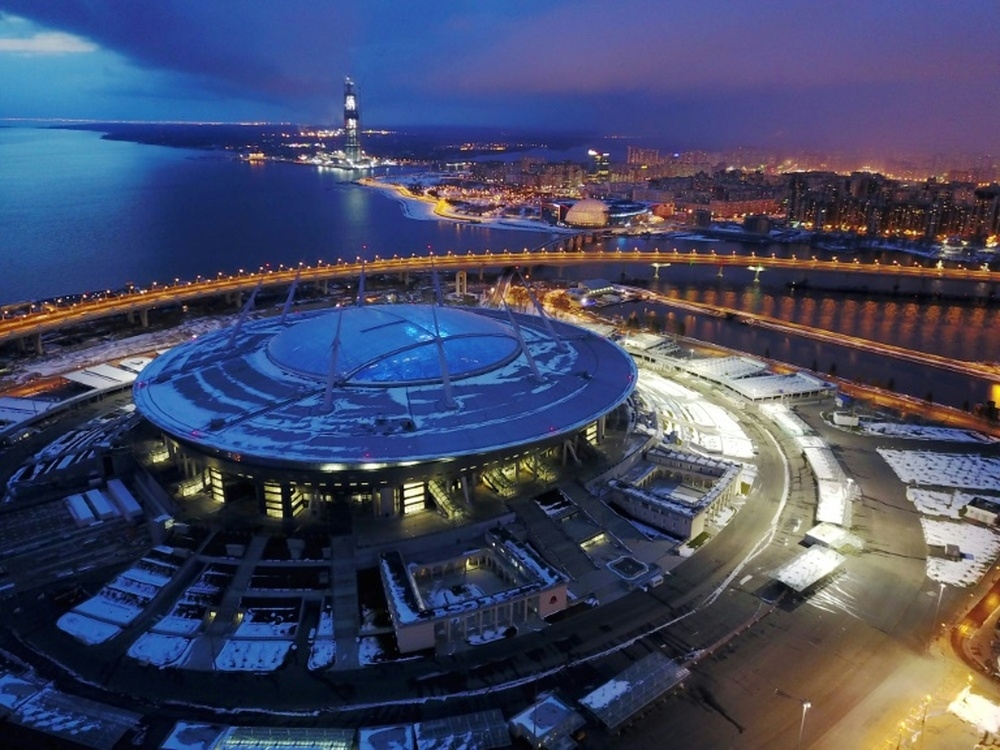 Saint Petersburg stadium at night. Photo AFP
Match schedule for Euro 2020 in Saint Petersburg:
June 12, 2021: Russia — Belgium
June 14, 2021: Poland — Slovakia
June 16, 2021: Russia — Finland
June 18, 2021: Sweden — Slovakia
June 21, 2021: Belgium — Finland
June 23, 2021: Sweden —Poland
July 2, 2021: Quarter-final