Vietnamese Woman Living France Turns Balcony Into Garden
An amaetur farmer, Chang Nguyen taught herself to build a small green space on her balcony.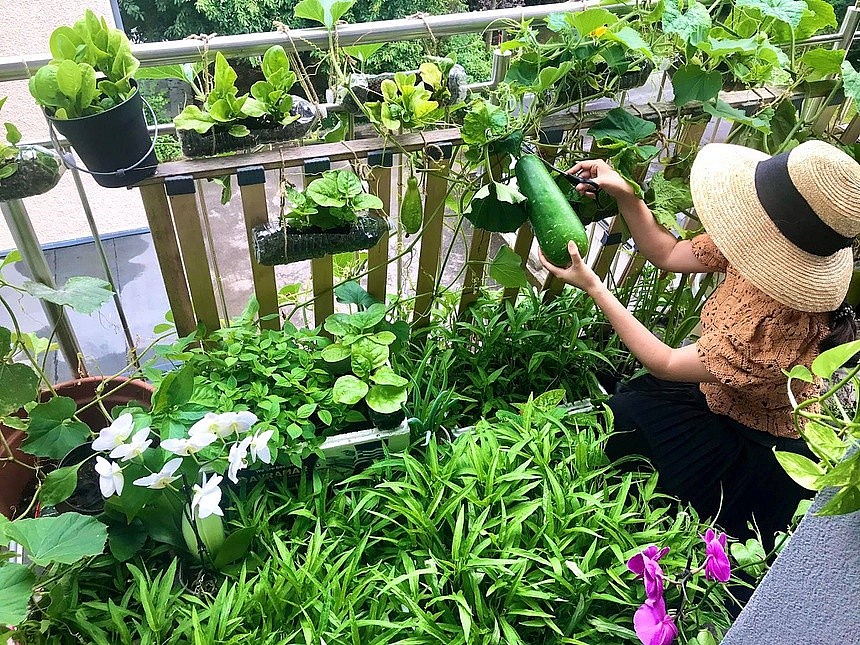 Photo: Zing News
"When I visit the garden in the morning and suddenly see little white flowers or small green bell pepper, those little things make my day," Chang Nguyen, 35 years old, Hanoian said.
Trang works as a chef and has been stuck in France for more than a year due to the pandemic. She started growing vegetables on the 2,5-meter-wide balcony in March to kill time.
To prevent pests and diseases, Chang prepares the soil carefully before planting. She dries the soil in the sun, mixes it with a little lime to prevent fungus. Chang kills pests with waterpipe tobacco and snails with baking soda and eggshells. She also uses garlic and chilies to kill insects. Chang learns her farming skills from online groups on social media.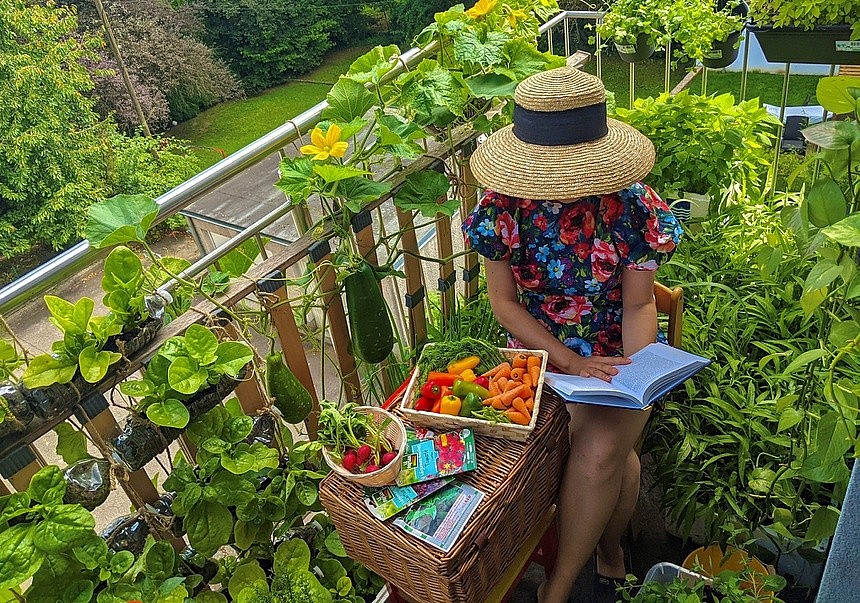 Photo: Zing News
Because she only has a small area for the garden, Chang has to carefully consider what she should grow to save space and ensure the garden is filled with green plants all the time. Chang mainly chooses herbs and spices such as basil, coriander, and rosemary. In addition, her garden also has potatoes, carrots, squash, bell peppers, water spinach, cabbage, and daisies. Chang said that it was not difficult to buy plant seeds because many varieties were imported from Vietnam with good quality.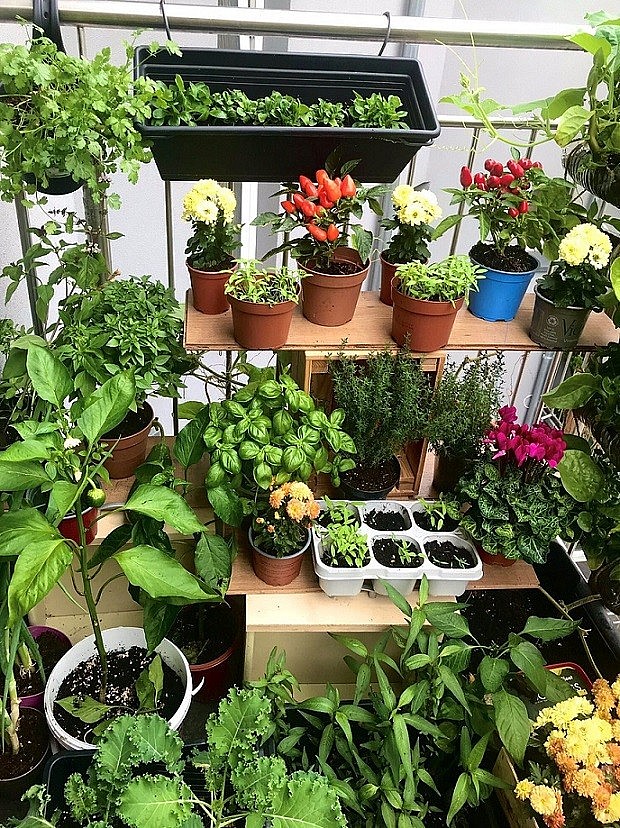 Photo: Zing News
"To save space and expense, I use discarded items such as woodpiles, drawers to make shelves and racks for the plants. I do not make truss for gourd but let them grow onto the railing. Plants that are close to harvest time will be put in small pots, leaving the space for others," she said.
Chang uses self-composted fertilizer from kitchen waste such as eggshells, fish intestines, rice water, banana peels instead of chemical fertilizers. Therefore, the vegetables harvested from the garden are much cleaner to eat.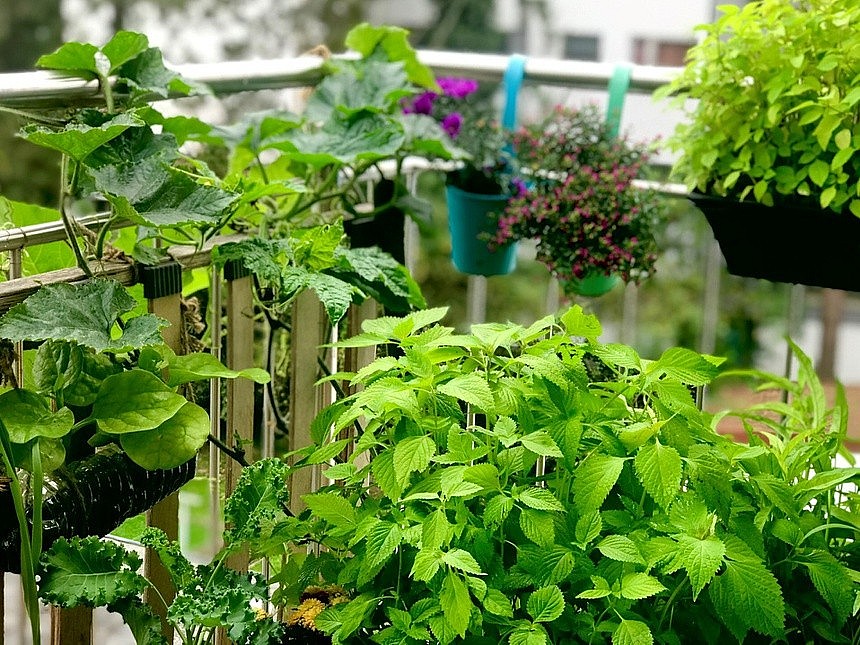 Photo: Zing News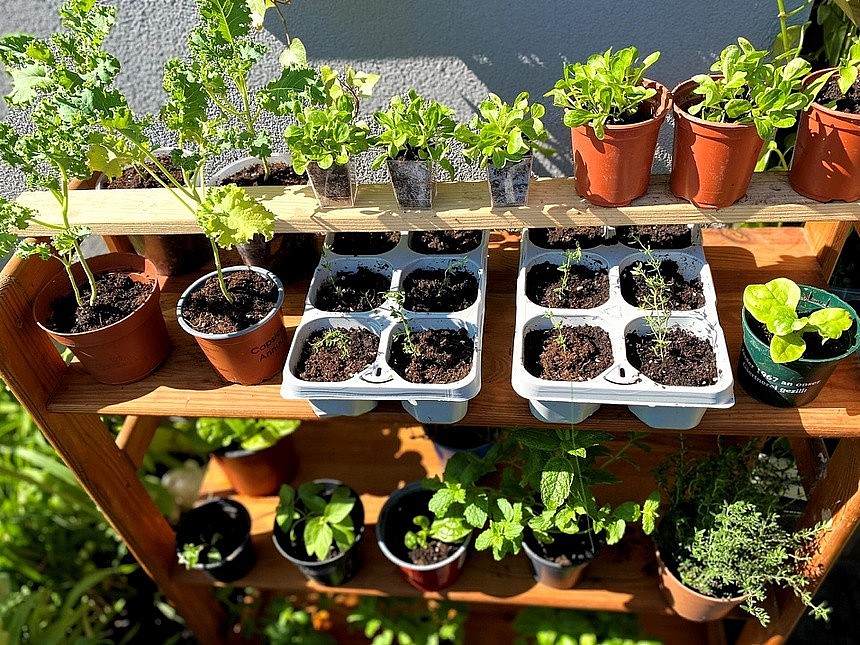 Photo: Zing News
Chang said her garden mainly serves entertainment purposes, such as giving the family a green place to enjoy tea, read books and watch the sunset. She also teaches her children how to plant trees and appreciate hard work.
"I never grew anything in Vietnam. I've only been gardening for half a year now, but I am happy with it. It is easy to take care of the garden myself because it is my hobby. People are often surprised when I say the garden is only 2.5 meters wide. They are very interested to learn to build the same things," she said.
During her time in France, Chang was impressed with the art of garden installation in Europe. When she returns to Hanoi, Chang plans to build a garden of about 300 m2 according to this model, where she will have many small corners to relax.
Photo: Zing News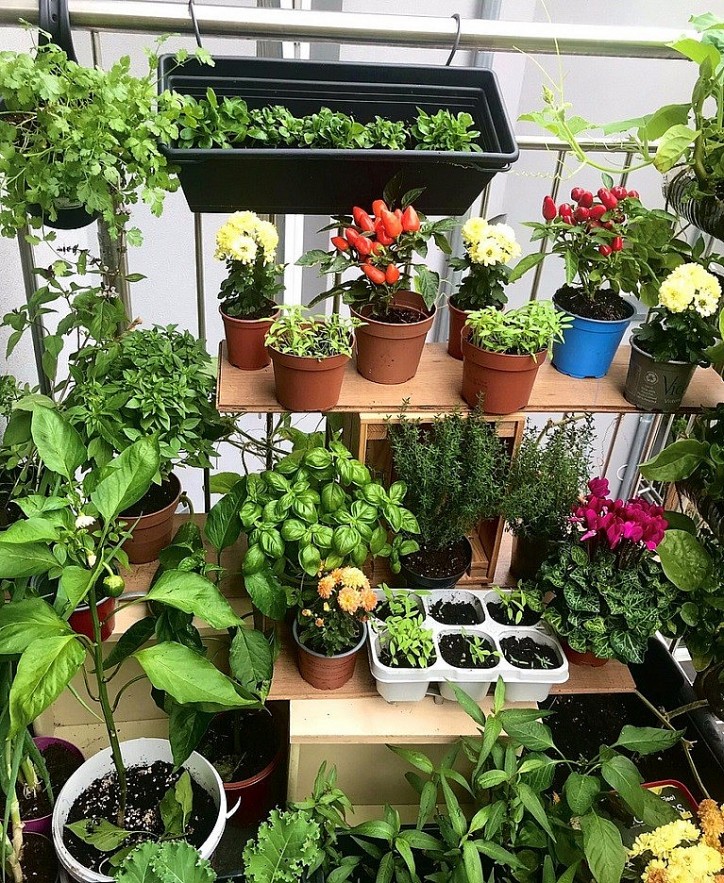 Photo: Zing News
New Normal for Vietnamese in Europe

Many overseas Vietnamese in European countries have been vaccinated against coronavirus and can participate in social activities, with their vaccine passports.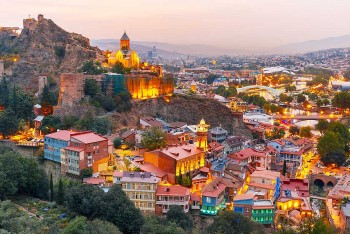 World
When we think of wine, Italy, France or Spain will come in mind, but its birthplace, according to a lot of researches, it's in Georgia, the tiny Caucasian nation that's been making wine longer than anywhere in the world.