Vietnam's door to export rice to UK market wide open
The impending UK-Vietnam Free Trade Agreement (UKVFTA)'s incentives might assist Vietnamese rice exporters in increasing their market share in the UK.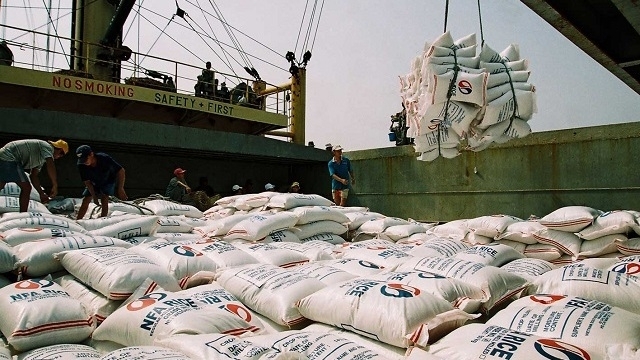 Rice exporters in Vietnam (Photo: Nhan Dan)
As reported by VOV, the UK is currently viewed as a potentially lucrative market for Vietnamese rice. According to the Ministry of Industry and Trade, Vietnam exported 617,000 tonnes of rice last year, a rise of 10% compared to 2018. Despite the rise, Vietnamese rice export volume to the UK market remains modest at just 0.2%, ranking 22nd among the UK's largest rice exporters.
Phan Van Co, marketing director of VRICE Co. Ltd., explained that Vietnamese rice exported to the UK is subject to high tariffs of approximately 17%, making it more challenging to compete with other regional rivals such as India, Pakistan, and Thailand.
In addition, he said rice exporting businesses also have to satisfy various stringent requirements set by the demanding market. Aside from fulfilling the Global GAP, Hazard Analysis, Critical Control Points (HACCAP), and ISO standards to export to the United States and the EU markets, the businesses are required to meet additional criteria, such as ensuring human rights for workers.
With the UKVFTA to be signed and come into force soon, import taxes are poised to be substantial reduced, therefore allowing his company to gain easier entry to the UK customers, stressed Co.
Sharing the view, Pham Thai Binh, general director of Trung An Agricultural High-Tech Joint Stock Company, said the door is wide open for Vietnamese rice exporters as the UK has not imposed import quotas on rice, enabling businesses to expand their market share.
Trung An is optimistic about the growth of this market which is one of the largest rice consumers in Europe, said Binh, adding his company is currently seeking partners to import Vietnam's long grain white rice ST20.
Trung An has sold ST20 to Germany for US$1,000 per tonne since the EU-Vietnam Free Trade Agreement (EVFTA) came into force in early August.
(Photo: VNS)
Binh advised local businesses to strive to meet stringent standards in terms of the environment and human rights set forth by the high-end market. In addition, competent authorities have been urged to synchronise their policies in an effort to facilitate greater rice exports.
The Vietnam Food Association reported Vietnam has shipped 5.74 million tonnes of rice during the past 11 months, raking in US$2.85 billion despite the adverse impact of the COVID-19 pandemic.
The association stated that although the volume of rice exports endured an annual decline of 2.2%, the export value recorded a remarkable increase of 10.4%, even surpassing Thai rice by US$30 per tonne thanks to its high quality.
Due to the advantages from a series of newly-signed FTAs, there appears to be bright prospects for rice exports moving into next year, according to experts.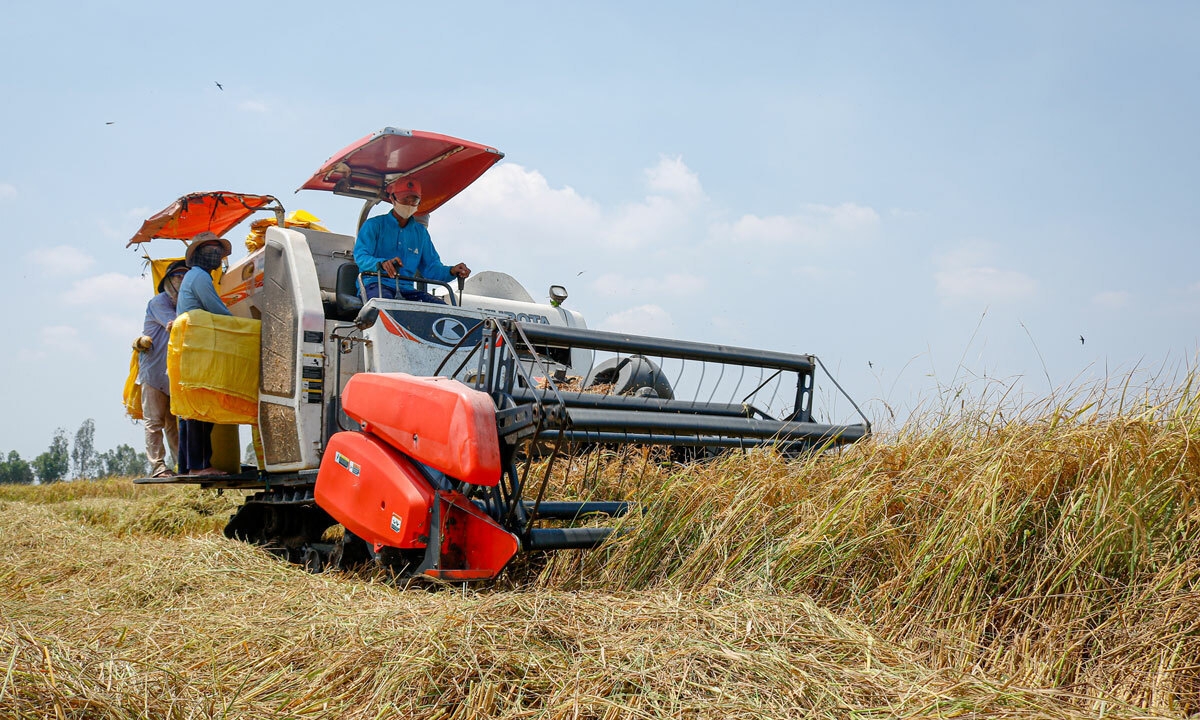 A worker harvesting rice on the field (Photo: VNE)
While many of Vietnamese agricultural exports have faced Covid-19 threat, rice exports during seven months of 2020 increased by 10.9% in value, with the price of 5% broken rice now the highest globally, figures released in August by the Agro-Processing and Market Development Authority (Agrotrade).
This marks a positive sign in the context of the export turnover of many key Vietnamese agricultural products declining. Nguyen Quoc Toan, Agrotrade director, told Hanoi Moi (New Hanoi) daily that local rice represents a bright spot for the export growth of the country's key agricultural items during the reviewed period as it has constantly maintained robust growth in value.
At present, Vietnam's rice industry appears to be on the right track with a focus on exporting high quality rice varieties, reducing volumes, and enhancing the added value of the product in the world market, all of which have contributed to ensuring national food security and accelerating economic growth.
In late August, Trung An Hi-Tech Farming Joint Stock Company based in the Mekong Delta city of Can Tho was reportedly gearing up for the first batch of rice to export to EU which received zero percent tax.
Under the EVFTA, the EU will eliminate import duties on about 85.6% of tariff lines or 70.3% of Vietnam's exports to the EU. After 7 years, 99.2% of tariff lines (99.7% of exports) will be eliminated. With the remaining 0.3% of exports, the EU commits to giving Vietnam tariff quotas with import duties of 0%.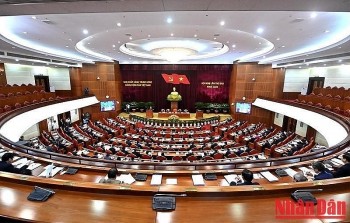 National
The 13th Party Central Committee discussed two important projects on October 4, the second working day of its 6th plenum.
Economy
Vietnam Business & Weather Briefing (Sep 3): The North continuously to be affected by cold air waves, export value of aquatic products up 38% in nine months.
October 03, 2022 | 17:52