Vietnam's new coronavirus cases fall, but authorities urge public to remain cautious
Da Nang City, the epicenter of the country's largest coronavirus outbreak, reported five more new cases, aged between 38 and 69, raising the total number of cases in Vietnam at 1,014 on August 22, according to the National Steering Committee for COVID-19 Prevention and Control.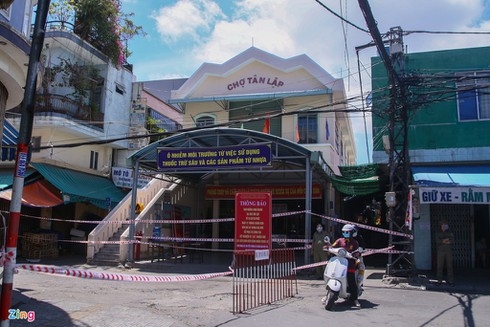 Relevant forces cordon off Tan Lap market (Da Nang) for chemical disinfection after a suspected coronavirus case was detected. Photo: zingnews.vn
The outbreak has since spread to 15 cities and provinces, with Da Nang alone being the hardest hit city, registering more than 300 cases.
Some 104.700 people who had close contact with COVID-19 patients or came from pandemic-hit areas are under quarantine nationwide.
As many as 563 patients have made full recovery. There have been 26 fatalities reported in the country so far. All of them have been registered after the second outbreak started in Da Nang in late July.
Most of the fatalities were elderly people who suffered from serious illnesses such as end-stage kidney cancer, severe pneumonia, diabetes and multi-organ failure.
Da Nang city has blockaded three wet markets in Thanh Khe district after three traders tested positive for the virus.
Two traders at Tan Lap market and Lau Den market as well as two others at Sieu Thi market were diagnosed with the SARS-CoV-2 virus on August 21 evening.
Local authorities immediately mobilized relevant forces to erect barriers surrounding the markets at night and disinfect them the following day.
The Da Nang Municipal Department of Health called on those who had contact with the suspected cases to phone the local medical agency for preventive measures.
Relevant forces also cordoned off three markets for chemical disinfection after suspected coronavirus cases were detected.
Da Nang is considered the country's largest coronavirus outbreak. It has registered 374 cases since the virus recurred on July 25. Of the total, 21 have died.
However, new cases of coronavirus continue to show signs of slowing. The number of new infections in Da Nang has fallen in recent days, from an average of 20 cases a day from August 3 to 9 to about 10 cases from August 10 to 21.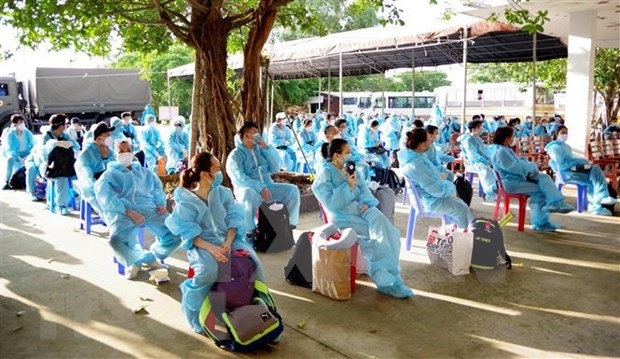 Vietnamese citizens returning from Singapore at a quarantine facility in Soc Trang province. Photo VNA
Elsewhere, many restaurants throughout Hanoi capital have put up 'transparent shields' and arranged seats in a way to maintain a safe distance between customers, in an effort to prevent the possible spread of the virus.
The capital city's popular 'walking streets' are being temporarily closed from August 21.
The move is made in line with Hanoi authorities' regulations on COVID-19 prevention and control, said Vice Chairman of Hoan Kiem district People's Committee Dinh Hong Phong.
The pedestrian streets include those around Hoan Kiem Lake, its neighbouring streets in the Old Quarter, such as Hang Dao, Hang Giay and Dong Xuan Night Market.
These streets often attract a large number of people which poses high risks for COVID-19 spreading without appropriate preventive measures./.