Vietnam's northern localities adopt social distancing over Covid-19 concerns
Hoa Binh City, home to 135,000 people, has applied social distancing measures under the government's directive No.15 starting May 10 in a bid to curb the spread of the novel coronavirus.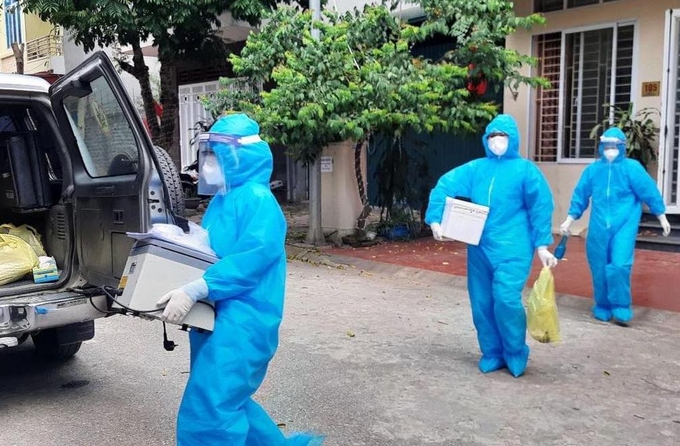 Medical staff take samples from residents for Covid-19 testing. Photo: VnExpress
A number of areas across northern Vietnam are adopting social distancing measures in order to prevent the spreas of the coronavirus, according to VnExpress.
Chief of the Office of Hoa Binh City People's Committee Ta Ngoc Doanh said that apart from social distancing, the city had also sealed off a number of areas related to Covid-19 patients.
Hoa Binh Steering Committee for Covid-19 Prevention and Control has banned meetings and events with more than 20 people and gatherings of over 10 people in offices, schools and hospitals. In addition, residents have been required to maintain a distance of 2 meters apart in public spaces.
Non-essential businesses, religious meetings, cultural and sporting activities and entertainment venues have also been ordered to cease operation.
Funerals are allowed to be held with no more than 20 people. Heads of localities will be strictly disciplined if gatherings take place.
Hoa Binh has so far reported four community transmissions.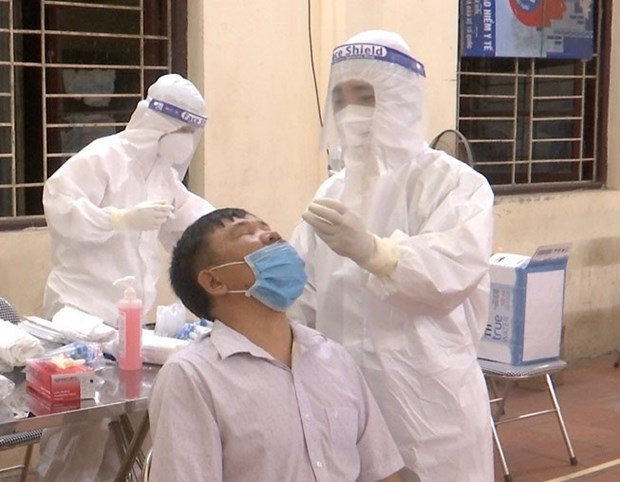 A resident in Mao Dien commune of Thuan Thanh District, Bac Ninh Province, has a sample taken for Covid-19 testing. Photo: VNA
My Hao town and five communes of Khoai Chau District, with a total population of 300,000, have applied social distancing under the government's directive No.16 starting May 10, while, Viet Hung, Dai Dong and Luong Tai communes in Van Lam District have adopted the measure under directive No.15.
As of May 10, the tally of infections in Hung Yen has reached 13.
Directive 15 issued on March 27, 2020, requests the provincial People Committee to impose limited measures on public crowds; meetings, gatherings of more than 20 people, and the prevention of more than 10 people gathering outside workplaces, schools and hospitals.
A minimum 2 meter distance is required between individuals in public places. Religious establishments must suspend all religious activities of 20 people and up. Service providers, except those dealing in essential goods and services, must temporarily cease their operations. Chairmen of provincial/ municipal People Committees are to decide on businesses and services that need closing or suspending.
Directive 16 issued on March 31, 2020, concerns the implementation of urgent solutions to prevent and combat Covid-19. Accordingly, the government leader ordered a 15-day period of nationwide isolation starting April 1, with every household, village, commune, district, and province going into self-isolation but not lockdown.
Directive 16 requires social distancing nationwide. Citizens are required to stay home, and only go out for necessities such as food and medicine or emergencies, or working at factories, production facilities, essential goods and service providers. All people must seriously implement a minimum 2m distance in communications. It also bans more than two people concentrating in workplaces, schools, hospitals and public places.
Eighty new Covid-19 cases were confirmed on the morning of May 10, including 78 domestic infections and two imported, the Ministry of Health said.
The new infections took to the total number of coronavirus cases in Vietnam to 3,412, including 411 domestic infections detected since the latest outbreak hit the country on April 27.
The local transmissions were detected in Bac Ninh (27), Vinh Phuc (19), Da Nang (13), Bac Giang (5), Hanoi (9), Hoa Binh (2), Dak Lak (1), Dien Bien (1) and Lang Son (1).
The two imported cases are a Vietnamese citizen returning from France and an Indian expert who arrived in the country from Qatar. Both were immediately quarantined on arrival.
Of the 13 new cases in Da Nang city, eight of the patients, including seven women, work at Amida Beauty Salon.
In Hanoi, six of the new cases are either patients at the Dong Anh District National Hospital for Tropical Diseases or their relatives.
According to the health ministry's Medical Service Administration, 2,602 patients had been given the all-clear from coronavirus SARS-CoV-2.
Among active patients undergoing treatment, 25 have tested negative to the virus once, 22 twice, and 17 three times.
As of the morning of May 10, the total number of people quarantined is 59,198, including 991 in hospitals, 25,804 in state-designated establishments, and the remainder at their place of residence.
Up to 42,943 people were vaccinated against Covid-19 on May 9, raising the total to 851,513, mostly medical workers, members of steering committees for Covid-19 prevention and control, and members of the police and military.